A Tiny Swing From The SNP Could Win Labour 28 Seats In Scotland
Speaking at the Labour conference, a polling expert predicted that Scotland would be a "really, really big factor" in making Jeremy Corbyn prime minister.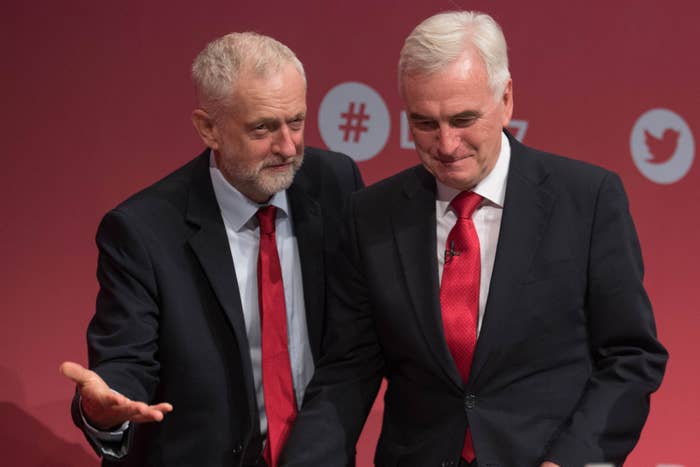 A new set of polling analysis revealed at the Labour conference has shown that a small swing from the SNP would see Labour win as many as 28 seats in the next general election and help Jeremy Corbyn become prime minister.
The analysis, from polling company Survation, showed that there are 21 seats Labour could win from the SNP with a swing of less than 5%, on top of the seven it won in June's general election, and recent polling has shown that SNP voters are willing to be won over to Labour with the right policies.
At the Survation event at the Labour conference in Brighton on Monday, Scottish Labour general election candidate and Labour national executive committee member Rhea Wolfson also said the party must abandon its "incredibly negative" message to take advantage of its recent resurgence.
Damian Lyons Lowe, the chief executive of Survation, told the event that Scotland could be a "really, really big factor" in delivering a majority government for Labour in future general elections. He did warn, however, that the situation is Scotland is fragile and just a 3% swing back to the SNP could see Labour reduced to one seat.
"There are 21 seats that require less than a 5% swing for Labour to win and every single target is an SNP-held seat, so the situation in Scotland for Labour is on a knife edge," said Lyons Lowe. "A 3% swing against Labour to SNP would take Labour back to just the one seat held in 2015 – Edinburgh South. However, just a 5% swing from the SNP would give Labour 28 seats in Scotland."
The 21 seats highlighted by Survation range from seats with SNP margins of 0.1% like Glasgow South West and Glasgow East to seats with a larger but still marginal difference like Cumbernauld, which would require a 4.9% shift to Labour.
A Scottish Labour source confirmed to BuzzFeed News that the party had identified exactly 20 winnable seats on top of the seven it currently holds after the June election, but that the list also includes some seats held by the Conservatives, so it doesn't directly correlate with the Survation list.
Lyons Lowe went on to reveal polling that shows that SNP voters can be won over to Labour by policies such as a mandatory living wage, permanently abolishing tuition fees, and decommissioning the UK's nuclear weapons.
The polling of over a thousand SNP voters showed that 37% would be more likely to vote Labour if it backed a mandatory living wage, 30% if it pledged to abolish tuition fees, and 30% if it supported decommissioning Trident.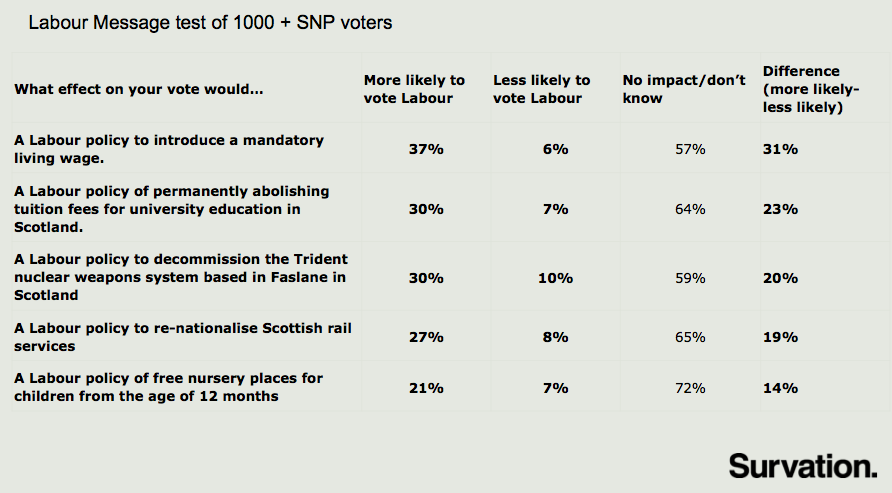 Wolfson, a Corbyn ally in Scottish Labour, suggested adopting a more positive approach in the next general election after what she called and "incredibly negative" and "grinding" campaign message, focused on being anti-independence, in the general election earlier this year.
The candidate said she believed many people who have voted for the SNP since the independence referendum have been looking for change, and that and selling that message, rather than focusing on the SNP, would make the difference.
"What we had in Scotland was a party political broadcast telling Nicola Sturgeon to get back to the day job, and it had her talking about independence and said Nicola Sturgeon was a broken record over and over again," said Wolfson. "It was a very clear attack on the SNP and it was not about policy, it was about the constitution, and from what I saw it went down like a lead balloon.
"On policies, what was working was what we saw working in the rest of the country, but that wasn't the campaign being run nationally in Scotland. What was incredibly effective on the doorstep in Scotland was the same [as in the UK]: a real living wage, getting rid of the age discrepancy in the minimum wage, taking public services into public ownership, [tackling] zero-hours contracts."
She added: "But when it was sat side-by-side with that broadcast it was like giving with one hand and taking away with the other."

Wolfson, who is backing trade unionist Richard Leonard in the Scottish Labour leadership election, urged closer correlation between the Scottish party and UK Labour in future general elections.
"What we need is a much better link-up between the Scottish party and the UK party," she said. "We had a good Scottish manifesto, it did not move far away from the UK manifesto, but it was how we delivered that in terms of our message."