The BBC hosted an absolutely bloody massive debate in Wembley Arena on Tuesday, and, as is tradition, the nation gathered together to take the piss out of the whole thing.
The debate, held two days before the EU referendum, saw anti-EU figures Boris Johnson, Tory MP Andrea Leadsom, and Labour MP Gisela Stuart face off against pro-EU politicians Sadiq Khan, Scottish Tory leader Ruth Davidson, and trade union leader Frances O'Grady.
The stipulations were made clear at the beginning, as each side tried to get through to the next round.
People playing drinking games immediately got pissed from the Vote Leave catchphrase.
The undecided voters were out in force.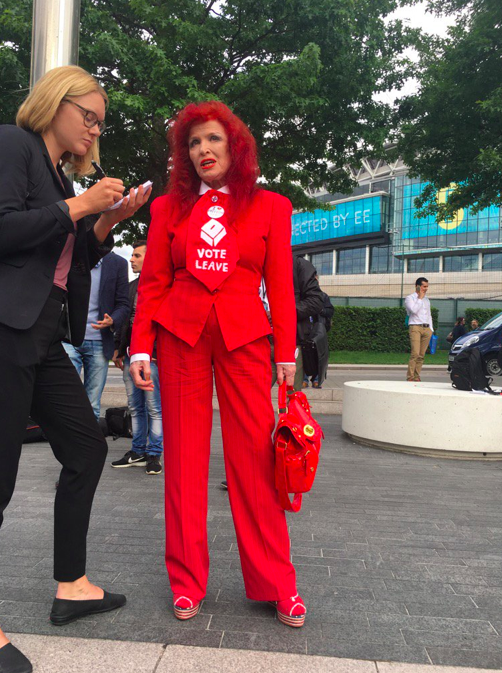 And the audience patiently waited for the conflict to begin.
When the show started, everyone obviously agreed with the opinions they already had.
The pub chain Wetherspoon's was inexplicably booed.
Boris Johnson started screaming about haggis in front of an audience of 6,000 people.
Six. Thousand. People.
It was all thoroughly un-British.
People were surprised by Scottish Tory leader Ruth Davidson.
Mainly because she had a proper old-fashioned rammy with fellow Tory Boris Johnson.
People looked forward to David Dimbleby's musical debut.
But some were left disappointed.
Especially when Bucks Fizz didn't make an appearance.
There were a few slip-ups. Tory MP Andrea Leadsom called for "child-free tax care".
Which everyone obviously found hilarious.
Boris and Sadiq had a sartorial nightmare by turning up in the same outfit.
There was a bizarre criticism of the EU that the member states couldn't order a curry together.
And everyone made their points with tiny little clenched fists.
The mothers on the panel constantly talked about being mothers.
Which left the childless gay football fans feeling a little left out.
Boris succinctly answered some points.
He backed immigration, to the confusion of some.
While the Lib Dems did whatever the hell this is.
Ultimately, no one really seemed to enjoy themselves.
The producer gave up about halfway through.
And, at the end of it all, we were all left asking ourselves this.
One day to go, everyone. One day to go...