Andrea Leadsom's Charity Is Bankrolled By Her Offshore Banker Brother-In-Law
Charity Commission filings examined by BuzzFeed News have raised fresh questions for the Tory leadership contender over her ties to her Guernsey-based brother-in-law's companies.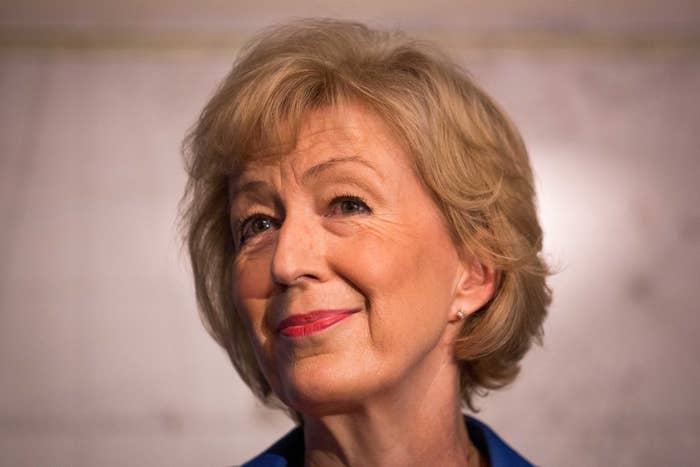 A charity launched by Andrea Leadsom has received its main financial support from a foundation run by her sister and funded by her brother-in-law, a major Conservative donor and offshore investment banker, BuzzFeed News can reveal.

With the energy minister's financial affairs under intense scrutiny as she bids to become the new Conservative leader – and therefore prime minister – attention has focused on her ties to the offshore industry and companies run by her Guernsey-based brother-in-law, Peter de Putron.
The companies have made major donations to the Conservative party – more than £520,000 since she was selected as a candidate, £80,000 of which went to Leadsom's office and constituency party – and have employed Leadsom's husband, Ben, in senior roles.

Leadsom has said she was "not aware" of the size of the contributions and that none of them had benefited her own career.

But new analysis of Charity Commission records by BuzzFeed News shows that de Putron and his wife, Hayley, Leadsom's sister, were also the major backers of Leadsom's charitable pursuits, launched two years into her career as an MP in 2012.
Leadsom is the founder of Parent Infant Partnership (PIP) UK, a charity aimed at helping create "a society of emotionally secure children who grow up to become socially responsible adults" by focusing on early-years intervention for children and support for parents. The charity acts as an umbrella group, providing support to local parent/infant groups.
In a speech announcing her candidacy for leader on Monday, Leadsom drew on these same ideas as a central plank of her leadership platform.
A company controlled by de Putron – via a foundation controlled by Leadsom's sister – contributed a total of more than £670,000 to Leadsom's charity.
PIP UK's major funder from 2013 to 2015, the three years for which it has filed accounts, was the Ana Leaf Foundation, a UK-registered charity that has Hayley de Putron as one of its two trustees.
The Ana Leaf Foundation's sole donor in the two years for which it filed accounts, 2011 and 2013, was Gloucester Research Ltd (later renamed GR Software & Research Limited), a company owned by Peter de Putron that counted Ben Leadsom among its board of directors until 2014.
Soon after its founding, PIP UK began activity in Westminster, hiring a part-time public affairs officer in its second year of activity and taking a secretariat role supporting a new all-party parliamentary group, i.e. an informal network of MPs based on a particular cause or agenda.
Leadsom's website notes that she co-founded the group – named "Conception to age 2: first 1001 Days" – with Labour MP Frank Field late in 2013.
A clinical psychologist who was involved with the network of PIP charities as they were being established expressed concern in a 2014 blog post that they were serving to further Leadsom's political career.
The post, by Dr Miriam Silver, said:
I felt, cynically perhaps, that there was a second agenda designed to
promote the MP who founded the project and her political party which was
of more importance than our clinical goals, although this was never
explicit.

Silver added she'd had concerns with the organisation's approach to early-years care, which she was worried risked stigmatising parents.
"Although our tiny pilot had kept 5 children out of 6 at home with parents successfully, despite them being referred on the edge of care, we had feedback from service users and user groups that they felt stigmatised by some of these messages," she said. "I couldn't match my views up with the politics of the organisation. I felt that to stay would conflict with my professional ethics, and my desire to honour the evidence base and respect the people who needed the service, so I quit before the launch.
"My colleague decided it would be unsafe to practise in my absence and left at the same time, leaving the charity with no clinical staff. Nonetheless, they decided to make a very big launch event, that I could only describe as one third professional conference, one third stately home wedding and one third party political broadcast for the blue party."

Leadsom resigned as a trustee of the charity, according to its filings, in December 2014, eight months after getting her first ministerial job. Her colleague Tim Loughton MP, who is supporting her bid for leadership, now serves as the charity's chair.
BuzzFeed News asked Andrea Leadsom's office a series of questions about her work with the charity and the contents of Silver's blog post. Asked about whether the charity had served as a vehicle for Leadsom's political career, her spokesman told BuzzFeed News:
"Mrs Leadsom did this because she's passionate about the cause. There's an overlap, it's unavoidable...Did she do this to become an MP? Absolutely not. She did not do work on child mental health for political reasons. Has Andrea abused her political position? Absolutely not."

He said Leadsom had resigned so she could focus on her role as a minister.
Leadsom has previously said she was "unaware" her brother-in-law's company, where her husband was employed, was a major Conservative donor.
When asked by BuzzFeed News whether Leadsom was aware de Putron was also the major funder of her charity, the spokesman said he would look into this.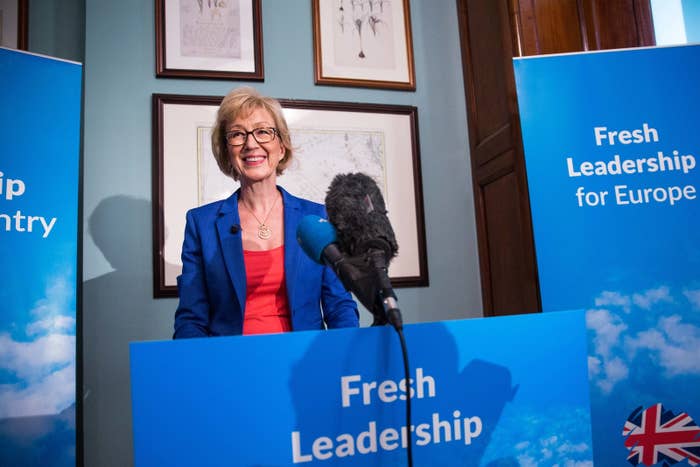 The Guardian disclosed in 2014 that companies connected to de Putron – including Gloucester Research – had donated hundreds of thousands of pounds to the Conservative party since Leadsom became an MP, an arrangement Tom Watson likened at the time to risking the appearance of a "cash for political office" arrangement.

De Putron's companies also contributed directly to Leadsom's election campaign and helped fund staff in her office. De Putron's company was also the major funder of the Eurosceptic think tank Open Europe, which campaigned for Britain to reform its relationship with the EU. Leadsom spoke at several Open Europe events and praised its research in public speeches.
De Putron, as a Channel Islands resident, is not personally eligible to donate to UK political parties, but his UK-based companies are entitled to be donors under the rules.
In 2014, Leadsom's spokesman said she had gained no benefit from her family's generosity to the Conservative party.
"Andrea was not aware of the size of donations made by UK companies controlled by Peter de Putron to the Conservative party, and has never been involved in any way," her spokesman told The Guardian.
"She has not benefited personally from these donations and does not believe they have affected her career in any way...no member of her family has ever sought to promote her political career."

Asked whether Leadsom would consider accepting funding from de Putron's companies for her leadership campaign, a spokesman told BuzzFeed News:
"She's aware there are lots of organisations hoping to donate, especially if she goes to the country. If this does happen they would all be carefully vetted and logged, as the rules require."
On Tom Watson's comments, the spokesman merely laughed and said: "Good old Tom...so?"
The buy-to-let properties of Leadsom's immediate family have also attracted coverage since her first ministerial job in 2014. Leadsom founded a company, Bandal Ltd, with her husband in 2004 – both giving their job as "investment banker" on the paperwork. The two were equal shareholders.
The company became the owner of three properties in Oxford, each with a mortgage from the offshore bank Kleinwort Benson. In 2006, shareholdings were given to "settlements" – a form of trust – for the couple's children, while in 2014 Leadsom's shareholding was signed over to her husband.
The use of trusts to hold assets for children is one legal way high-new-worth individuals minimise inheritance tax when passing on assets, though they also serve other purposes.
BuzzFeed News asked Leadsom's spokesman if she had ruled out ever using the settlements in this way. The spokesman did not have a reply on this point before publication, but said he would find out. This story will be updated when we receive a response.
Leadsom has said she will release her latest tax return if she becomes one of the final two candidates in the leadership contest.