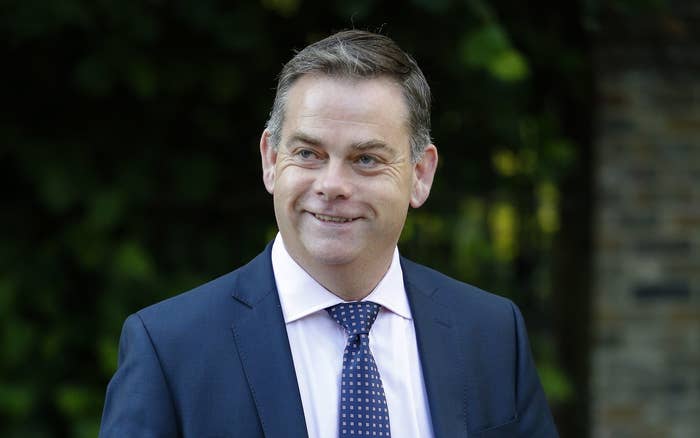 A Conservative MP advocated in favour of subsidies for the biomass industry after accepting more than £50,000 in political donations and hospitality from companies in the sector.
Nigel Adams, who has accepted tens of thousands of pounds in hospitality and political donations from biomass firms both in and outside his constituency, has called parliamentary debates, tabled questions, written opinion pieces, and written to the prime minister in support of subsidies for the industry.
But records compiled by Energydesk, the journalistic arm of Greenpeace, and shared with BuzzFeed News, show that on a number of occasions he did not mention the donations when he advocated for biomass – a sustainable form of energy generation based on burning wood pellets or other materials instead of coal and gas – over other forms of renewable energy such as onshore wind.
Parliamentary rules allow MPs to accept donations and hospitalities from businesses and others provided they are declared on official registers, as Adams' contributions were. The rules also require MPs to "open and frank in drawing attention to any relevant interest in any proceeding of the House or its Committees".

Adams told BuzzFeed News he referred to his hospitality and donations from biomass companies in parliamentary proceedings when his interventions were "substantively" about the industry.

Hospitality he accepted includes an £8,578 three-night trip to the Ritz-Carlton hotel in New Orleans to speak at a biomass conference. Adams accepted a further four trips to the same conference in following years, held at the five-star Fontainebleau on Miami Beach, a holiday spot beloved of America's elite.

Adams' trips to the resort from 2013 to 2016, worth £5,460, £7,177, £4,210, and £4,950 respectively, were funded by Eggborough Power Limited and Draw Power Limited, both of which operate biomass plants in Adams' Selby and Ainsty constituency.
Adams also accepted auction prizes worth a total of £17,800 from another biomass producer from outside his constituency, Simec, as well as a trip to Dubai worth £2,850 to attend a pro-Brexit event in the city for UK expats.
In 2015, Adams held a debate on scrapping subsidies for onshore wind, during which he described it as being "about as much use as a chocolate fireguard", claiming it was inferior to biomass in handling spikes in demand – naming Drax and Eggborough in his speech – and stating that cutting wind subsidies would "allow other, more efficient technologies to benefit from government support". He made no mention of his contributions from the sector in that debate.

Similarly, in March 2016 Adams urged Andrea Leadsom, then an energy minister, to increase deployment of biomass, without making any mention of his contributions from Drax, Simec, or Eggborough.
Adams heads parliament's all-party group on biomass, which is funded by the industry, and in 2012 urged then prime minister David Cameron to prioritise biomass subsidies over onshore wind. He also held a further debate on biomass, in which he declared he had received contributions from the sector.

Adams has declared all of these donations on the official registers of MPs' interests as required and said he believes he has not breached any parliamentary rules because he has declared his interests in parliamentary proceedings. However, his failure to declare these interests on some occasions has drawn criticism.

Tamasin Cave of the lobbying transparency group Spinwatch told BuzzFeed News Adams risked the appearance of conflicts of interest – likening his situation to that of recently appointed Evening Standard editor George Osborne.

"Who does Mr Adams think he is working for?" she said. "A few transatlantic trips and fine dining could leave someone a bit muddled.
"And as George Osborne has just demonstrated, it's clear that some in parliament don't take their public role that seriously. With all eyes on Brexit, we also arguably have less scrutiny of what our MPs are up to."
Greenpeace told BuzzFeed News that Adams raised concerns about conflicts of interest.
"As an MP, he has some serious questions to answer about whose interests he's been looking after – the common good or the biomass industry funding his trips to Miami Beach," said Greenpeace campaigner Hannah Martin.

Martin added that Greenpeace had concerns about biomass because in its view it has question marks over sustainability not shared by other energy sources.
"Ministers have spent millions of taxpayers' money on controversial biomass when they could have invested it in far cleaner and more mature technologies like onshore and offshore wind. As a staunch advocate of biomass and a fierce critic of onshore wind, Nigel Adams bears at least some responsibility for a policy whose environmental and economic benefits remain in doubt."
Adams, however, told BuzzFeed News he was advocating in the interests of his constituency, had properly declared all of his contributions, and strongly criticised Greenpeace.
"It should not come as a surprise to anyone that I am a champion for electricity generation via biomass given that two of the largest employers in my constituency, Drax and Eggborough, who between them directly employ well over 1,100 local people, are involved in electricity generation using sustainably sourced biomass." he said.
"My constituents would expect me to speak up for these companies inside and outside parliament and I will continue to do so in order to help create and retain jobs not only in my constituency but in the wider UK energy sector. …
"It is disappointing to me that Greenpeace would want to smear the biomass industry and those associated with it. At a time when the very existence of climate change and the need for action is under attack from all sides, it is astounding that an organisation like Greenpeace is diverting resources from that important work to attack a proven, reliable and genuinely sustainable renewable which the evidence shows cuts carbon emissions and promotes sustainable, thriving forests."