This is Jameela Jamil. Other than her leading role as Tahani Al-Jamil on NBC's The Good Place, Jamil is also a television presenter, radio presenter, model, and activist.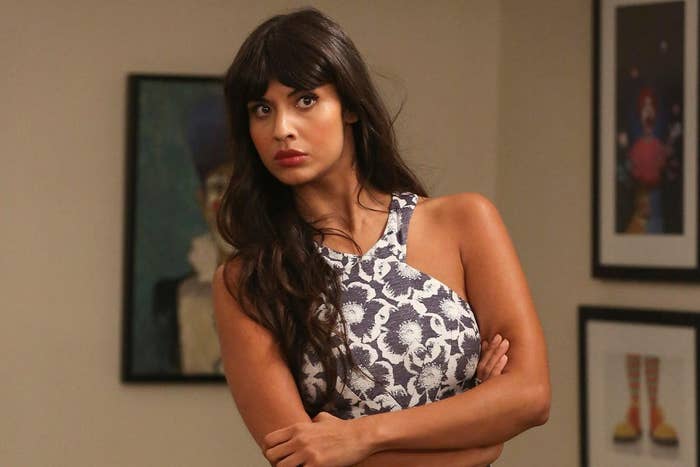 Recently, Jamil spoke on the Ways to Change the World podcast , sharing how women's magazines and media push unnatural beauty ideals — like whitewashing and airbrushing — on young girls.
She also specifically pointed out the Kardashians, calling them toxic for young women. "The same poison that made you clearly develop some sort of body dysmorphia or facial dysmorphia, you are now pouring back into the world," she said about Kim Kardashian. "You're like recycling hatred."
"The double agent for the patriarchy is basically just a woman who maybe unknowingly is still putting the patriarchal narrative out into the world. Is still benefiting off, profiting off, and selling, a patriarchal narrative to other women. But it's a wolf in sheep's clothing."
On Twitter, Laura Jane Williams chimed in on the "idea of inadvertently selling the patriarchal narrative":
Matt Haig thanked Jameela for the inspiring work being done for "body image and magazines and society":
Other twitter users agreed how important it is to destroy the idea that "only a certain shape/size/colour/race is acceptable in some warped society"...
...And that women should be celebrated rather than sold "impossible idealisms."
However, other Twitter users, like @bethanyrutter, questioned if Kim was being targeted simply because she is "perceived as hyper-sexualized":
Another user noted that they felt Jamil's "brand of feminism to be oppressive and limiting"...
...perpetuating more of the rhetoric of a "white feminist":
What do you guys think? Leave your thoughts in the comments down below!