Vampire Tacos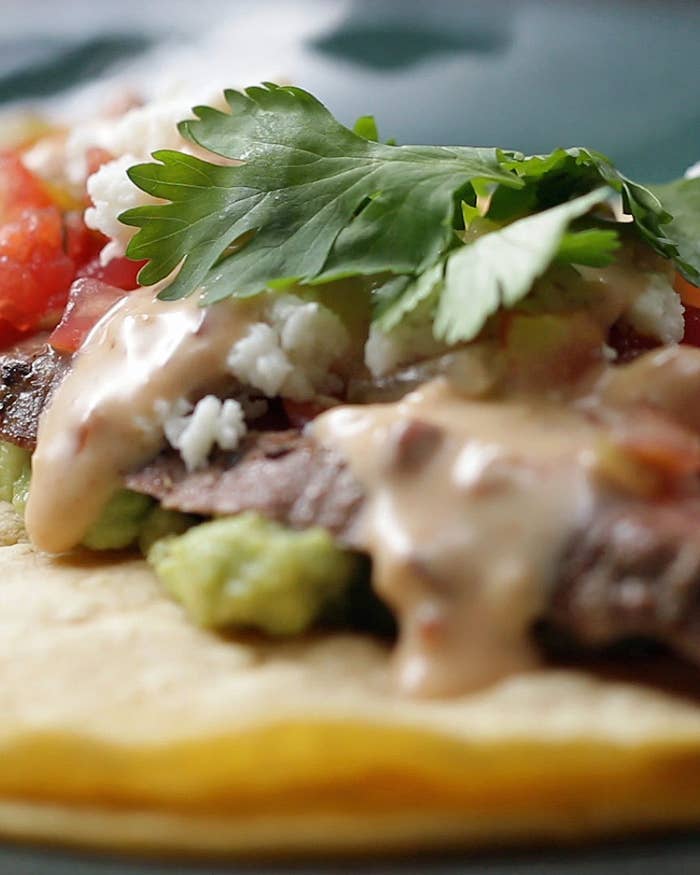 INGREDIENTS
1 pound flank steak or skirt steak
For the marinade:
½ cup soy sauce
4 cloves garlic, sliced
¼ cup olive oil
1 teaspoon salt
½ teaspoon black pepper
1 teaspoon cumin
1 teaspoon oregano
1 package corn tortillas
3 cups shredded cheddar cheese
For the sauce:
⅔ cup mayo
3 cloves garlic, finely minced
2-3 chipotle peppers, finely chopped
2 tablespoons lime juice
½ teaspoon salt
Extra items to assemble with:
1 cup guacamole
1 cup pico de gallo
½ cup cotija cheese or queso fresco
1 cup cilantro leaves (optional)
PREPARATION
1. Combine steak and all marinade ingredients in a large plastic storage bag or bowl.  Toss to coat.  Marinade at least 1 hour or up to 24.

2. Remove meat from marinade, discard.

3. Heat a grill, grill pan or large sauté pan to high heat.  Cook to desired doneness. Allow the meat to rest at least 10 minutes before thinly slicing against the grain. 

4. To prepare the sauce, combine mayo, chipotles, lime juice and salt.  Stir to combine.  

5. Heat a sauté pan to medium heat.  

6 .Place one corn tortilla in the pan, sprinkle about ¼ cup cheddar cheese on top. Cover with a second corn tortilla. Cook just until the cheese is melted, flipping once. The tortillas should be soft and pliable, not crispy.  

7. To assemble the tacos, top the corn tortillas with a spoonful of guacamole.  

8. Add few slices of steak, then top with pico de gallo, cotija cheese and some of the sauce. Garnish with cilantro if desired.  

9. Eat immediately.   
Want BuzzFeed Tasty right in your inbox? Sign up for our newsletter!