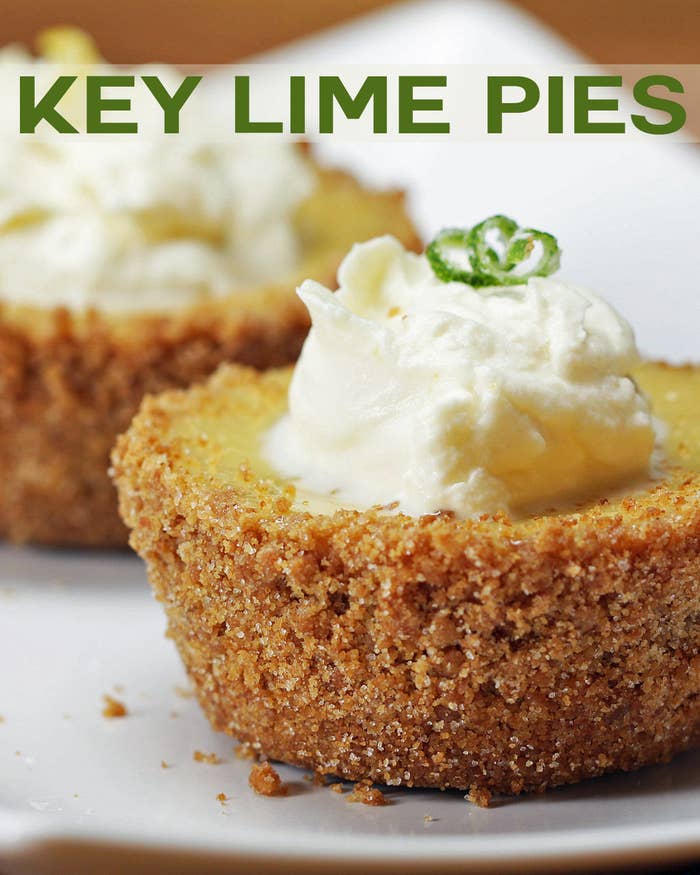 Here's what you will need:
Filling:
* 4 1/2 tsps grated lime zest
* 1/2 cup lime juice (3-4 limes)
* 4 egg yolks
* 1 (14 ounces) can sweetened condensed milk
Crust:
* 11 graham crackers
* 3 Tbsps. granulated sugar
* 5 Tbsps. unsalted butter (melted)
Whipped cream:
* 3/4 cup heavy cream
* 1/4 cup confectioners' sugar
* 1 Tbsp. lemon zest
Directions:
Filling:
Whisk zest and yolks in a bowl until tinted light green, about two minutes. Beat in the milk and juice then set aside at room temperature to thicken.
Crust:
Pre-heat oven to 325 degrees. crush graham crackers in a bag, then mix in sugar and butter. Make sure to mix thoroughly, then press into muffin pan. Bake for eight minutes or until golden brown. Let cool for 15 minutes.
Combine:
Pour filling into the crust, then bake until it has a slight jiggle. (~15-17 minutes~), then cool to room temperature, cover, and refrigerate until chilled (2-3 hours).
Whipped cream:
Whip heavy cream and slowly add the sugar. Once partially whipped, add lemon zest, then whip until it creates firm peaks.