If you haven't been living under a rock, you'd know that the sequel to 2018's most loved rom-com 'To All the Boys I've Loved Before' is finally out! As someone who has read the book, here were my thoughts while watching it.
1. Starting with a cute lip sync? YES, THIS IS THE WHOLESOME CONTENT I SIGNED UP FOR.
2. This montage has made me look at my comparatively sad closet several times.
3. THOSE LASHES THO
4. EEK PETER KAVINKSY HAS ENTERED THE BUILDING (and my heart)!!!
5. He gave Kitty a flower! My heart is now a puddle on the floor.
6. Okay, how the heck are these two able to afford this restaurant. Wtf I have three jobs and I don't think I've ever dined at a two-forks-level fancy restaurant.
7. Now that I think about it, why do none of the students in these movies have jobs?
8. UGH, this paper lantern scene is so cute. Major Tangled vibes rn.
9. This is so much cuter than the treehouse conversation the book has.
10. The soundtrack is so perfect. Note to self: search up soundtrack after finishing the film.
11. They kept the hanboks in the film! My little Asian heart is happy.
12. Lara Jean undoing Kitty's hanbok after spending time helping her do it is peak big sister.
13. This post-dinner awkwardness where all the kids are left at their own table with nothing to talk about hits too close to home.
14. GO KITTY. YOU TELL HER.
15. Foreshadowing John Ambrose's entrance with Jordan Fisher's beautiful voice was a brilliant choice by the director.
16. Woah those are some pretty legit letterheads. Again, how is she affording this?!?
17. She just spent countless attempts trying to write a letter she doesn't even send. Mood.
18. Expositional banners should be a more renown film technique.
19. The fact that Peter remembers her Instagram captions, not even just the pictures, the actual captions amazes me to no avail.
20. Two Asians in the main cast?!? Gosh this movie is an endless gift.
21. I will now be using "enjoy your fight" to exit all tense conversations with my friends and their partners.
22. Okay I know Gen was just a bitch but DAMN her hair is in perfect curls. Also, did she get...prettier??
23. Did headbands come back into style? LJ looking so good she's making me feel like I missed a memo.
24. The cuteness factor just upped a gazillion. WHY ARE THEY SO DAMN CUTE.
25. We interrupt this viewing of Lara Jean's love life to bring you an update of... her dad's love life. Wow, how is everyone in this movie finding love so easily?
26. That. I don't think I've related more than to that awkward 'hi' you say to your parent's friends.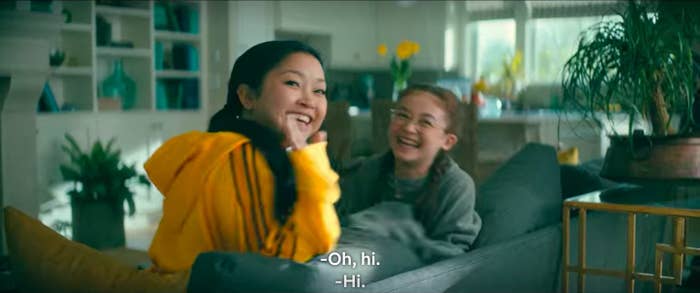 27. And we see the return of an iconic outfit!
28. OMG Stormy's been kept in the movie. Her fabulousness is radiating.
29. Stormy's commentary of this retirement home is now officially a key highlight of this movie.
30. Ahh... Jordan Fischer has entered stage right and I am annoyed to no avail that he is not in focus.
31. So this woman (Dorothy?), who is seemingly in charge of a retirement home and responsible for a large number of people, leaves immediately after a person under her supervision suffers a really dramatic fall and is at risk of concussion. Cool cool cool cool cool cool.
32. This must have been so weird to film. They're just all staring at each other on the same bed as cameras move around them.
33. Girl, you do not need to crack two eggs to brush six pastries.
34. You're telling me you guys bought all these crafting materials for TWO cards?!?
35. JENNY HAN CAMEO!!
36. Okay, but what school does ACAPELLA singing telegrams with FOUR-PART HARMONIES?!? At my school, you got a dude with a guitar and some girls who could sometimes hold a tune.
37. And the whole cafeteria is quiet for this?!? WTF. This is the most respectful high school I've ever seen.
38. But for real though, that's a really nice arrangement.
39. Is that Maddie Ziegler?!?
40. The emotional rollercoaster that Lana Condor conveys in this scene with just her face is amazing.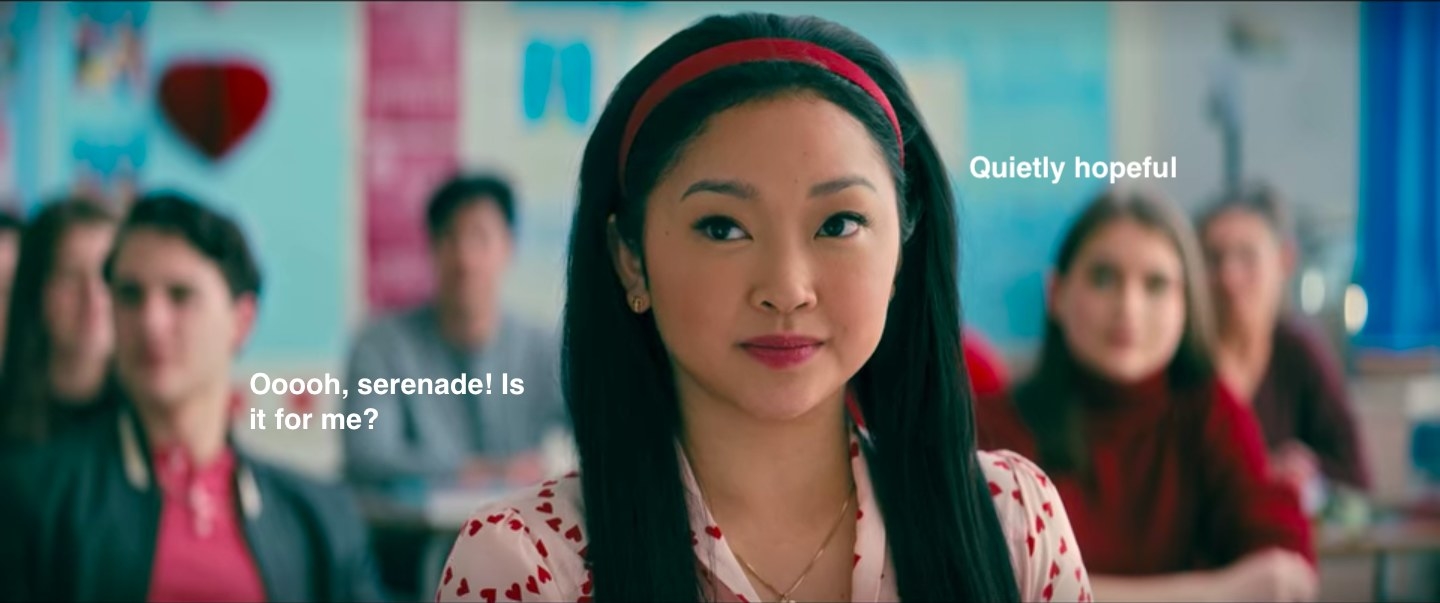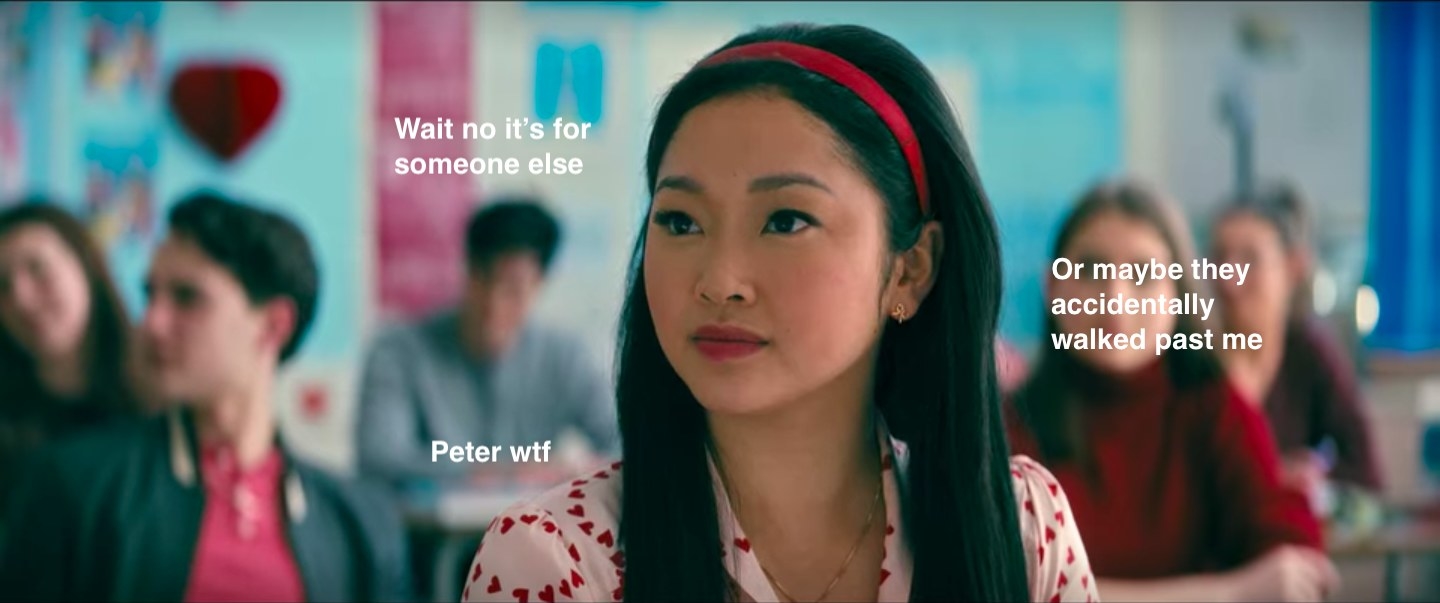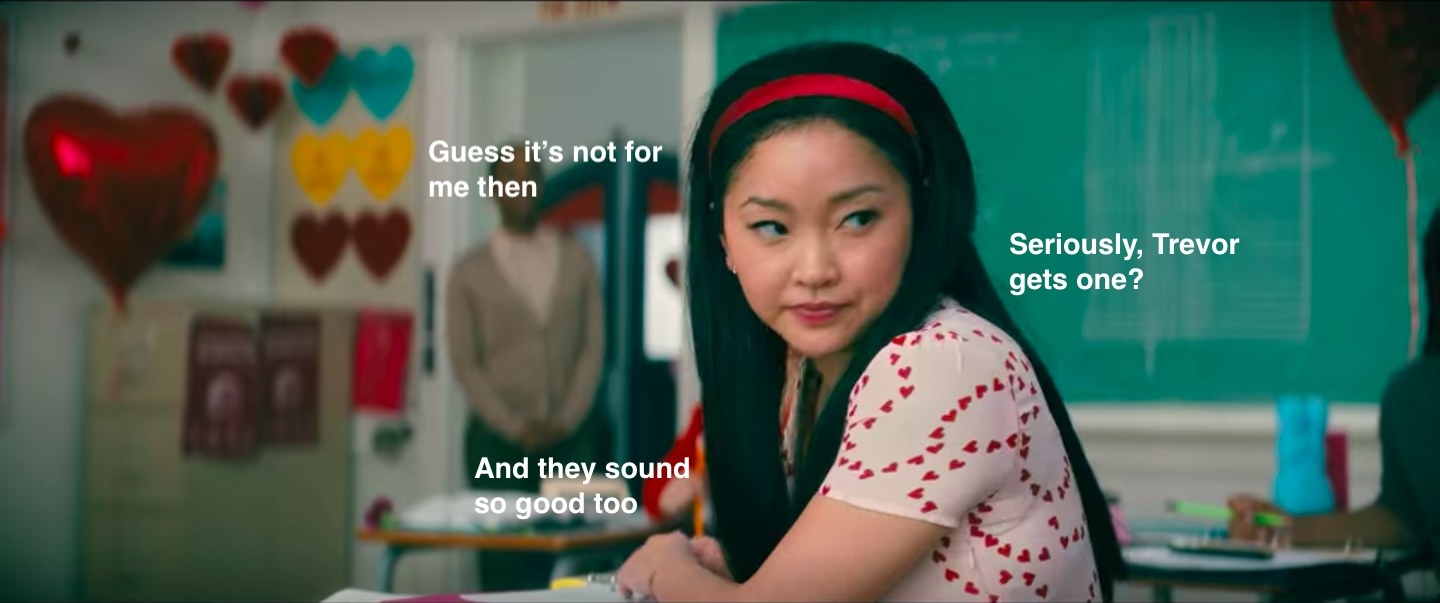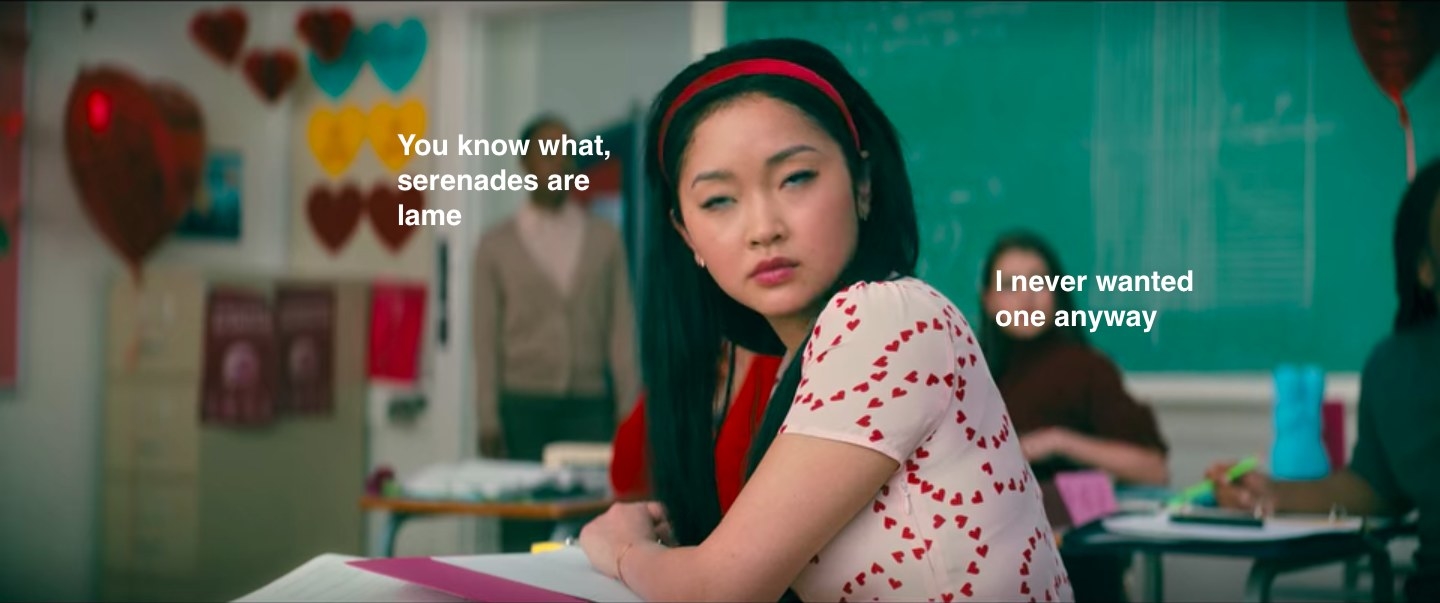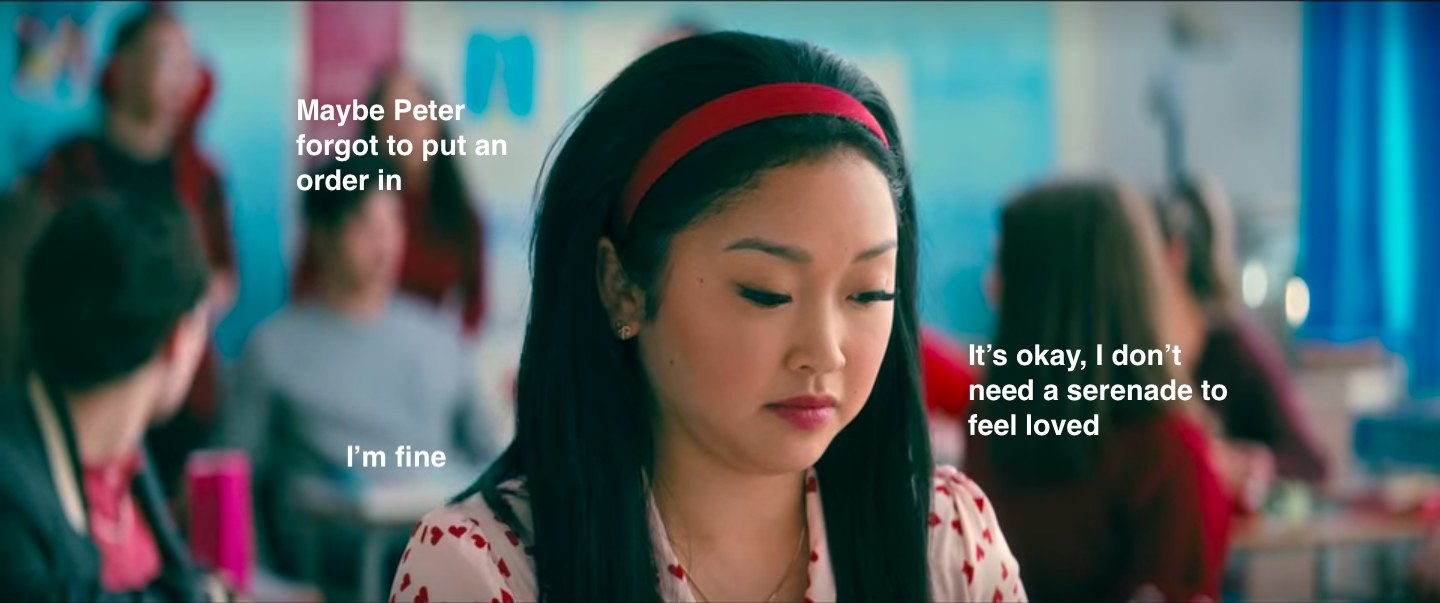 41. No way. Those letters caused a casacade. I refuse to believe that many girls in the school both a) liked Peter and b) were assholes enough to send him a love letter, knowing he had a girlfriend.
42. I legitimately thought there would be something in the locket? Shouldn't she open it? (And yes it is a locket-- there is clearly a hinge, I checked).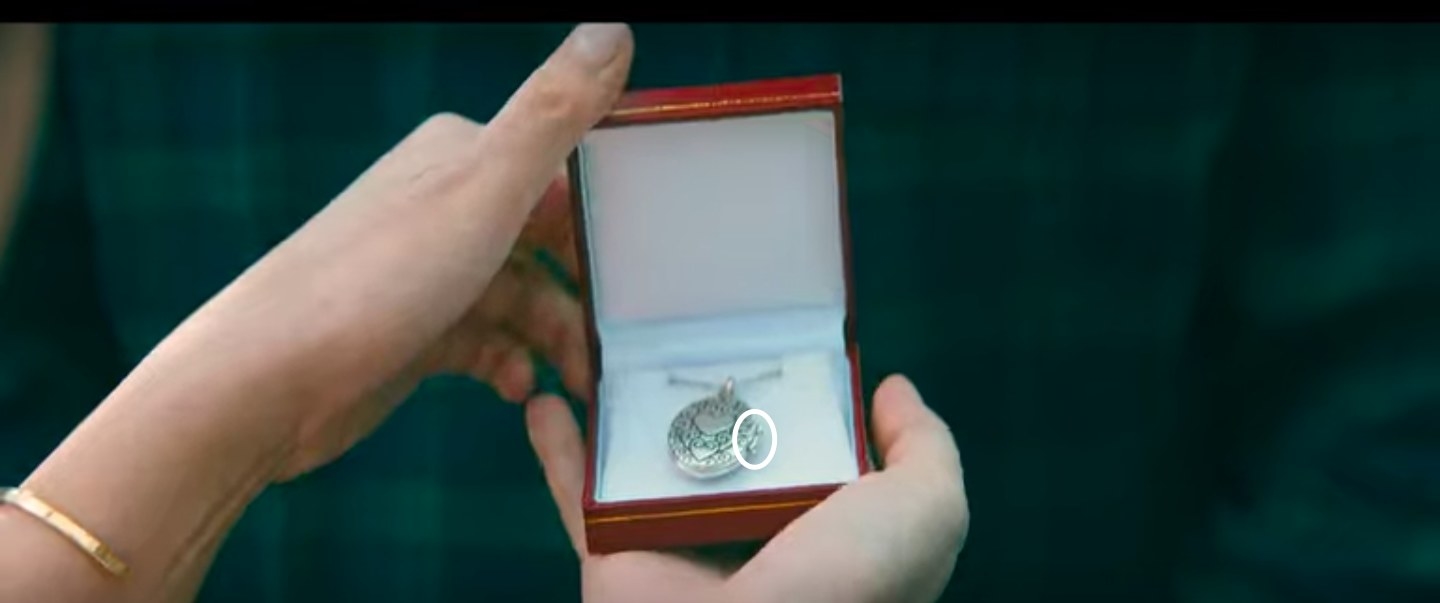 43. Hold up. She gave him ONE turnover?!? ONE?!? What happened to all the others? Bruh, he's going to finish that in three seconds.
44. Oh no. I've heard this poem before. This poem definitely sounds familiar. Where have I heard this before? Oh no, she thinks he wrote it. This is going to cause tension later on, isn't it?
45. Did Chris just insinuate... oh my gosh I think she did. I love her more.
46. LJ has so many pretty hairstyles in this film!
47. THIS FLASHBACK IS EVERYTHING. SHE'S FRENCH TOAST AND HE'S DEVILLED EGGS. THEY ARE PERFECT.
48. What type of retirement home is Belview? How many gigantic rooms does Stormy have?!?
49. OHHH. It's my boy, Edgar Allen Poe! ... How has LJ not studied him? I swear Poe is a very common high school English author.
50. Peter recognising LJ's discomfort at a party warms my introvert heart.
51. This conversation enters some really weird, cringey territory in the book. Oh my gosh, I can't watch. Please be over.
52. Oh. It is a lot worse in the book.
53. These extreme closeup shots of each Bingo ball are not really necessary.
54. "At sleepovers, girls used to say 'Are you team Peter or team John?'". As part of this film series' fandom, I feel exposed.
55. 56 minutes into this high school film, we finally see LJ attend some class.
56. I know they're having an important conversation but wtf is up with the guy in the background's face mask?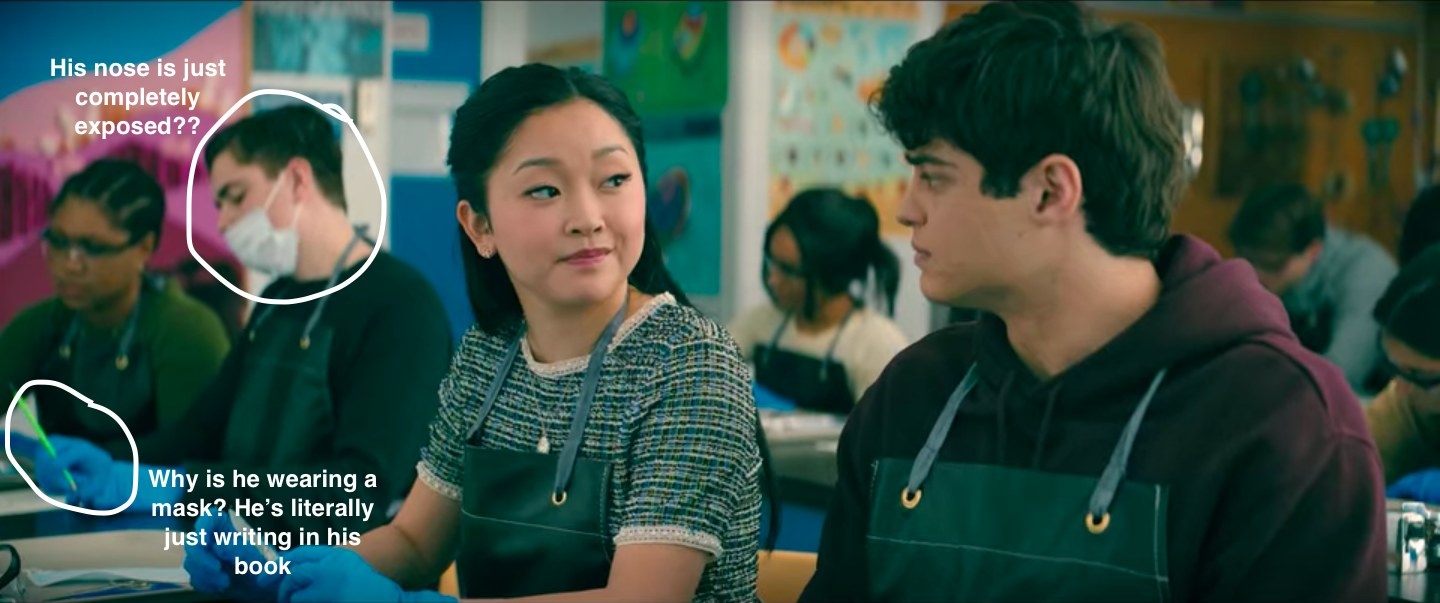 57. As someone who bakes, this shot of her baking is such a mess.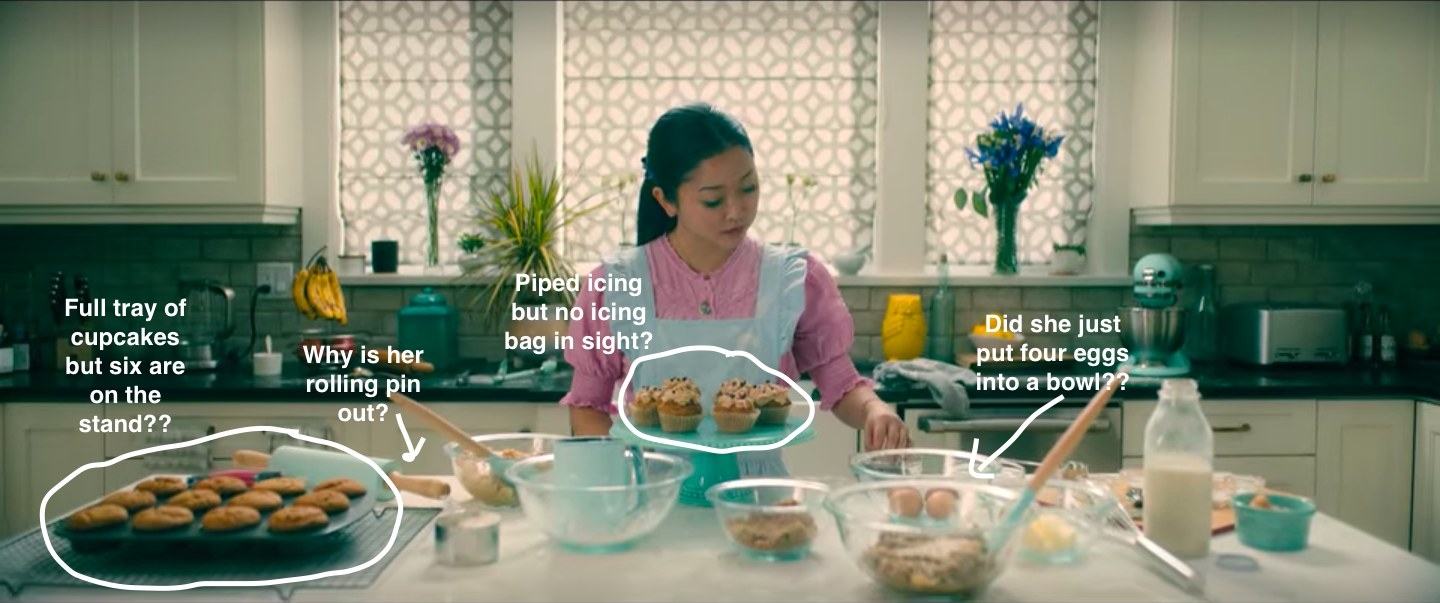 58. This treehouse is HUGE.
59. HAHAHA. Sure, Peter, I'm sure you don't remember that.
60. Did Trevor just explain inflation?
61. oh my gosh. He dropped the g-word. I have never been more uncomfortable.
62. This is by far my favourite subtitle of this film.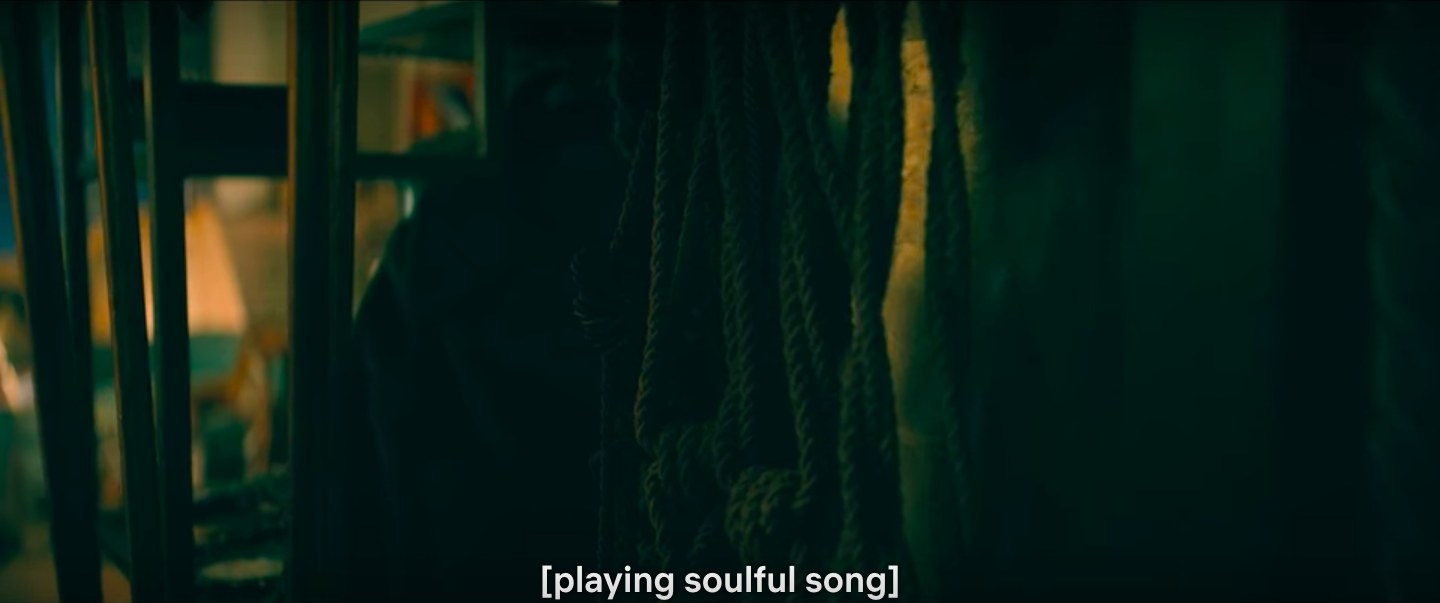 63. WHY ARE YOU SITTING SO CLOSE TO HIM. GET AWAY. YOU HAVE A BOYFRIEND.
64. Okay, but why is he still playing the piano while they're having a conversation?
65. Awwww cute story about her mum!! Also, Kitty is sitting at the head of the table like the Queen she is.
66. NO. THEY DID NOT. OH WOW, THEY DID. 'Kill This Love' has made it to the soundtrack.
67. Woah there LJ, that is super presumptuous of you.
68. Oh no.
69. Oh no.
70. Oh noooooooooo. The truth is out.
71. This is the last film I thought I would see a Spike Lee dolly shot in.
72. I fully believe the aquarium was written into the film just to provide some mood lighting for this scene.
73. FIGHT FOR EACH OTHER GUYS. WHY ARE YOU LETTING GO SO EASILY?
74. Who did she invite to the treehouse?!? WHO IS IT? WHO DID SHE... oh my. YES.
75. This is so wholesome. Yes, wholesome female friendships/respect. I support this so much.
76. I don't know if this was intentional but this dress looks so inspired by Rachel in Crazy Rich Asians' dress. If it was intentional, it's such a sweet nod.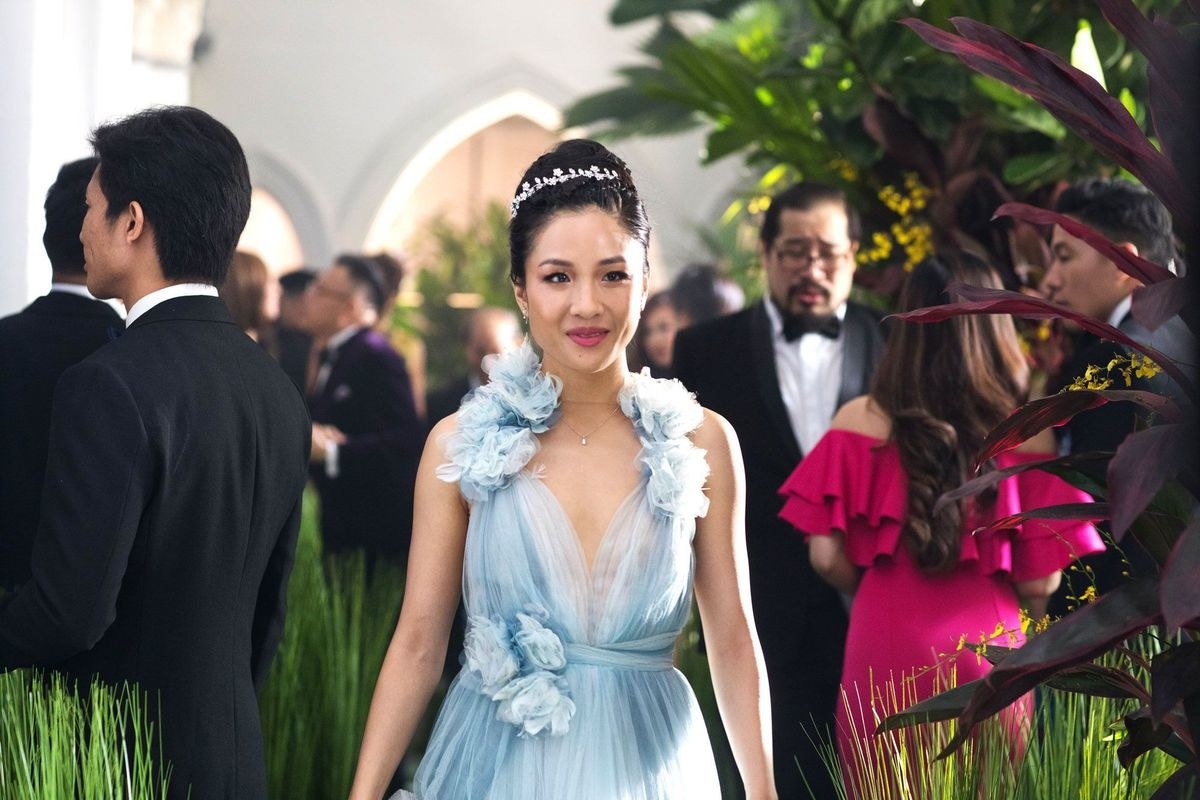 77. I really wanted to see the hairstyle that was described in the books when the ball was the 1940s themed. Guess this will do.
78. Wow, they're going straight for the slow dance. I can feel things escalating...
79. How does he just have endless stories about how much he liked her in sixth grade? And how are each of them so cute?
80. HER DAD THOUGHT HE WAS CLEANING THE YARD. THAT'S HILARIOUS.
81. Of course, it's snowing. This is getting way too romantic for my taste...
82. NO. WHAT. THE. HECK.
83. Did she just... kiss another guy within like days of breaking up?
84. Damn John Ambrose handled that so well. But also, I think I heard his heart break just a little.
85. This dress' neckline is definitely purposely making it obvious that she is missing a necklace.
86. OH MY GOSH PETER IS HERE. HE CAME. THIS IS NOT A DRILL.
87. And the first thing he mentions is her driving. Like in the first film, when she goes to confess, the first thing she mentions is her driving. Maybe I should just get worse at driving? Maybe that's the secret to a cute romance.
88. Wait but in the book, I think there's one more line to that dialogue! I think after Peter says after "break my heart into a thousand pieces," he says "it's yours". UGH. I wanted that line in there.
89. EEEK. YES. YES. YES.
90. Yep. I was right. That necklace fits perfectly with that dress' neckline.
91. NAWWWWWW. THAT WAS SO EFFING CUTE. MY HEART IS FULL.