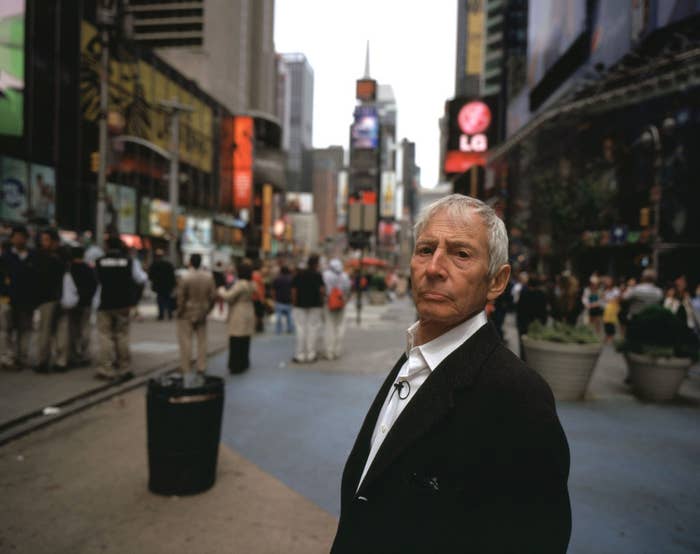 Serial obsessives: HBO's latest documentary series is exactly what you've been waiting for.
The Jinx: The Life and Deaths of Robert Durst, like Sarah Koenig's beloved podcast, sifts through old documents, finds new leads from fresh interviews, and seeks to determine just what happened on a fateful day in which the most foul murder was committed. And, also like Serial before it, The Jinx may also hold no ultimate answer to innocence or guilt. But that seems almost beside the point; such investigations often remain murky and unclear, and guilt is not so easy a thing to be judged.
Instead, this upcoming six-part tantalizing murder mystery, from director Andrew Jarecki (Capturing the Friedmans), is a gripping true crime story that unfolds with all of the speed of a page-turner; it's breathless and terrifying and obsession-inducing.
If you grew up in New York at a certain point in time (or saw Jarecki's 2010 feature film All Good Things), you may be familiar with Robert Durst, the shark-eyed heir to a vast Manhattan real estate empire and the prime suspect in the disappearance of his socialite wife, Kathleen, who went missing in 1982 and whose body was never recovered. (Durst maintains his innocence to this day.) And yet that's not the strangest facet of The Jinx, which begins not with the sensational disappearance of Kathleen but, rather, the 2001 murder and dismemberment of an elderly man in Galveston, Texas. The person accused of this crime? His neighbor, Robert Durst, who was later captured in Pennsylvania after trying to steal a hoagie from a Wegmans supermarket, despite the fact that he had $500 in cash on him and more than $30,000 in his car.
The Jinx opens as most murder mysteries do: with the discovery of a body. But, in this case, it's actually a body part. A local young Texan finds an unidentified torso floating in Galveston Bay and contacts law enforcement officials, who later recover several bags of mutilated body parts belonging to the same body — that of an elderly man. The victim's head is missing, but police are able to piece together his identity, thanks to a newspaper found among the carnage addressed to a Morris Black. What follows next is nothing less than perplexing — a crumbling apartment building, blood spatter concealed under kitchen linoleum, and the discovery of Morris' "deaf-mute" neighbor, a woman who, supposedly, is frequently away traveling. Though the landlord of Morris' building claims to have met this woman, describing her as "flat-chested" and "ugly," her meager apartment is largely devoid of anything that would indicate a female presence. As the police quickly discover, that is because "she" is merely a cover for the true occupant, Robert Durst, who, in spite of his real estate fortune, has been living in a cheap Galveston apartment for reasons unknown.
The confounding and remarkable mysteries of The Jinx bring to mind not only Serial, but other crime documentaries, such as Jean-Xavier de Lestrade's gripping true crime masterpiece The Staircase. But what sets this one apart is its stunning aesthetic. The Jinx is gorgeously filmed, with an auteur's eye for staging — there are some truly haunting images that thread their way through the series, visuals that are captured in the evocative title sequence, which evokes the wildly popular HBO crime thriller True Detective and is set to Eels' throbbing song "Fresh Blood." We see a woman fall from a roof in slow-motion, her hair a Magritte-like shroud around her; a line of perfect mannequins stare outward, their wigs situated just so; and then there's the title itself, The Jinx, its X lingering onscreen after the other letters have faded away. Like the title sequence, the series is essentially the search for meaning among events that seem so unlikely, so impossible, that they beg credulity. And yet that's the crazy thing: Truth can sometimes be so much stranger, so much scarier, than anything invented or imagined.
That visual flair carries over into the way in which The Jinx's story is told — fragments of testimony and impassioned accounts from eyewitnesses, cops, Kathleen's friends, or even Durst himself being both exhibited and recreated on-screen. Unlike Serial, where we can only hear Adnan Syed's voice, Durst sits before us, staring right at us, and taking us back in time to the events of both nights with versions of what may or may not have happened. These moments, shot by Marc Smerling, are innately illustrative, aided in part by dramatic recreations of key scenes from testimony or from interview sources. It's a teleport, in a way, a means to create a narrative language for these impossible-to-comprehend crimes.
These scenes do not feel, in any way, reminiscent of, say, Unsolved Mysteries or other true crime re-enactments. Rather, they are shot in the style of a lush feature film, giving them a weight and a significance that connect back to the events in question. The footage feels particularly evocative and crisp, allowing The Jinx to eschew narration altogether and for the story to unfold visually. There's a strong sense of narrative at play within Jarecki's documentary, one that captures your imagination and terrifies you even as it invites you to sit closer.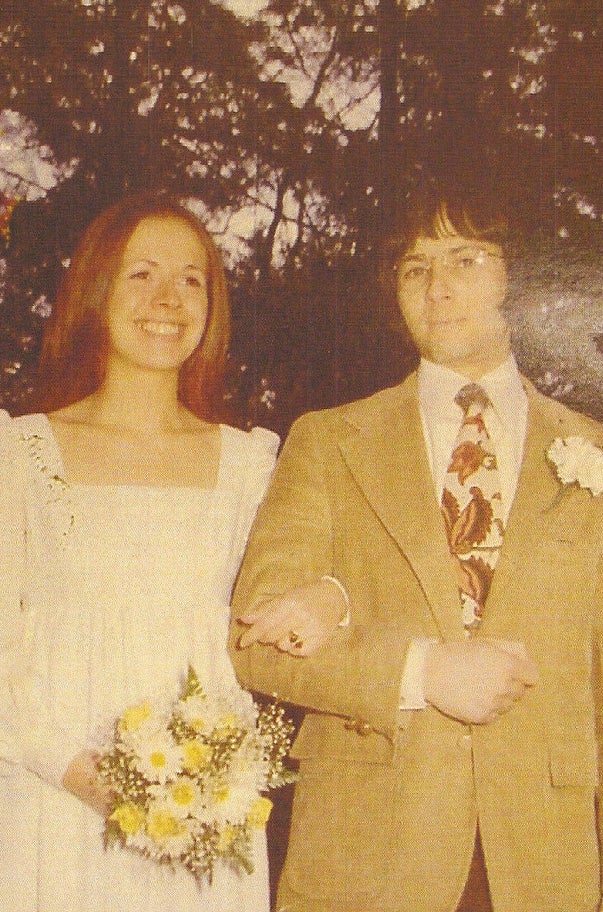 Kathleen and Robert Durst on their wedding day; a woman falls from a roof in one of The Jinx's dramatic recreations.
Part of what made the first season of Serial so successful was the situation surrounding the murder of honor student Hae Min Lee and the accusations of guilt against Syed. There was the high school setting, the promise of sex and intrigue, a drug-dealing maverick, and cell tower records. And there was the masterful web that was spun by Koenig as well — a deeply serialized story that offered twists and turns, cliffhangers and reversals. The Staircase did that as well, transforming the true crime documentary into a dramatic serial form, one borrowed but used so effectively for The Jinx.
While Jarecki's work might not have the same trappings as Serial — and though it was put into motion long before the podcast launched and became a cultural phenomenon — there's a spiritual kinship between the two, both in format and mission. What actually happened to Morris Black that night in Galveston? And what happened nearly two decades earlier to Kathleen Durst? How does this connect to the suicide of Durst's mother, who allegedly leapt to her death in front of her young son, an incident that he recounts dramatically, but which has been vehemently denied by his brother Douglas?
It's impossible not to watch The Jinx and attempt to diagnose Durst — his defense attorney did so at his trial, which is not depicted in the first two episodes provided to critics — because what The Jinx offers is a look inside the dark recesses of Durst's mind. The man is enthralling to watch because you're never sure who exactly is staring back at you, his rapidly blinking eyes darting around as he talks directly to Jarecki, sitting across from him (which was impossible for Koenig and Syed, given the difference in circumstances — and medium). Durst is also wholly devoid of Syed's charm and affable qualities, a Great White pressing against fractured glass at an aquarium, while Syed remained a sympathetic voice on the line. The Jinx's audience is told that Durst took on several aliases and identities in connection with his alleged crimes and his flight from justice, but it's impossible to see the patrician man sitting in that elegant armchair and not wonder, Who is this person, and what persona is he creating? And, ultimately, to what end?
There's a concrete form to Jarecki's story — six episodes, one airing each week — in contrast to the loose structure of the Serial podcast, which was unfolding and shifting as we were listening to it. While there are thematic overlaps between Jarecki's and Koenig's works, The Jinx is a far more malevolent and violent story about rage and identity, guilt and evasion, crime and (lack of) punishment. And Durst may keep you awake at night, his words echoing in your nightmares, those dark eyes swimming past you, full of cunning and danger. Just when you're riveted, it's then that The Jinx exerts its dark undertow, drawing you in and pulling you right under.
The Jinx: The Life and Deaths of Robert Durst premieres on Sunday, Feb. 8 at 8 p.m. on HBO.