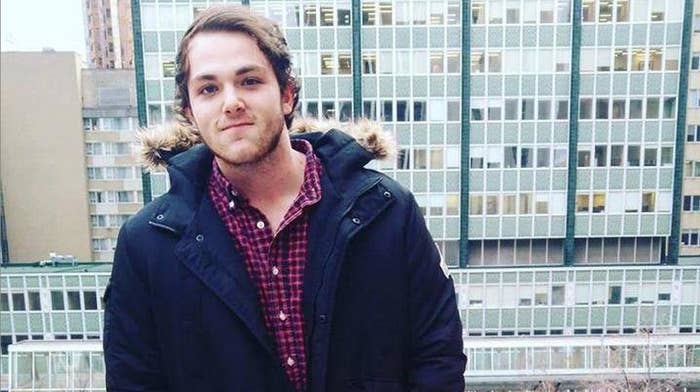 The University of Calgary says it can't expel a convicted sex offender who pleaded guilty to sexual interference of a 13-year-old girl, but the school has asked him to stay away from campus.
Connor Neurauter was given a 90-day jail sentence in a BC provincial court on Jan. 4, but his sentence was suspended until May so he could finish his term at school.
Many people are furious at the leniency shown to Neurauter, currently in his second year of a science degree. A petition demanding his expulsion has garnered more than 55,000 signatures in the last week.
The university, however, says it reviewed the case and found no justification for expelling him.
"The matter in British Columbia occurred before Mr. Neurauter was a student at the University of Calgary. This is important, because our policies do not apply to activity that occurred before the person was a member of our campus community. We have no grounds on which to expel him," the school said in a statement this week.

At the same time, however, the university says Neurauter was advised "not to return to campus for the remainder of the term." He has been warned that if he does return, he will be escorted off campus by security.
Asked for clarification, the university said it wants Neurauter to stay away due to safety concerns.
"His presence on campus would create a safety and security concern for members of our community, including victims of sexual violence, as well as for Mr. Neurauter," spokesperson Drew Scherban told BuzzFeed Canada.

At trial, the court heard that Neurauter had a series of sexual encounters with the 13-year-old victim when he was 18, including an instance when he choked her, according to Kamloops This Week. He then solicited nude photos from her, which he threatened to release to her family if she told anyone about their previous encounters.
According to the victim's mother, the case was repeatedly delayed to accommodate Neurauter's school and hockey schedule.
"It's been two years — all of these court dates extended, extended, extended," she told the Calgary Sun. (She has not been named due to a publication ban to protect her daughter's identity.)
"Nobody has stood up and said no, during the whole thing — there was not one time where the judge or even the Crown said 'please, this is not right.' The victims are the ones who have been paying over and over, every time we went to court."
Kaitlyn Casswell, who started the petition against Neurauter, said the school could step in where the justice system had let the victim down.

"I and those who sign this petition, implore the University to take a stand against sexual violence and expel Connor Neurauter from school," she wrote on the Change.org website.
UPDATE
This article has been updated with additional information from the University of Calgary.