Maclean's magazine is asking men to pay 26% more than women for the latest issue in order to bring attention to the pay gap.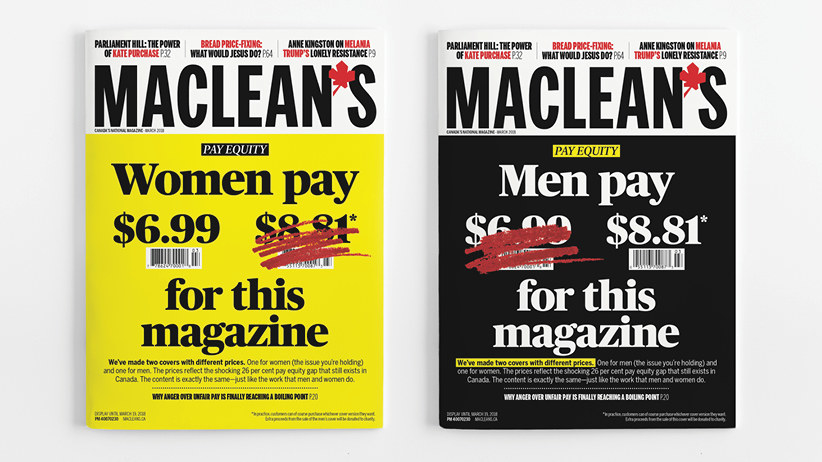 Maclean's is putting out two covers for its March issue that highlight the different prices: $6.99 for women and $8.81 for men.
The monthly Canadian magazine says it wants to contribute to the ongoing conversation about sexism and workplace discrimination by focusing on pay equity. The issue has more than a dozen stories on the topic.
According to Statistics Canada, the annual salaries of full-time working women in Canada are significantly less than their male counterparts' — about 74 cents to the dollar. That shrinks to 87 cents when comparing hourly wages, but the gap persists.

Many people are applauding Maclean's for taking on this issue.
The magazine is even picking up new subscribers.
Although some people are keen to miss the point.
Or ignore the facts altogether.
People certainly have a lot of ~feelings~ about the cover.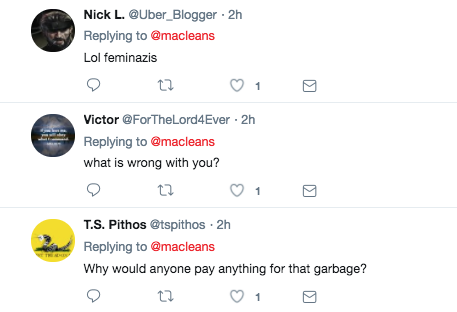 Maclean's says it will donate proceeds from the higher-priced issue to Indspire, a charity that invests in Indigenous education.
Also — although it might seem obvious — people can buy whichever version they want.

Ishmael N. Daro is a reporter for BuzzFeed News and is based in Toronto. PGP fingerprint: 5A1D 9099 3497 DA4B
Contact Ishmael N. Daro at ishmael.daro@buzzfeed.com.
Got a confidential tip? Submit it here.