A woman in London, Ontario, believes she's caught the thief who has been stealing flowers from her mother's grave for months.
Marg Allerston-Medeiros lost her mother, Alma, in the spring, and said flowers and other mementos have been mysteriously disappearing from her mother's gravesite for almost three months.
Allerston-Medeiros said she had no idea why someone would target her mother this way.
"Everyone loved her, my goodness," Medeiros told the London Free Press.
Allerston-Medeiros got so fed up with the desecration she installed a hidden camera nearby to watch over the grave.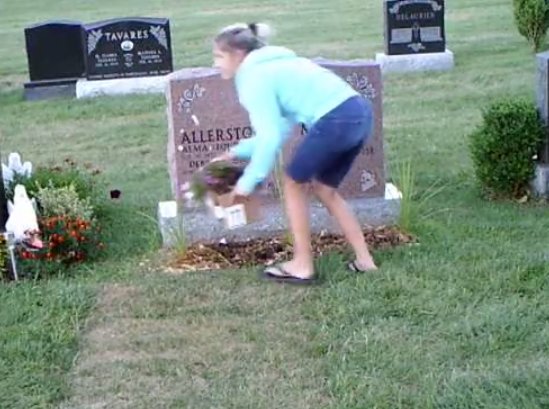 BuzzFeed Canada has contacted Allerston-Medeiros for comment.
Update
London Police Constable Ken Steeves told BuzzFeed Canada via email that they have received multiple tips and are continuing the investigation into the flower thief.
Asked what crimes the person might be charged with, Steeves responded: "The offence committed in this incident is theft. She took something that does not belong to her, without the permission of the owner."
ಠ_ಠ