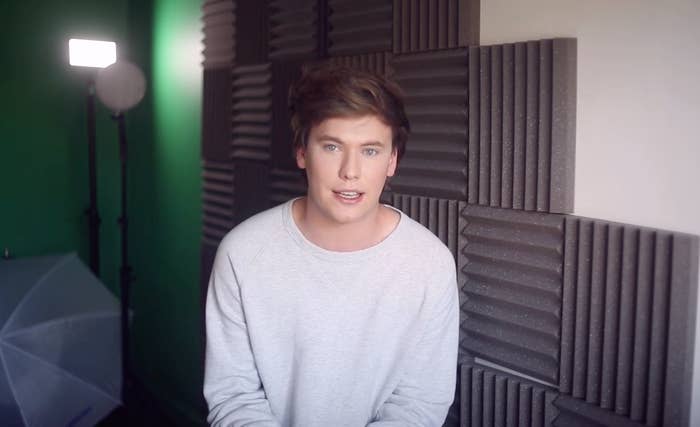 After a string of resignations from Rebel Media following the recent events in Charlottesville, Virginia, the far-right Canadian media outlet now faces accusations from a former contributor of dodgy financial and journalistic practices — claims the site's founder rejects.
Ezra Levant, who launched The Rebel in 2015 as a platform for right-wing news and commentary, responded by claiming he's being blackmailed by former Rebel contributor Caolan Robertson and former producer George Llewelyn-John, who are both based in the UK.
"I'm going to do what I should have done a few weeks ago, and just pull the trigger on myself, on my own terms," Levant said in a video released on Thursday. "That's the only thing that takes the power away from an extortionist."

Levant was responding to claims made by Robertson, also published as a video essay, that The Rebel is primarily a money-making scheme in which hosts continually press viewers for extra donations, even though the site has more than enough from paid subscribers and from wealthy anonymous backers.

"The ordinary, well-meaning people who are donating to causes deserve to know what's happening to their money," Robertson said.

In the video, Robertson shared surreptitiously taken audio that appeared to be of Levant promising "hush money" for Robertson's silence, and a warning not to talk about The Rebel's crowdfunding operations to other media outlets.
According to Robertson, The Rebel also suppressed a story that allegedly exposed electoral fraud by UKIP, the right-wing British party known for its anti-immigration policies, which Robertson said was part of an effort to cultivate former UKIP leader Nigel Farage as a contributor.
Levant denied the accusations and said Robertson and Llewelyn-John had been fired for shoddy work, and that they had made a series of escalating demands for money in return for not airing the company's dirty laundry.

"Absolute bullshit and nonsense," Robertson said of Levant's counter-accusations when contacted by BuzzFeed News. "He has lied, made all this up and has released no evidence."
Robertson said it was up to Levant to release any documents that bolstered his claim, and suggested his former boss was trying to discredit him in order to keep Rebel viewers from learning the truth about the website's operations.
"What he has said in response is absolutely the definition of defamation and slander," he said. "Of course now we will be taking legal action against him to prove this nonsense."
Levant did not immediately respond to requests for comment.
The tit for tat between Levant and Robertson is the latest in a string of setbacks for The Rebel.
In its two years of existence, the website has grown from a small blog devoted to Canadian news to become one of the leading online platforms for far-right voices across the English speaking internet. Its coverage — which is hostile to political correctness, undocumented immigrants, and Muslims — has made it an important part of the online right-wing media ecosystem, joining the likes of Breitbart and Infowars.
Following its sympathetic coverage of the white nationalist protests in Charlottesville, however, a number of contributors, including cofounder Brian Lilley, stepped away from the site, citing its lack of editorial judgment. Gavin McInnes, one of the biggest names left on the roster, is also reportedly leaving, according to CanadaLand.
The Rebel has also been subject to a sustained boycott campaign by activists pressuring advertisers to cut ties with the site, and many conservative Canadian politicians who once eagerly flocked to Levant's site are now weighing whether it's become too toxic to associate with.
And just when things seemed like they couldn't get any worse for The Rebel, it came to light late Thursday that one of the first and best-known correspondents for the site, Faith Goldy, had appeared on a podcast affiliated with the neo-Nazi website The Daily Stormer, where she spoke in glowing terms about the white nationalist protests in Charlottesville and traded jokes with the hosts about her Jewish boss. She was fired as a result.
Levant had attempted to distance The Rebel from the alt-right after Charlottesville, writing a public memo that disavowed the open racism of Richard Spencer and others identified with the movement. But after years of flirting with extremism on the far-right and giving a platform to some of its most odious figures, it remains to be seen if Levant and The Rebel can outrun that legacy.
UPDATE
This post has been updated with news of Faith Goldy's dismissal from The Rebel.