1. Signing up to multiple clubs during O'Week, only to never attend any of their meetings.
2. And grabbing a free diary/planner from Activate UTS — because there was no better way to start your year.
3. Having multiple breakdowns while using MyTimetable because it wouldn't let you be in the same classes as your mates.
4. Watching tutors struggle with projects during tutorials — even though it was meant to be the University of Technology Sydney.
5. Grabbing a cheap ass coffee from 7/11 on your way in.
6. Or, alternatively, from that cart that was always parked right in front of the UTS Library.
7. Climbing the circular stairs in the library to the top floor, only to get there and be wheezing LOUDLY despite it being the "super duper quiet floor".
8. And giving up on trying to find a seat in the library during exam time.
9. Joking about how ugly the Tower building is, but getting annoyed if someone from another uni insulted it.
10. Passing that musical playing couple (you know the one) who would always be vibing in the tunnel at Central Station.
11. Visiting The Loft for drinks after classes or when you had submitted a particularly difficult assignment.
12. And randomly joining a club that was having a "Welcome Night" event so you could get free drinks.
13. Having lunch on the Alumni Green, which sometimes included dozing off on those ultra comfy lounge chairs.
14. Said lunch would most likely be a Halal Snack Pack or pide from UniBros.
15. Having to leg it from the Tower to Haymarket — because some sadist decided that your timetable needed classes on opposite sides of UTS.
16. Spending hours in the Bon Marche building editing — especially if you were a Comms student.
17. Like, you would literally watch the sun go down and be like "Yep, still here. Better get some Macca's for dinner."
18. And having to use their shitty equipment to do your Journalism or MAP assignments — including those ancient camcorders and cases that you had to lug EVERYWHERE.
19. Ordering the pork and chive dumplings and braised eggplant from the Chinese Noodle House — aka the best place on campus.
20. Struggling with the workload when trimesters became a thing and they slashed the number of face-to-face hours (but not the assignments, lol).
21. Getting absolutely wasted in The Underground after ordering multiple jugs at some random event you were attending.
22. Picking up a copy of Vertigo along on your way to class.
23. Swiping your Opal card instead of your student card at the library.
24. Freezing your ass off in that huge lecture room in Building 4 (aka the Science building), which was always set to sub-arctic temperatures for some reason.
25. Actually, just shivering in ALL the lecture rooms.
26. Regretting signing up for social sport competitions when you realised how serious the other teams were.
27. Cutting through Bon Marche to walk across that bridge that would take you straight to the Tower building.
28. Or, alternatively, taking a shortcut through the iconic DAB building, which everyone always cut through.
29. And once in a blue moon, you might stop and grab lunch at the cafe there.
30. Getting help from UTS Careers because your resume was shit.
31. And looking for jobs through the UTS Careerhub.
32. Grabbing that sweet, sweet lunch special from either The Small Lemongrass or Satang Thai.
33. Knowing who Jenna Price is — even if you didn't study Journalism.
34. And if you did, most likely crying in secret because she rejected all your story pitches and your assignment was due in a week.
35. Being bombarded by flyers from student election campaigners.
36. Or worse, having an iPad shoved at you by someone asking for votes.
37. Submitting something to Vertigo because your mate was desperate for submissions.
38. Poking fun at other universities — especially Notre Dame, Sydney Uni and Macquarie.
39. Although sometimes this would turn into full blown arguments on uni meme pages.
40. Deciding to run for the train, even though you checked TripView and only had eight minutes to get to Central from the Tower building.
41. And then missing it anyway because everyone was too fucking slow in the tunnel.
42. Getting invested in UTS Love Letters — especially when there was one that vaguely sounded like it could be you.
43. Who are we kidding? It never was you, but you hoped that SOMEONE would do a submission about you one day.
44. Falling asleep in the iconic Green Space, which was always a little too warm, smelled like someone's lunch and felt musty.
45. Heading over to Central Park to grab some chicken chips from Woolies for lunch.
46. Or, alternatively going to Guzman whenever they were running their free burrito day promotion.
47. Missing important announcements because your tutor decided to post them to UTSOnline.
48. And then, being told to discuss the weekly readings on the discussion boards (there was always that one kid who took it too seriously).
49. Firing up the group chat whenever a particularly steamy confession dropped on UTS Confessions.
50. Having a class in one of the new buildings and not having any idea where the fuck you are.
51. Grabbing a snag from the sausage sizzle being run on the Alumni Green.
52. And playing ping pong on those concrete tables by the benches.
53. Walking through that laneway between UTS Housing and Central Station multiple days a day.
54. Cursing whichever higher up decided to schedule one of your exams on a Tuesday at 9:30 p.m. at Wentworth Park.
55. Swearing at your screen because the one time you actually decided to check your UTS Webmail, there was maintenance going on.
56. Being slightly creeped out whenever you had something scheduled in that entirely green lecture room.
57. Sweating profusely before, during and after completing Newsday as a first year journo student.
58. Using that Lost On Campus app because there's just way too many buildings, rooms and secret passageways at UTS.
59. Going to see a UTS Backstage play at the Monkey Baa Theatre because your mate had scored a part. Either that, or they were on the committee.
60. Falling asleep on those orange couches that were located on that quiet level in the Tower building (and praying you didn't end up on that meme page called "People Sleeping At UTS".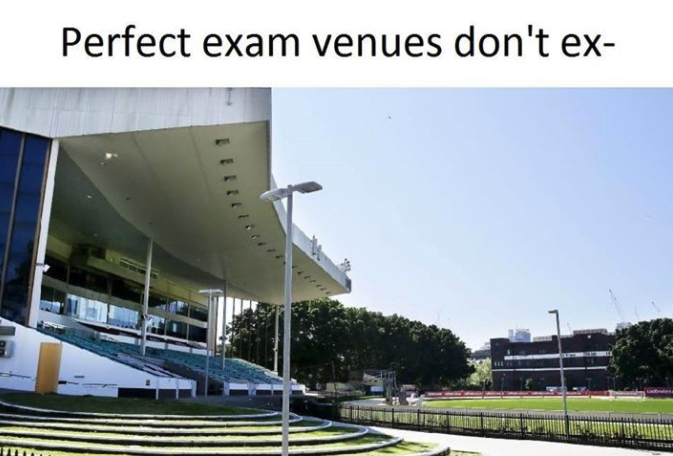 61. Sitting down in The Underground by yourself while eating hot chips from UniBros while you waited for your friends to finish up.
62. Deciding to join a club and then somehow becoming president, which meant you had to deal with ActivateUTS and actually put in so much time and effort into running said club.
63. Looking at the Dr Chau Chak Wing Building when it first went up and thinking "Yep, that looks like a paper bag".
64. Having all the sidewalks covered in chalk from where the different student parties would write their slogans during elections.
65. Becoming obsessed with Penny Lane when Building 11 finally opened.
66. Waltzing through the ABC building as a shortcut before they closed it off and feeling like you actually worked there.
67. Avoiding the foyer of Building 1 entirely whenever there was a graduation ceremony on.
68. Finally graduating and getting to toss your cap up to take those Instagram-worthy shots on the Alumni Green.
69. And lastly, actually missing UTS and the memories you made there — because while it was bloody cooked at times, it was a lot of fun too.