Creamy Spinach-Stuffed Pork Chops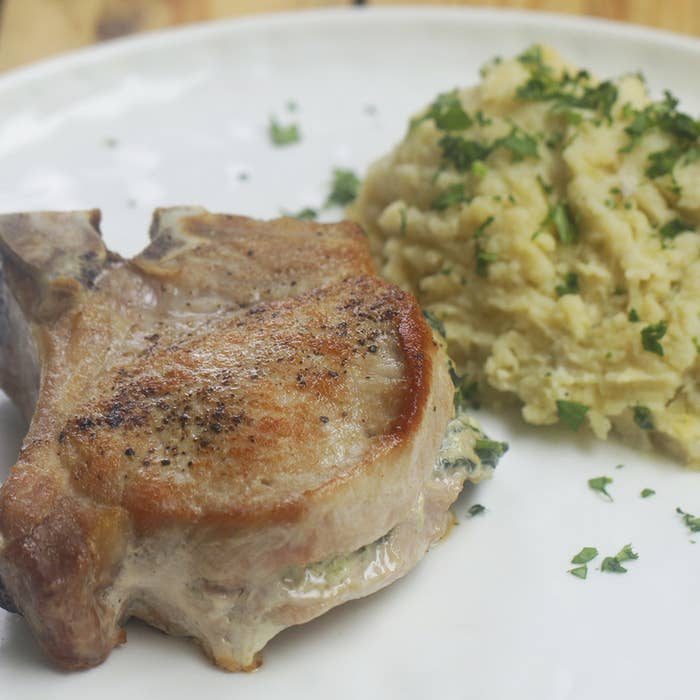 INGREDIENTS
Serves 5-6
¼ cup, sliced
2 garlic cloves, minced
7 ounces spinach
6 ounces cream cheese, cubed
Salt, to taste
Pepper, to taste
5-6 pork chops, thick-cut
Garnish
Potato puree
PREPARATION
1. Preheat oven to 400ºF/200ºC.
2. Cook the onion and the garlic, until translucent.
3. Add the washed spinach. Cook until wilted.
4. Add the cream cheese, salt, and pepper, and stir until melted. Set aside and allow to cool.
5. Make a slit on the side of the pork chop, making a pocket but not cutting all the way through.
6. Fill the pork chop with the spinach mixture. Season with salt and pepper both sides.
7. In a hot pan, sear the pork chop, until golden brown on both sides.
8. Move pork chop to a baking sheet and bake for 20 minutes, or until pork is cooked through.
9. Serve with your favorite side - we chose mashed potatoes!
10. Enjoy!
Want BuzzFeed Tasty right in your inbox? Sign up for our newsletter!