Cheese-Stuffed Blooming Onion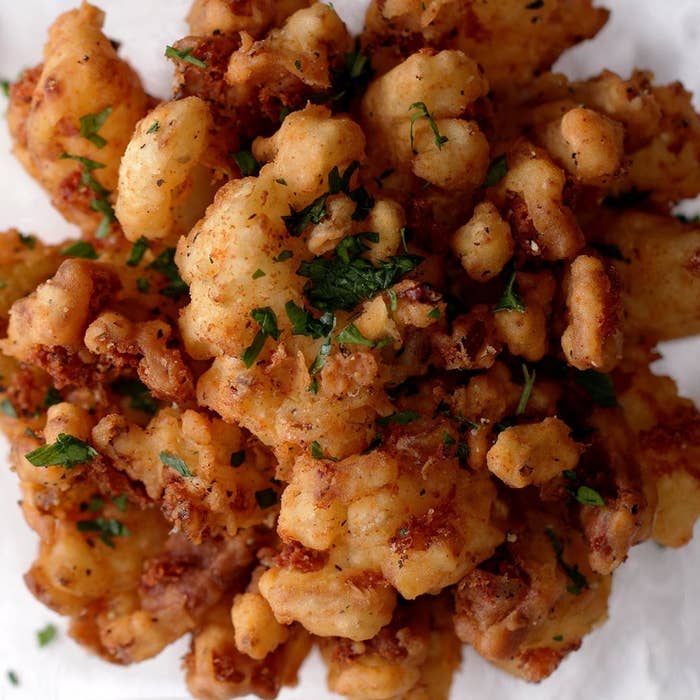 INGREDIENTS
Serves 2-3
3 medium sweet onions, peeled
1½ cups milk
2 eggs
1½ cups flour
1 tablespoon garlic salt
1 tablespoon black pepper
1 tablespoon paprika
Canola oil, for frying
Marinara sauce, for serving
PREPARATION
1. Cut the just the top off an onion and place it cut-side down.
2. Using a sharp knife, go around the root of the onion and make 4 evenly spaced cuts, being careful not to cut all the way through. Go back around and make 2 additional cuts between each quarter.
3. Flip the onion over and coax apart its layers (or "petals").
4. Place 2 slices of mozzarella cheese on top of each other, cut them into ½-inch slices, then cut them in half.
5. Place a piece of cheese in between all of the onion petals.
6. Freeze the onion for 1 hour.
7. In a medium bowl, whisk together the eggs and the milk.
8. In large bowl, whisk together the flour, paprika, garlic salt, and black pepper.
9. Place the onion in the wet mixture, turning it until every petal is coated.
10. Place the onion in the dry mixture coating every petal.
11. Coat the onion in the egg wash and dry mixture one more time.
12. Place onion in the freezer for 20 minutes.
13. Heat canola oil to 375ºF/190ºC in a deep-fryer or dutch oven.
14. With tongs, add the onion to the oil for 2 minutes or until it is browned and crispy on all sides.
15. Move onion to plate covered in paper towels and allow to drain for 5 minutes.
16. Enjoy!