Triple Chocolate Scone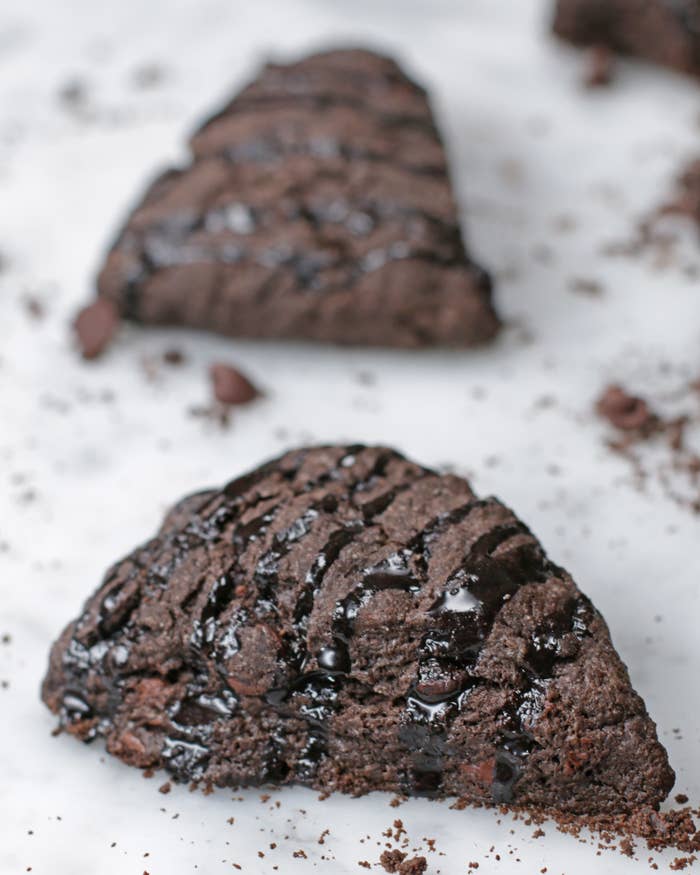 INGREDIENTS
Servings: 8 scones
2/3 cup heavy cream
1 large egg, lightly beaten
1 teaspoon pure vanilla extract
1 3/4 cups all purpose flour
1/4 cup Dutch-processed unsweetened cocoa powder
1/2 cup granulated sugar
2 1/2 teaspoons baking powder
1/4 teaspoon salt
1/3 cup cold unsalted butter, cut into small pieces
2/3 cup dark chocolate chips
For glaze (optional)
1/4 cup cocoa powder
1/2 cup powdered sugar
3 tablespoons milk
PREPARATION
1. Preheat the oven to 375F/190C and place rack in center of oven.
2. In a small bowl whisk together heavy cream, egg, and vanilla extract.
3. In a large bowl, whisk together flour, cocoa powder, sugar, baking powder and salt.
4. Using a pastry blender or two knives, cut the butter into the flour mixture until it resembles coarse crumbs. Stir in the chocolate chips. Add the cream mixture and stir just until the dough comes together (add more cream and/or flour as necessary).
5. Transfer the dough to a lightly floured surface and knead a few times. Shape the dough into a 7-inch round and cut into eight wedges. Place them on the baking sheet.
6. Bake for about 20 minutes or until they are firm around the edges but a bit soft in the center. A toothpick inserted into the center of a scone will come out clean. Cool on a wire rack.
7. Drizzle with glaze (optional).
8. Enjoy!
Want BuzzFeed Tasty right in your inbox? Sign up for our newsletter!