One-Pan Taco Macaroni And Cheese
TACO + MAC AND CHEESE = DINNER TONIGHT
by
,
One-Pan Taco Macaroni And Cheese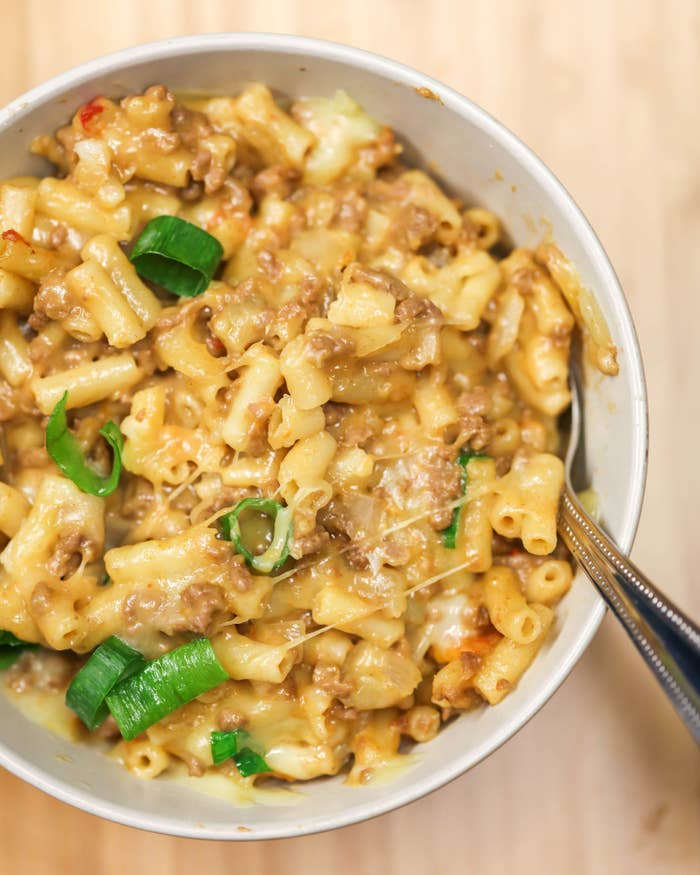 INGREDIENTS
Servings: 4-6
Olive oil
1 pound ground beef
1 small white onion, diced
1 tablespoon garlic, minced
2 tablespoons taco seasoning, divided
½ pound small, dry macaroni
1 cup water
2 cups beef stock
2 cups shredded white cheddar (yellow cheddar works as well)
1 cup tomato, diced
Green onions, diced, for garnish
PREPARATION
1.In a large skillet, heat approximately 1 tablespoon olive oil over medium-high heat and cook the onions until they begin to soften. Add garlic and stir for 30 seconds.
2.Add the ground beef and 1 tablespoon of taco seasoning. Using your spatula, break up the ground beef and stir until cooked. Drain the excess liquid from the pan.
3.Add water, beef stock, pasta, tomatoes, and 1 tablespoon of taco seasoning back to the pan.
4.Cook over low heat for 15 minutes, stirring twice to keep the pasta from sticking to the bottom of the pan. Increase heat to medium after 15 minutes, and stir pasta until most of the liquid is gone.
5.Turn off heat and add the shredded cheese. Stir until cheese is completely melted.
6.Top with green onions, and enjoy!
Recipe inspired by: Yellow Bliss Road