Now dip it real good. Because ranch is life.
Buffalo Fried Calamari with Ranch Dip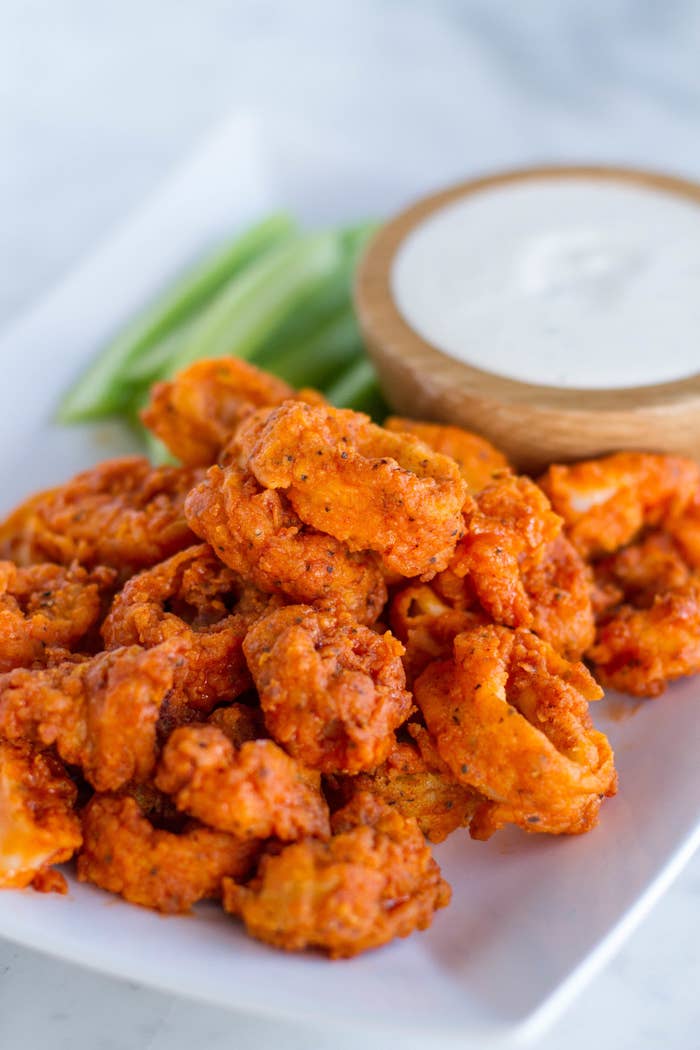 INGREDIENTS
Serving Size: 2
1 pound calamari, bodies sliced into ½ inch rings or frozen packaged
1 1/2 cups buttermilk
1 cup flour
2 teaspoons paprika
2 teaspoons salt
1 teaspoon black pepper
1 teaspoon garlic powder
Oil for, frying
1/4 cup buffalo sauce
Ranch dressing, for dipping
PREPARATION
1. Soak calamari in buttermilk and chill in the refrigerator for 30 minutes.
2. Preheat frying oil to 350˚F / 175˚C.
3. In a large bowl, stir together flour, salt, pepper, paprika, and garlic powder.
4. Dredge calamari in seasoned flour, tossing evenly to coat.
5. Carefully drop a handful of the calamari into the hot oil.
6. Cook until golden brown, about 1-2 minutes.
7. Remove calamari from the fryer and transfer to a paper towel-lined baking sheet.
8. Repeat with remaining calamari.
9. In an empty bowl, pour in buffalo sauce, then add in fried calamari. Toss around until evenly coated.
10. Serve with ranch dressing and enjoy!
Want BuzzFeed Tasty right in your inbox? Sign up for our newsletter!