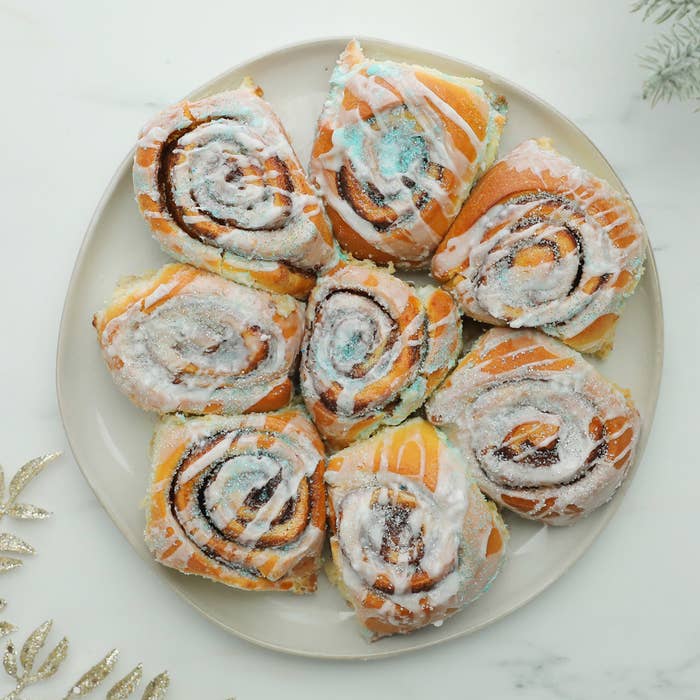 Ingredients
Rolls
1⁄2 cup Frosted Sugar Cookie International Delight
1⁄2 cup milk
2 teaspoons active dry yeast
3 & 1/2 cups flour, divided (plus extra for dusting)
1⁄4 cup sugar
1 teaspoon salt
1⁄3 cup butter, melted
2 eggs
Filling
1⁄2 cup butter, softened
3⁄4 cup brown sugar
2 tablespoons cinnamon
2 tablespoons Frosted Sugar Cookie International Delight
Glaze
1 & 1/3 cups powdered sugar
1⁄4 cup Frosted Sugar Cookie International Delight
Multi-colored sanding sugars, for decorating
Preparation
1. Heat Frosted Sugar Cookie International Delight and milk in a microwave-safe bowl at high for one minute until warm (105oF–110oF). Whisk in yeast. Let sit for 5–10 minutes until yeast has bloomed.
2. In a large bowl, whisk together 2 cups flour, sugar, and salt. Pour in yeast mixture, melted butter, and eggs. Mix together until mostly combined. Then add in 11⁄2 cups flour and continue to mix.
3. Turn dough out onto a floured surface and knead until it forms a smooth ball, about 5 minutes. Dough will be slightly sticky. Place dough in a greased bowl, cover, and place in a warm spot to rise until doubled in size (about 2 hours).
4. While dough is rising, make the filling. Mix together softened butter, brown sugar, and cinnamon until it is a smooth paste.
5. Once dough has risen, roll dough out (on a floured surface) into a large 16x13" rectangle. Evenly spread filling over entire surface of dough. Starting at the bottom, and roll the dough up into a tight log. Slice log into 12 equal pieces.
6. Place cinnamon rolls, spiral side up, into a greased 9x13" baking dish. Cover and let rise again for 1 hour.
7. Preheat oven to 350oF. Before putting pan in oven, drizzle cinnamon rolls with the 2 tablespoons of Frosted Sugar Cookie International Delight. Bake cinnamon rolls for 20–25 minutes.
8. Let cinnamon rolls cool. Whisk together powdered sugar and 1⁄4 cup Frosted Sugar Cookie International Delight to form a smooth glaze. Drizzle cinnamon rolls with glaze, then decorate with multi-colored sanding sugars.