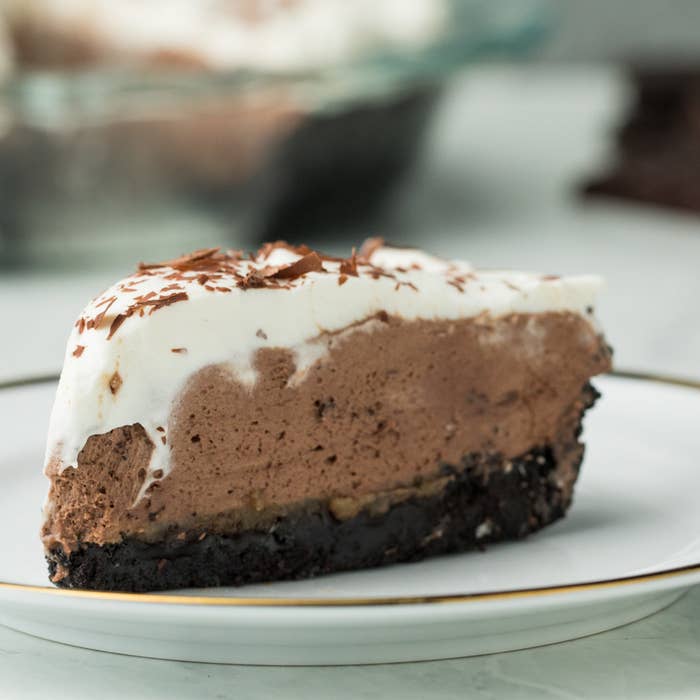 Ingredients
Crust
28 chocolate sandwich cookies, crushed to fine crumbs
7 tablespoons melted butter
Caramel
1⁄4 cup butter
3⁄4 cup brown sugar
1⁄4 cup International Delight Caramel Macchiato Coffee Creamer
1 & 1/2 teaspoons flaky salt
Filling
2 cups heavy cream, divided
12 ounces semi-sweet chocolate chips
Topping
1 cup heavy cream
1 tablespoon International Delight Caramel Macchiato Coffee Creamer
Chocolate shavings, for garnish
Preparation
1. Preheat oven to 350F.
2. Crust: Mix together crushed cookies and melted butter until the texture resembles wet sand. Press into a greased pie dish, making sure to go up the sides of the dish a bit. Bake for 8–10 minutes. Remove from oven and let cool completely.
3. Caramel: Melt butter in a small pot. Whisk in brown sugar and let bubble for a minute. Stir in International Delight Caramel Macchiato. Stir frequently for 2 minutes, until caramel comes together. Stir in flaky salt and remove from heat.
4. Pour caramel over cookie crust. Tilt pie dish in a circle to swirl caramel around the crust. Chill for 2 hours to set.
5. Filling: Place 2⁄3 cup heavy cream in a small pot over low heat. Heat just until bubbles begin forming around the edge. Pour hot liquid over chocolate chips, let sit for 1 minute, then stir until melted and smooth. Let mixture cool completely.
6. Place the rest of the heavy cream in a large bowl. Beat with a hand mixer until it forms soft peaks. Beat in cooled chocolate mixture. Dollop filling on top of caramel layer and spread evenly with an offset spatula. Refrigerate for 4 hours.
7. Topping: Beat heavy cream with a hand mixer until soft peaks form. Add in 1 tablespoon International Delight Caramel Macchiato and beat for another 30 seconds. Spoon whipped cream on pie. Garnish with chocolate shavings. Slice and serve.