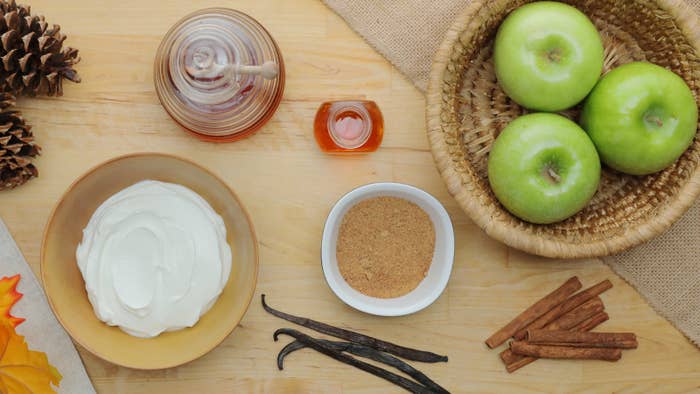 INGREDIENTS
SERVINGS: 8
Baked Apple Chips
2 Granny Smith apples
1 tablespoon honey
1 teaspoon cinnamon
Caramel Yogurt Dip
1 cup Greek yogurt
¼ cup coconut sugar
2 tablespoons maple syrup
1 teaspoon vanilla extract
Salt
PREPARATION
1. Preheat oven to 225℉.
2. Thinly slice apples and place in a large mixing bowl. Toss apple slices with honey and cinnamon.
3. Place apple slices in a single layer on a parchment-lined baking sheet.
4. Bake for about 90 minutes or until the apples are dry and crispy. Set aside to cool.
5. To prepare the caramel dip, heat coconut sugar, maple syrup, vanilla, and salt in a small saucepan over medium heat until sugar is dissolved and bubbly, about 1 minute.
6. Pull syrup off the heat. Pour syrup over yogurt, mix until combined, and chill until ready to serve.