1.
A birthstone ring for the person who is infinitely proud of the month they were born and want to display it to the world. Bonus points if you choose the birthstone of the month of your wedding!
It's a 10-karat yellow gold band with a cubic zirconia crystal.
Promising review: "These rings are real gold and a lovely size. Not too big or too little. I bought three of them all different colored stones. I stacked them on one finger for a more chic look. Absolutely satisfied with this ring. It fits as expected." —Turner
Get it from Amazon for $58.90 (available in sizes 6–8 and 12 stones).
2.
A moss agate engagement ring so stunning, you may get lost in the mesmerizing swirls of light green inside the stone. Doesn't it look like its own world?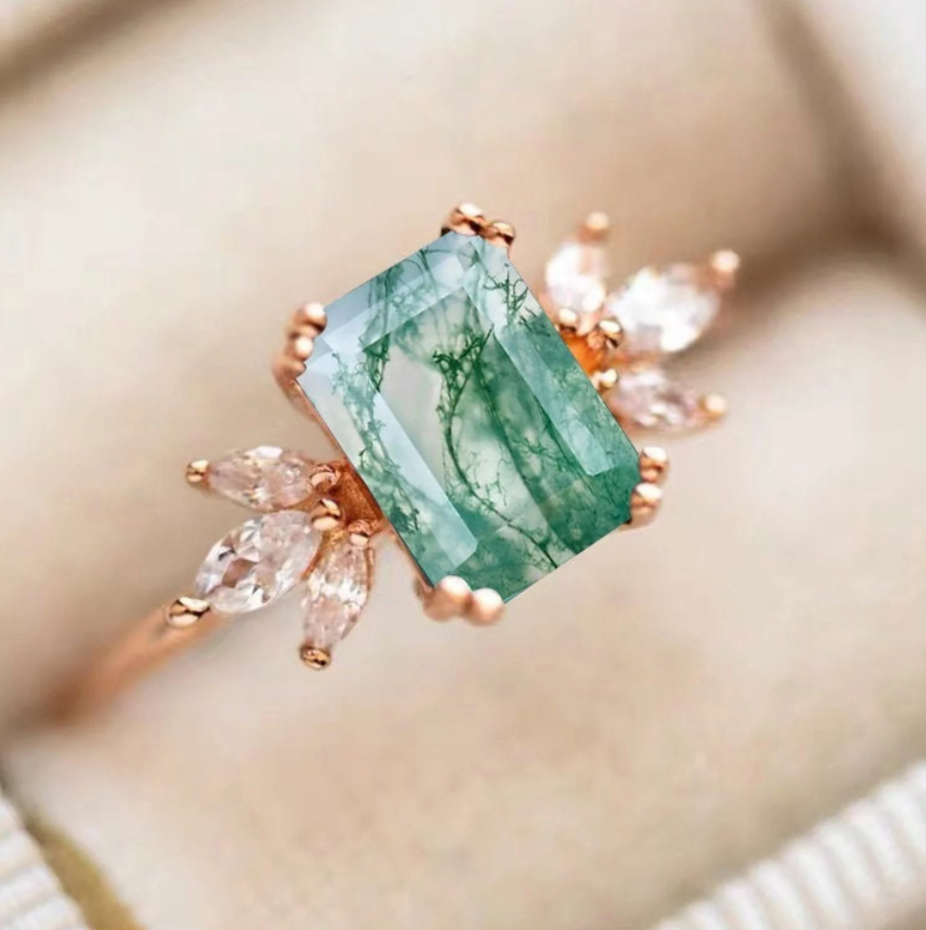 Dream Craft Jewelry / Etsy
Agate is a durable stone with a Mohs hardness rating of 6.5–7. This means only materials over this rating can damage or scratch this stone.

Dream Craft Jewelry is small business base in California that designs romantic, vintage-inspired rings.
Promising review: "This ring is absolutely gorgeous and gives me ethereal vibes!" —Sarah Minogue
Get it from Dream Craft Jewelry on Etsy for $88.50+ (available in sizes four stone sizes and 12 gold types).
3.
A rose gold morganite halo ring to satisfy your love for romance *and* simplicity all in one. Every morganite gemstone is different, and sometimes you might catch a lovely glimmer of peach in certain lights.
Morganite is a very durable rock, ranking at 7.5–8 on the Mohs scale! Additionally rose gold is less prone to damage from everyday wear than white or yellow gold!

This is my engagement ring and I absolutely love it! I wanted someone that was dainty while still being romantic and this ticks both boxes. The rose gold complements *every* skin tone too! The stone itself is actually very peachy, but because of the reflection of light it looks more pink depending on how you angle it. When I get the stone wet is when I can truly see the color shine through and it's stunning! 
Rebekah Brooks is a jewelry designer based in Northampton, Massachusetts. Designing jewelry for her is about creating something beautiful that's fully realized only once it's adorned.
Get it from Rebekah Brooks for $2850.
4.
A simple pearl ring because you're all about a classic, timeless style and your ring shouldn't be any different.
DISCLAIMER: Pearls are a very very delicate gem and a really high maintenance choice as an engagement ring. If you absolutely must have a pearl, which I don't blame you because they're stunning, be prepared for a lot of trips to the jeweler! 
Promising review: "This ring is lovely. Delicate, simple and beautiful quality. Very happy with my purchase! My only wish is that they had half sizes, it's just a tad too loose. But honestly this is an excellent ring, at an excellent price!" —Amazon customer
Get it from Amazon for $109 (available in sizes 5–9).
5.
An ~out of this world~ moonstone ring for the person who truly is anything but traditional. Close friends of yours would probably describe you as: elegant, ethereal, a literal goddess.
Rainbow moonstone ring is made out of oxidized sterling silver with the rose being made out of solid 14-karat gold. Moonstone is less durable than gems like sapphire, diamond or amethyst. It can be vulnerable to scratching so I wouldn't wear it to the gym or if your work is very hands-on.

Promising review: "I got this as an engagement ring and it is so pretty, it shines blue in the light and you can see pretty little lines throughout the stone. It's well made and feels like it will last forever." —Curtis
BlackTree Lab is a family-owned jewelry brand based in Bali, Indonesia that specializes in individually designed, sculpted and handcrafted jewelry pieces. Design of BlackTree jewelry is inspired by the heritage of ancient cultures and natural elements from around the world.
Get it from BlackTree Lab on Amazon Handmade for $140 (available in sizes 3-13).
6.
A blue sandstone ring you can get as a set to add a little bit more bling to an otherwise simple (yet exquisite) ring.
The main stone is a lab blue sandstone and the little gems are moissanites.
LX Diamond is a small biz that specializes in mixing traditional and non-traditional styles by including colorful, stunning gemstones with every ring.
Get it from LX Diamond on Etsy for $58.65+ (also available as a two-piece set and 11 band options).
7.
A vintage-style opal ring so beautiful, you'll have loved ones constantly begging to inherit it. Little did they know, it's never leaving your finger.
As far as gemstones go, opals are softer than most with a rating of 5.5–6.0 on the Mohs hardness scale. It's still pretty durable and can last many many years without damage. 

Michellia Fine Jewelry is a small business based in Bellevue, Washington committed to celebrating the unique beauty of every love story with nontraditional jewelry designs. They partner with local artisan jewelers with decades of fine jewelry crafting experience to ensure world-class production standards.

Promising review: "What can I say but you've made my fiancé the happiest woman today. She'd been dreaming of this ring for a while now and we're not disappointed. The ring is beautiful and no photo will do it justice. Such an exquisite piece of jewelry. Beautiful in design and color. Perfectly sized and delivery is prompt following the couple of weeks while it's being made." —Gavin Pearce
Get it from Michellia Fine Jewelry on Etsy for $795+ (available in sizes 3–9, as a two piece set, and six band styles).
8.
A unique spin on a classic Tiffany ring because diamonds truly are amazing, but sometimes they can seem basic with a simple band, and that's just not you.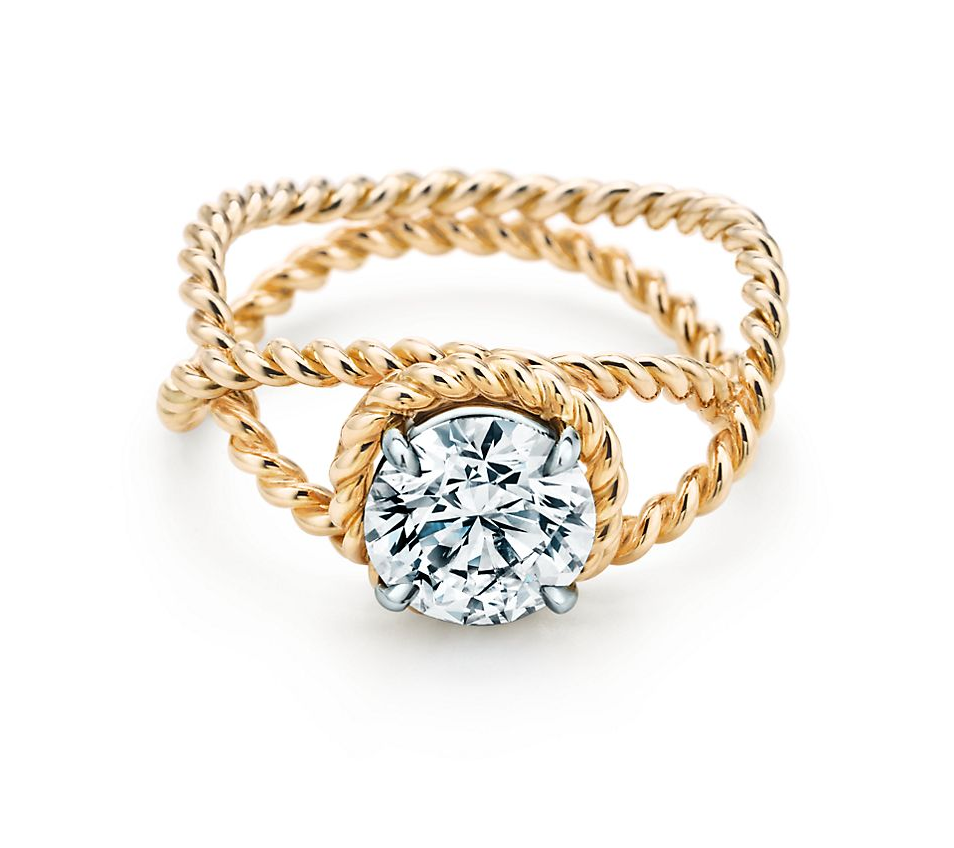 Tiffany's ethically sources their diamonds. Integrity and social responsibility are at the core of their sourcing practices.

Get it from Tiffany & Co. for $46,600.
9.
A luminous sunstone that'll feel like you're carrying the actual sun with you everywhere you go. But not just any sun...we're talking 6 o' clock summer sunset kind of sun. 
The hardness of the sunstone ranges from 6.0–6.5 on the Mohs Scale. It's resistant to scratching, but not completely so this wouldn't be the best for everyday wear if you use your hands a lot in tough environments. 
Get it from Catbird NYC for $3,000 (available in sizes 4-8.5 and two metals).
10.
A butterfly ring to give you *ALL* the blind and even a darling pop of color.
It's nickel-free, lead-free, cadmium-free, and tarnish-resistant. It's a 3.5-carat white diamond with 0.79 carat Amethysts throughout.

Promising review: "Much more beautiful in real life! The blue is actually subtle not bright as it appears in pictures. It looks like a very expensive ring." —Melissa A. Adams
Get it from Amazon for $95+ (available in sizes 5–10 and six colors).
11.
A reversible topaz ring because for you, two rings are just better than one. Now, this is definitely a tall ring to make space for both stones, but it's worth it to be able to change it up every once in a while.
The blue topaz has a rating of 8 on the Mohs scale of mineral hardness. Topaz might not be as hard as a diamond or ruby but is durable enough to withstand daily wear!

Promising review: "I am pleased so far. It is beautiful and kinda fun to change stones back and forth. The raised ring (to allow the second stone to be underneath) ran true to size. I am hard on rings as I leave them in for dishes and cleaning. As long as nothing changes I am happy." —Kim Connaughton
Get it from Amazon for $36.90 (available in sizes 5–11).
12.
A stylish silicone ring for when you want to have something on your finger, but would rather not deal with the stress of having an actual stone on your hand. I'm constantly worried about my ring so I totally get it.
The rounded interior lessens skin contact, allowing air to flow in and moisture to flow out. No sweaty fingers!

Promising review: "My fiancee absolutely loves this ring. We live in Florida. She's a teacher and dance instructor, so the ring gets a lot of wear throughout the day. Fits perfectly and looks great despite the summer humidity." —Bmlee0311
Get it from Amazon for $34.95 (available in sizes 4–11 and eight colors).
13.
A black rutilated quartz ring to effortlessly showcase your uniqueness without having to convince anyone of it. Just flash the ring and they'll know.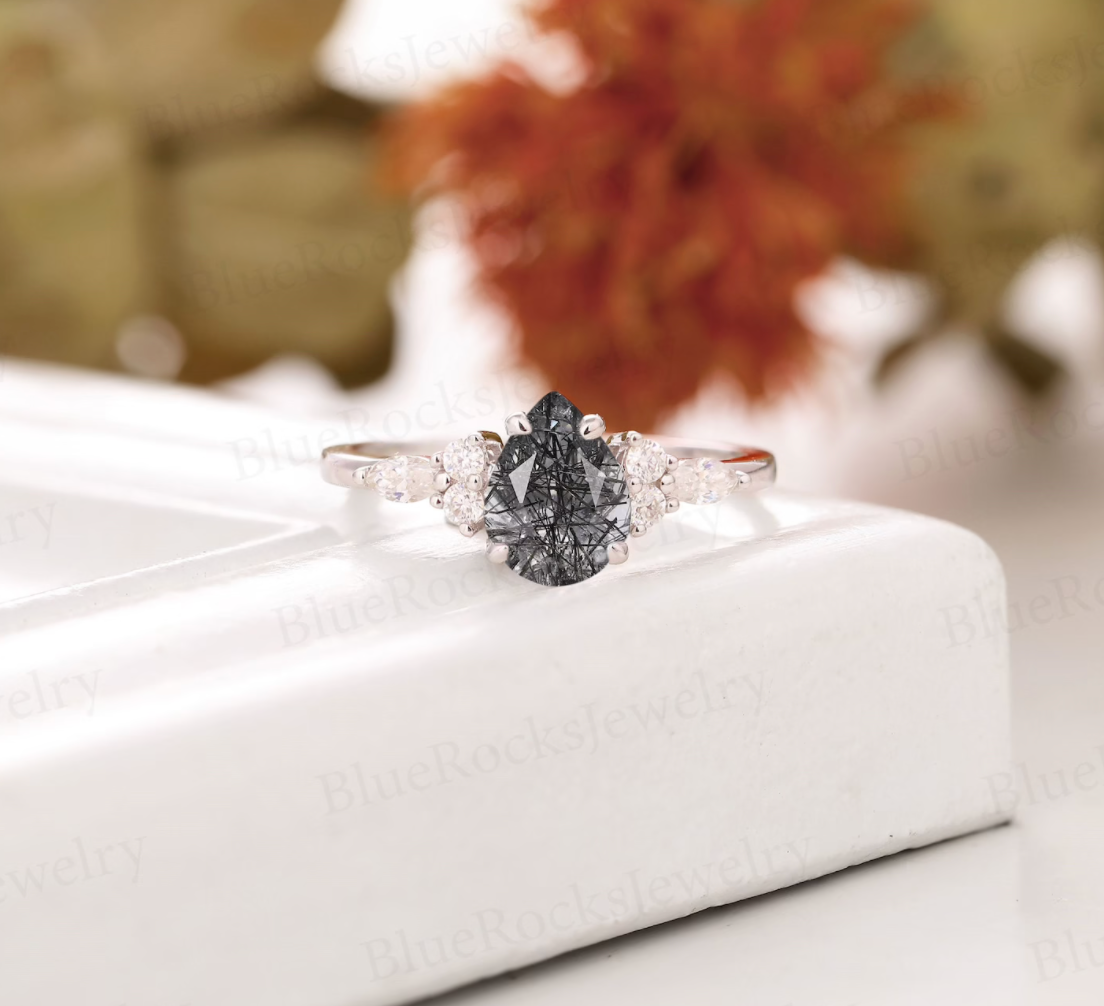 Blue Rocks Jewelry / Etsy
All quartz is rated at about 7 on the Mohs hardness scale. The rutile material within the stone is rated at about 6 on the scale but is usually safely protected by the quartz. Rutile is a mineral composed primarily of titanium dioxide (with large amounts of iron oxide).

Blue Rocks Jewelry is a small business that hand-creates stunning rings, focusing on using unique gemstones for a more romantic feel.
Promising review: "I absolutely love this ring, it's even prettier in person than it is in the picture; seller was amazing on answering all of my questions and getting back to me quickly! If you're unsure about whether you want this ring or not I promise you do!!!" —Mistilyn
Get it from Blue Rocks Jewelry on Etsy for $372.80+ (available in sizes 3–9 and 12 styles).
14.
A black diamond because, like Carrie Bradshaw who got one from Mr. Big, you're not traditional. I mean, that's why you're reading this list.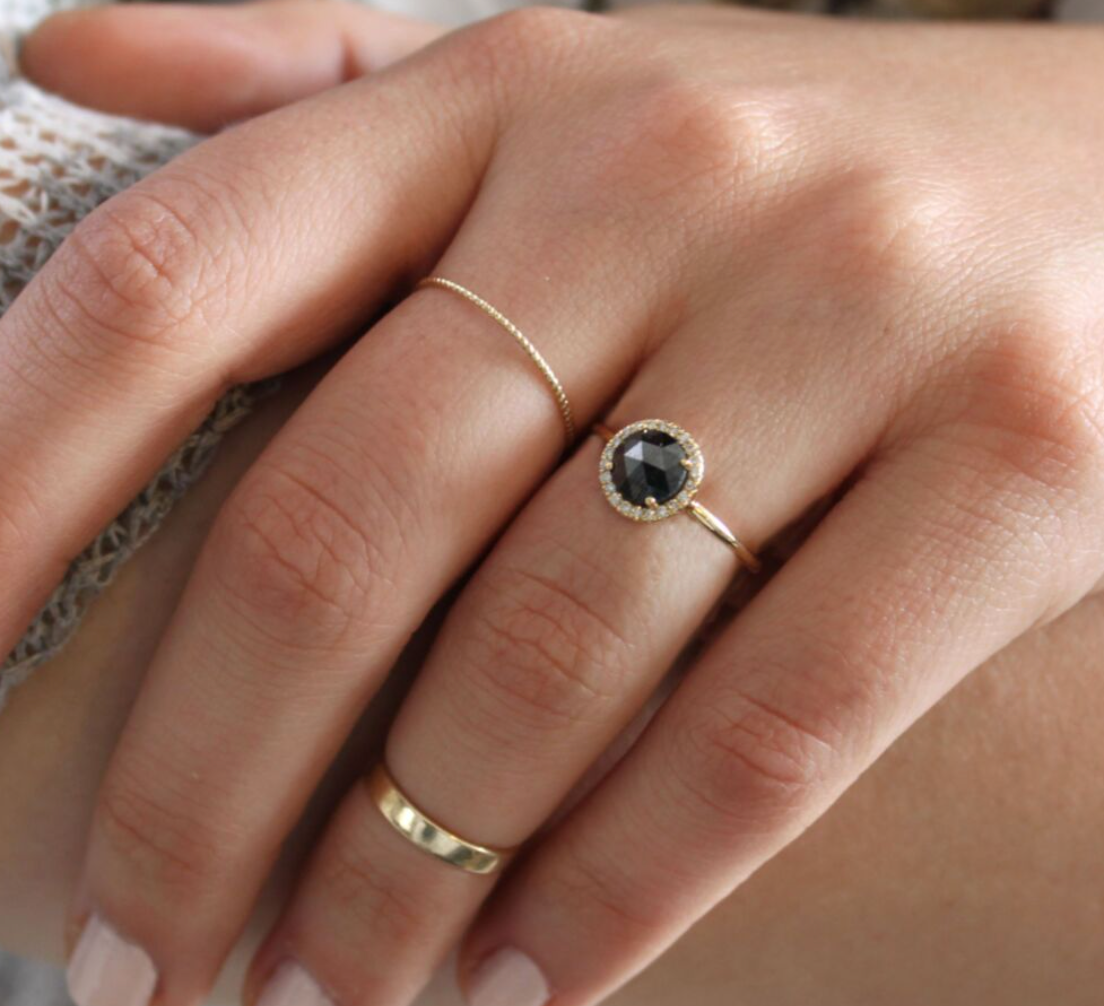 Approximately a 0.88-carat diamond with a solid 18-karat gold band and 22 tiny white diamonds throughout. 

Get it from Catbird NYC for $2,250 (available in sizes 4–8 and three metals).
15.
An oval aquamarine ring so you can complete the "something blue" challenge, but for the rest of your life. Also, as a March baby, I approve.