1.
Expandable hangers because sometimes Airbnbs and hotels either forget to supply hangers, or they just don't have enough for your things. This'll keep you from leaving your clothes in your luggage, creating unsightly wrinkles! No one wants that.
If you leave it half-folded, it works great for kid's clothes too! 
Promising review: "I bought these to take on a cruise since there are never enough hangers in the cabin for our clothes. These are very lightweight and come in a nice drawstring bag. Despite being lightweight, they are very sturdy — strong enough to hold my husband's suit coat without any problem. You can extend them to larger for adult clothes or leave them smaller for tank tops/lingerie!" —Gail
Get a pack of twelve from Amazon for $14.99.
2.
A collapsible water bottle that'll take up very little space in your bag *and* help save you from spending a ridiculous amount of money for those airport water bottles. Plus, you'll stay hydrated! Huzzah!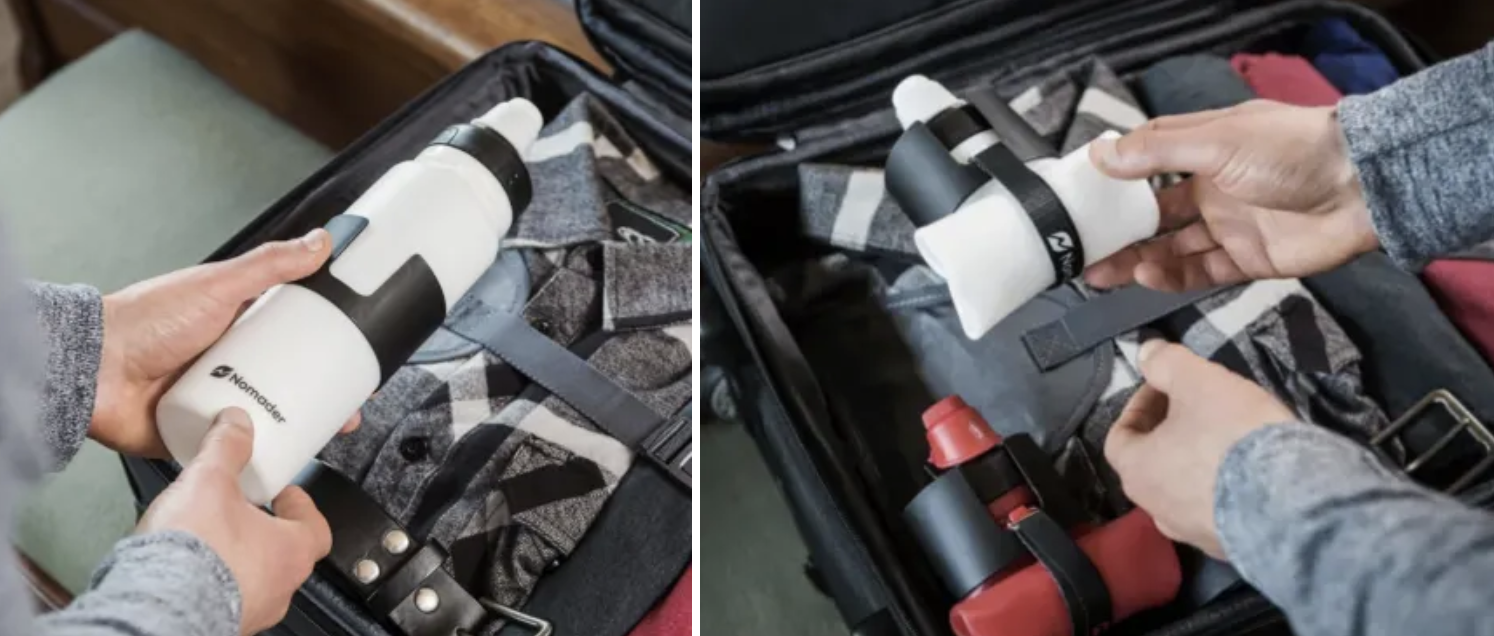 Nomader is a small business specializing in leak-proof, packable hydration!
Promising review: "I'm a frequent traveler who tries to stay frugal on the road. I love this bottle because it can be rolled up to a nice small size and put in my backpack without taking up much room. I use it at the airport and in my room along with a small water filter." —Chad Vegas
Get it from Amazon for $34.95 (available in eight colors).
3.
An Anker charging port with six USB ports to charge all of your devices at the same time, which is perfect for when you're ready to head out of your hotel to your next adventure but everyone needs to charge their phones!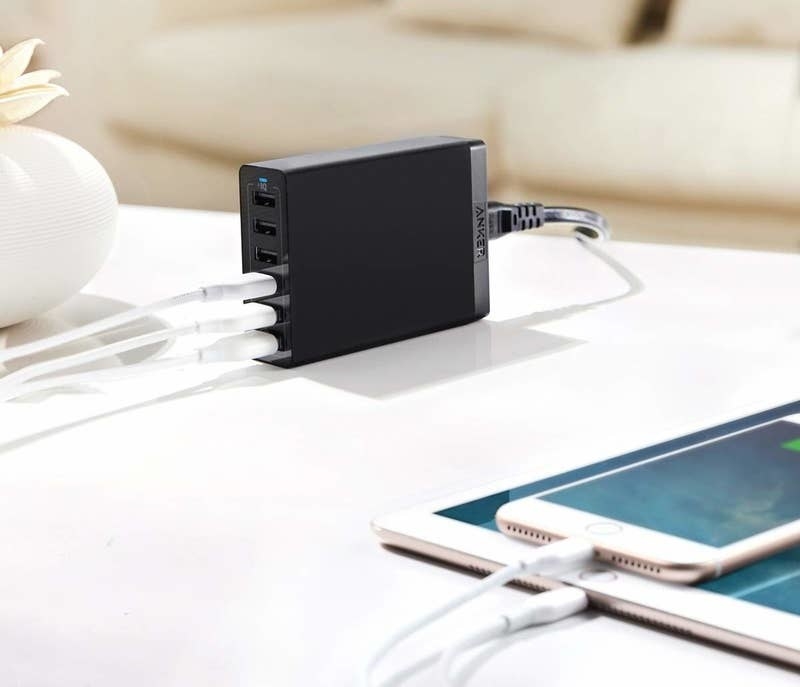 Promising review: "This is a great product! I travel frequently, and I am always challenged with the number of USB ports I can get with the number of outlets available (and where) in hotel rooms. With this product, the number-of-ports problem goes away, and what's great is that it extends the charger interface out from behind a bed, night stand, or other inconvenient receptacle location, up onto a work surface for easy access. As far as power, I have had an Asus transformer, two iPads, HTC One M8, and two iPhones connected to it at the same time, charging for hours with no heat on the device whatsoever. It works great at home, too. I have always had good luck with Anker products — good quality." —bishop
Get it from Amazon for $29.99+ (available in black and white).
4.
Or an international power converter because it's time we stop shorting out electronics whenever we travel internationally.
You can use American electronics in 150 countries!
Promising review: "Prior to this purchase we've killed an appliance or two in overseas travel. We bought the Sokoo Power Converter for a trip to the Philippines. It worked like a champ! We charged our iPhones and other high end devices with peace of mind. My wife used her flat iron with this just fine. I like that it has plug adapters for outlets around the world, so I know where ever we go we can use this. I recommend this to anyone doing international travel." —David Aiken
Get it from Amazon for $41.98.
5.
A pair of compression socks that help reduce the pesky swelling in your feet and legs you get during long flights.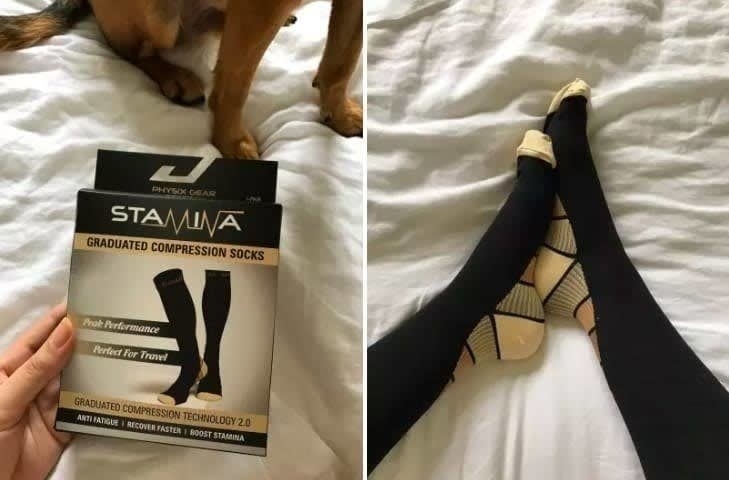 Gyan Yankovich / BuzzFeed
They're also shock-absorbing and moisture-wicking!
Promising review: "I travel frequently internationally for work and often spend upward of 20 hours on a plane as I fly to various locations. A few colleagues have told me that compression socks greatly improve travel, and I finally bought a pair to try them out. I finished a series of flights to get from Washington, DC, to Abuja, Nigeria, and after over 12 hours in the air and 24 hours in transit with my compression socks on the whole time, I feel great! It made a huge difference and definitely increased my comfort while on the plane. I plan to buy a second pair when I get back to the US." —Alexandra
Get them from Amazon for $10.08+ (available in sizes S–2XL and in 13 colors).
And check out our full review of the Physix Gear compression socks here.
6.
A stroller so compact, you can actually fit in the overhead bin on a plane! This can help ease the stress you usually feel when you have to retrieve it from storage when you deplane and have an antsy child ready to leave. 
It folds up so small that it was awarded a Guinness World Record in 2014 for the most compact stroller. It can hold kids who weigh up to 55 lbs. and only weighs 9.5 lbs.
Promising review: "We are frequent travelers. I've been on 15 flights with my 17-month-old toddler. I wish I would have bought this a long time ago. It's the best purchase we have ever made. It is sturdy, folds very easy, has a great design, and can literally fit in a reusable grocery bag. Highly recommend!" —Kateryna
Get it from Amazon for $223.96+ (available in two colors and three styles).
7.
AirFly, a wireless transmitter that'll connect your AirPods (or any other wireless headphones) to the headphone jack on the flight, making it *SO* easy to enjoy the in-flight entertainment without having to buy the crappy ones the airlines sell.

It also comes with a USB-C charging cable, travel pouch, keychain holder, quick-start guide, and a manual.

Twelve South Store is a small business based in Charleston, South Carolina that sells unique and useful tech accessories for your electronic devices.
Promising review: "I love this gadget ... I fly a lot and this works on the majority of wide-body planes I've taken over the past six months. Just plugs into one of the three-prong outlets (or single outlet in economy) and you can connect any Bluetooth device. Doesn't always connect on the first try as I have multiple devices that my headphones are searching for, but if you turn off all other devices it seems to connect right away. Once connected, it works for many hours. A few planes I've taken recently (Qatar Airways) have USB charge points so close to the headphone jack that you can even plug it in while its working and never lose the charge. Highly recommend for travelers." —Joseph Britto
Get it from Amazon for $34.99+ (available in three styles).

8.
A bestselling Trtl pillow made with fleece that'll make sleeping on a plane an absolute ~breeze~. It weighs half a pound and can easily be stored in your carry-on our personal item without taking up too much space. Off to the Land of Nod!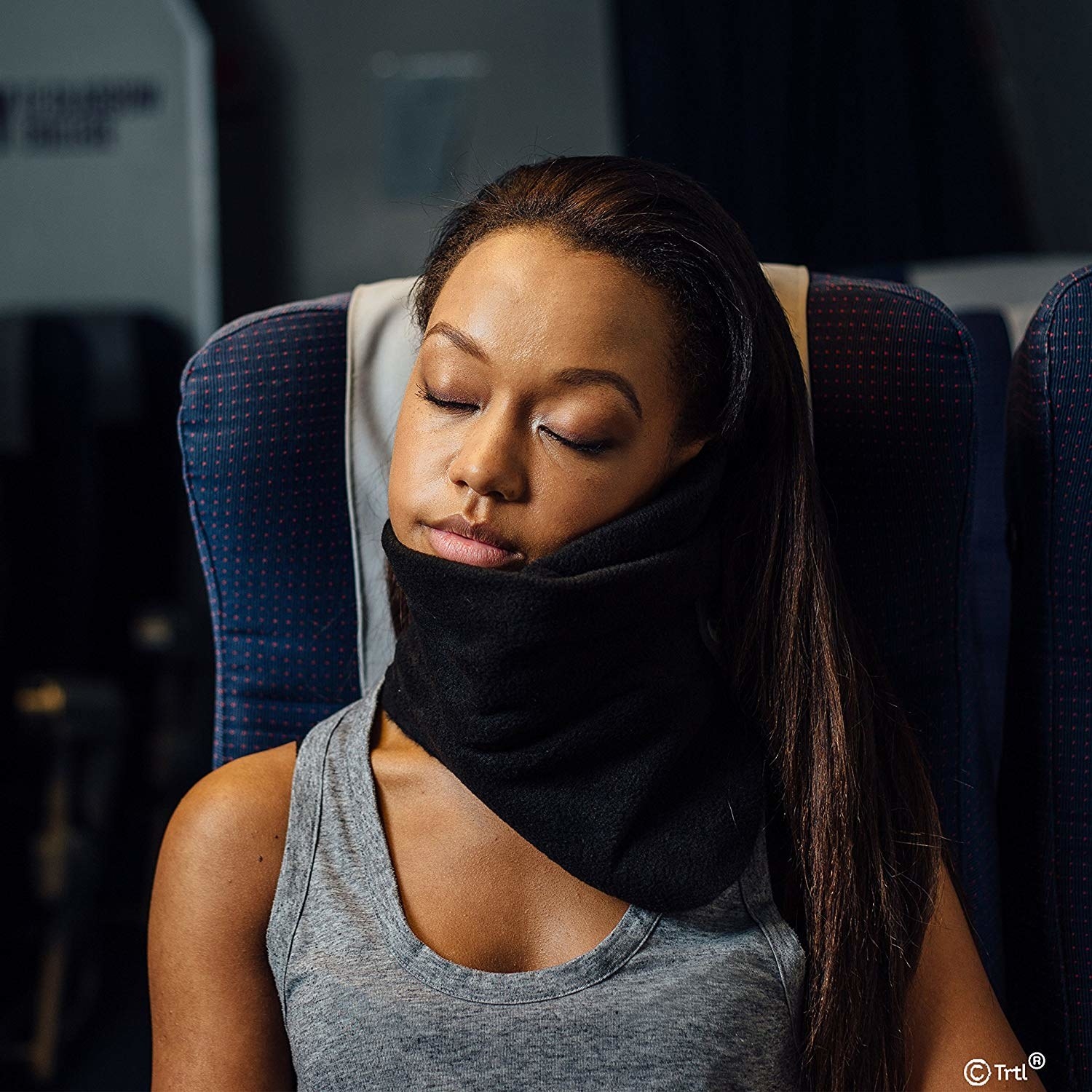 Promising review: "I love this travel pillow! As someone who travels frequently for work and leisure, I try to get sleep on planes whenever I can so I am ready to go when I land. However, when bulging discs in my neck developed a few years ago, I tested six or seven different types of travel pillows and couldn't find a pillow that gave proper support and didn't aggravate my injury. Then I found this cozy little gem!!! I have now had my Trtl for about six months, and it's been a game changer. I am able to get some of the best sleep I've gotten on planes without further aggravation to my neck. I've recommended this to so many people who all have reported back their equal appreciation of the Trtl. It's easy to pack around once you get to your destination, so you don't have to have a travel pillow hanging off your bag. I also appreciate how easy it is to take apart to wash — with so many germs on planes, I like that I can wash it without worrying about ruining it. I'm buying another for my mom who is getting ready for an overnight flight to Europe. I highly recommend this product!!!" —Henninsa
Get it from Amazon for $44.99 (available in three colors).
9.
An eight-compartment pill organizer to keep your medications all in one place without having to lug all those obstructive bottles in your luggage. One reviewer also says this is a great way to keep jewelry from getting tangled while traveling. 

Promising review: "My husband and I travel a lot and take a number of prescription drugs. It was always a hassle accessing our medication when needed, so I purchased this organizer to make things easier. I used a label maker and labeled each little compartment and it has performed wonderfully. I highly recommend this organizer to anyone who travels and needs medications throughout the day." —Jacqueline
Get a three-pack from Amazon for $9.97.
10.
A three-piece luggage set so you never have to worry if you have the right size luggage for your next trip. This set includes a perfect carry-on size, a smaller checked bag, and a larger one for the bigger vacations.
They also have TSA locks and 360-degree wheels.
Promising review: "My family travels internationally, which means lots of airplane transfers, rail, ferry loading and unloading. Each member has their own set. Only one cosmetic scuff has appeared. About to order another set for my mother as we are taking her to London, Scotland, and Ireland for the holidays. We rarely use the middle size. The small size we carry on, and the largest size we check. Very pleased with maneuvering and durability of wheels on various rough surfaces. The retractable handle makes for easy storage on ferries and railway. We've had zero issues with locking mechanism. We are a family of four with kids age 8 and 12." —ChiefLaughALot
Get it from Amazon for $189.99+ (available in 17 colors).
11.
A set of packing cubes to masterfully pack all of your absolute travel essentials without having to sacrifice your most prized industrial hair dryer you can't live without.
Includes a large bag, medium cube, underwear bag, makeup bag, flat bag, shoe bag, and a laundry bag!
Promising review: "So versatile, and the material is great! Game changer for a person who travels a lot. Color exactly as depicted." —Taylor Mortensen
Get it from Amazon for $19.99 (available in six colors).
12.
A pair of no-tie elastic shoelaces perfect for anyone who would rather just slip their shoes on and rush out the TSA line instead of wasting time trying to remember which way the bunny ears are supposed to twist. Bonus: the fasteners on these are hidden, so it'll be your lil' time-saving secret!
Promising review: "At first I was skeptical that these laces wouldn't hold my shoes on tightly enough, but I decided to give them a try in my Converse Chucks. They're fantastic! I like the way the 'hidden' fasteners sit inside the shoes below the eyelets, but on top of the tongue, and I can't feel the fastener at all with my foot in the shoe. I've had them in for around eight months, and they're still just as elastic as ever. They haven't stretched at all and show no signs of wearing out. I loved them so much that I bought five more sets to put in all of my shoes! No more triple knotting my shoes so they don't become untied. I tie knots pretty slowly so these laces have honestly saved me tons of time. I couldn't be happier with them." —lucidity

Get them from Amazon for $9.99 (available in 37 colors). 
13.
A tablet holder that'll easily mount on the headrest, making it easy for your kids to binge all the Studio Ghibli films and not have to tire their arms holding the screen up. Or worse, drop it when they fall asleep.
It has a 360-degree rotation ability, so you'll always find the perfect angle! Also, it extends forward up to 9.8 inches!
Promising review: "We got this and have used it on long car rides for our kids. Its ability to twist and turn is amazing. We love how it could extend further out or to the side, which made it easy for both kids to watch something since the headrest is not very centrally located. It is very easy to install, and it held my phone and surface pro because of the ability to adjust." —Laura
Get it from Amazon for $22.99.