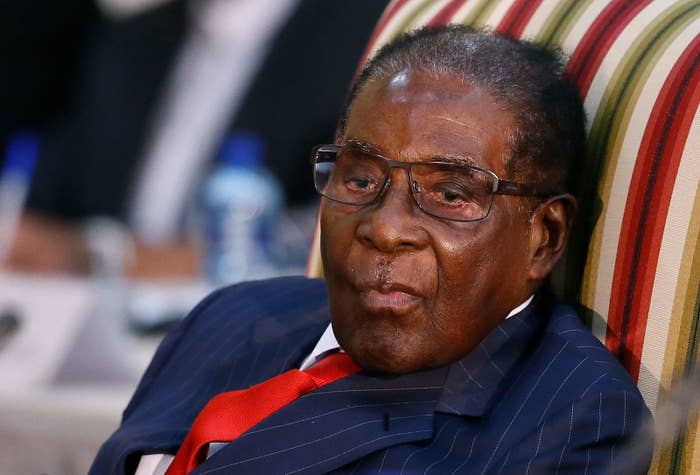 Robert Mugabe's appointment as a goodwill ambassador for the World Health Organisation (WHO) has been rescinded after an international outcry.
WHO director-general Dr Tedros Adhanom, who on Saturday night said he was "rethinking" the appointment after it was greeted with intense criticism, said on Sunday that he had "listened carefully to all who have expressed their concerns".
He said the decision to rescind the appointment was in the "best interests of the World Health Organisation".
"It is my aim to build a worldwide movement for global health. This movement must work for everyone and include everyone," he said.

"For me, what is important is to build political leadership and create unity around bringing health to all, based on WHO's core values."
Tedros added: "I thank everyone who has voiced their concerns and shared their thoughts. I depend on constructive debate to help and inform the work I have been elected to do."
The main opposition party in Zimbabwe, where Mugabe has ruled as a strongman for the last three decades, had called the WHO decision "an insult".

"The Zimbabwe health delivery system is in a shambolic state," Movement for Democratic Change spokesperson Obert Gutu told the AFP news agency.
"Mugabe trashed our health delivery system. He and his family go outside of the country for treatment in Singapore after he allowed our public hospitals to collapse."
Mugabe was present at a conference in Uruguay to hear Tedros, the former foreign minister of Ethiopia, announce his appointment as a goodwill ambassador for noncommunicable diseases (NCDs) in Africa.
Tedros, who said he was "honoured" to be joined by Mugabe, praised Zimbabwe for being "a country that places universal health coverage and health promotion at the centre of its policies to provide health care to all." He said Mugabe's role would be to influence his peers in the region to prioritise tackling NCDs, which include heart disease and cancer.
In a statement signed by 28 members of the NCD Alliance, including Cancer Research UK, organisations expressed their shock and concern at Mugabe's appointment, given his "long track record of human rights violations and undermining the dignity of human beings".
"Given these systematic abuses and his approach to NCDs and tobacco control in the past, NCD civil society present in Montevideo believe that President Mugabe's appointment as WHO goodwill ambassador for NCDs cannot be justified," the statement said.

"While we support WHO and Dr Tedros in their ambition to drive the NCD agenda forward, we are unable to recognise President Mugabe as a champion for NCDs."
Meanwhile, a spokesperson for the UK government told the Press Association that Mugabe's appointment was "surprising and disappointing, particularly in light of the current US and EU sanctions against him".
Tom Tugendhat MP, chair of the House of Commons foreign affairs committee, told Sky News that Mugabe's "version of goodwill is corruption, murder, and dictatorship".
He added: "He has caused famine in one of the most productive lands in the world. It's hard to see how this aligns with the values the WHO purports to hold."
Elsewhere, Iain Levine, a deputy executive director at Human Rights Watch, said the move "embarrasses" the WHO, an agency of the United Nations.
And Hillel Neuer from the UN Watch group said in a statement that Mugabe's government had "brutalised" human rights activists in Zimbabwe.
"The notion that the UN should now spin this country as a great supporter of health is, frankly, sickening," he said.
"Amid reports of ongoing human rights abuses, the tyrant of Zimbabwe is the last person who should be legitimised by a UN position of any kind."
Neuer further criticised Mugabe for travelling abroad for healthcare: "When Mugabe flies to Singapore for special medical treatment, he leaves behind poorly funded health services, which most of their citizens have to rely on."