This post has not been vetted or endorsed by BuzzFeed's editorial staff. BuzzFeed Community is a place where anyone can create a post or quiz.
Try making your own!
Three Ways College Students Can Fight Climate Change
As college students head back to school, here are a few ways to seriously #ActOnClimate.
A recent survey found that, for the third year in a row, millennials believe climate change is the most serious issue affecting the world. The same survey showed 78.1 percent of the participants are willing to change their lifestyle to protect the environment.
Students and young people should have a major role in shaping the conversation about climate change, as they're the ones who will have to live with so many of the consequences.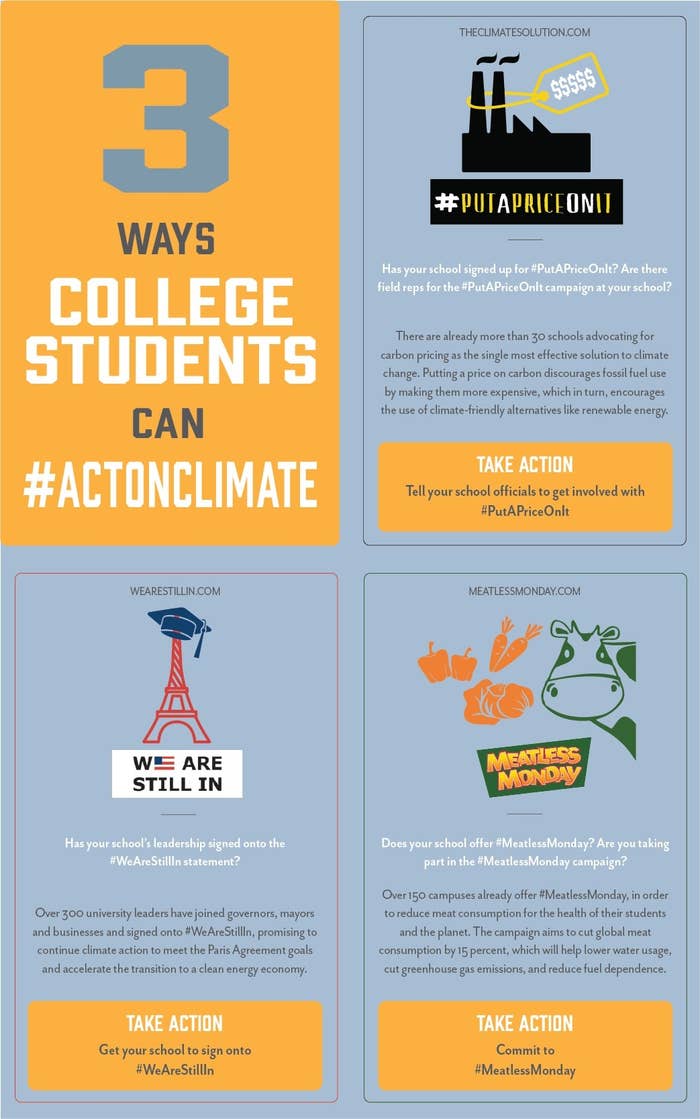 1.
Meatless Monday
The links between meat consumption and climate change are often overlooked, but they're super important. Did you know that emissions from the livestock sector are the same as vehicle exhaust from all the world's cars? If cows were their own country, it would be third largest GHG emitter in the world after the US and China!
Over 150 campuses already offer Meatless Monday to reduce meat consumption and improve the health of students and the planet. The campaign aims to cut global meat consumption by 15 percent, which will help lower water usage, bring down greenhouse gas emissions, and reduce fossil fuel dependence.
How can you take action? Commit to Meatless Monday! And if your school doesn't offer it yet, learn how to implement Meatless Monday on your campus with this step-by-step guide.
2.
Put A Price On It
Climate change seems like a daunting challenge, but there are real life solutions happening now. One of these is carbon pricing, which some see as the single most effective solution to climate change.
Putting a price on carbon discourages fossil fuel use by making them more expensive. Colleges can also put an internal price on carbon, which directly lowers their greenhouse gas emissions. There are already more than 30 schools advocating for carbon pricing.
How can you take action? Tell your school officials to put a price on it, or become a field rep and encourage others to get involved! The campaign has a handy toolkit for students to help get an endorsement from a college president, write to members of Congress, and spread the word on social media. #PutAPriceOnIt!
3.
We Are Still In
Immediately after Donald Trump announced his decision to pull the U.S. out of the Paris Agreement, thousands of city and state leaders, businesses, and universities told the rest of the world "We Are Still In" on Paris. Just because the Trump administration has decided not to participate in this historic global agreement to safeguard the future of our planet doesn't mean others won't step up.
Over 300 university leaders have joined governors, mayors and businesses and have signed onto We Are Still In, promising to continue climate action to meet the Paris Agreement goals and accelerate the transition to a clean energy economy.
How can you take action? Using social media, encourage your school's leadership to join We Are Still In! If your school is already a member but your city or state isn't, tweet at your mayor or governor.