Black Employees "Earn Less Than Their White Counterparts At Every Level"
The Trades Union Congress called its analysis a worrying sign that "race still plays a huge role in determining pay" in the UK.
Black graduates are likely to earn 23% less than their white counterparts, according to new analysis from the Trades Union Congress (TUC).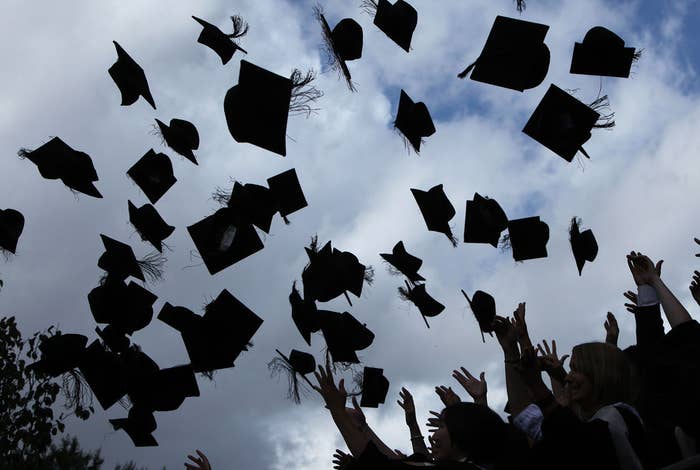 The research, released on Monday, found that black employees with degrees earn an average of £14.33 per hour, while their white equivalents earn an average of £18.63 for the same amount of time.
The gap is one of the highest recorded in recent times, the TUC said.
The figures also show a wide gap in wages between black and white workers without degrees.
With GCSEs, black workers will earn 11.4% less than their white counterparts on average, but with A-levels, that gap widens to 14.3%.
The report also shows that on average, black, Asian, and minority ethnic (BAME) workers with degrees earn around 10% less than their white counterparts.
"These are very worrying findings," said Frances O'Grady, the general secretary of the TUC. "Black and Asian people face a massive pay gap, even if they have a degree. This is not about education, but about the systemic disadvantages ethnic minority workers face in the UK.
"The harsh reality is that at any level of education, black and Asian workers are getting paid less than their white counterparts. Even today, race still plays a huge role in determining pay."
The report comes days after David Cameron told top universities, the police, and the army that they had to do more to diversify their intakes.
In an article for the Sunday Times, the prime minister said a young black man was "more likely to be in a prison cell than studying at a top university".
He added that racial discrimination should "shame our country and jolt us to action".
Sandra Kerr, race equality director at Business in the Community, said: "Employers have previously focused on gender pay gaps, but today's report shows they also need to look at pay gaps affecting black, Asian, and minority ethnic employees too.
"Business in the Community's Race at Work report shows that black employees are more likely to have degrees or PhDs, yet many of them are in jobs that do not match these skill levels. This is a worrying trend and it needs to be spotlighted, addressed and reversed, so employers can make the most of the diverse talent within their workforce."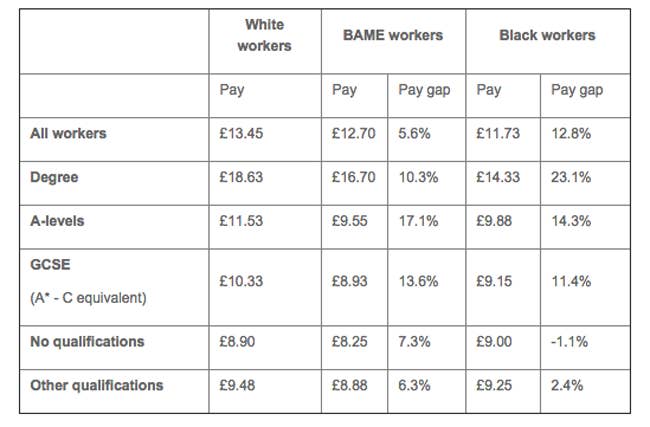 Reacting to the report, some said that the bigger problem was the lack of access for BAME graduates to top jobs and professions.
"The lack of opportunities is reflected in the makeup of major companies," said Jorden Berkeley, a graduate social worker whose name was referenced by David Cameron in his 2015 conference speech on race equality.
Berkeley, the founder of Young Black Graduates UK, told BuzzFeed News: "This is a systemic problem, and so much needs to be changed. For example, we need to get rid of stereotypes that associate certain BAME groups to particular jobs. These stereotypes are ingrained into the jobs market."
Berkeley also said that companies needed to "show statistics on how diverse their hiring is" and that big companies "usually play lip service to diversity – they need to commit and be held accountable."
Adenike Adenitire, editor of Future Leaders magazine, which helps ethnic minority students connect with top employers, said employers needed to look outside of Russell Group universities to find talented graduates from BAME backgrounds.
"Top companies need to put in the effort to find more diverse top graduates," she told BuzzFeed News.
"It's not just a race problem. This also shows issues with class too, and the fact that those who come from poor or deprived backgrounds will have a harder time accessing the jobs market compared to other people."