The company that carried out the poll used by The Sun for Monday's controversial "1 in 5 Brit Muslims" front page has publicly criticised the tabloid's handling of its findings.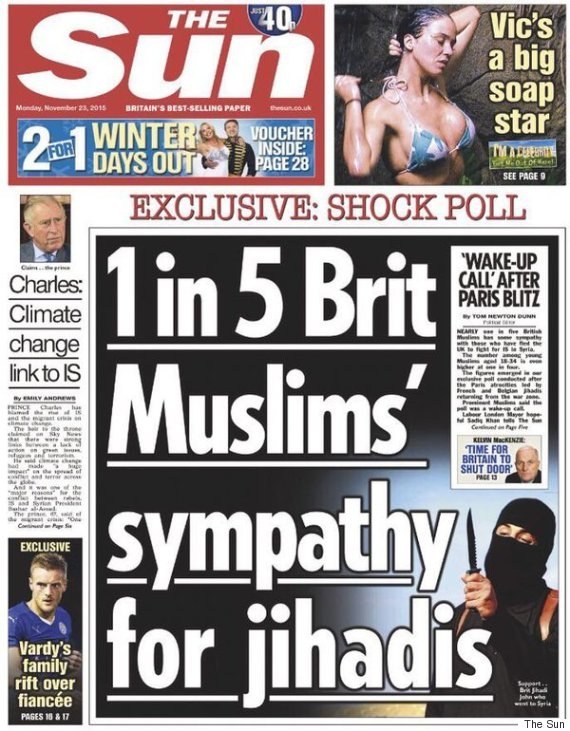 In a highly unusual move, market research firm Survation released a statement on Tuesday distancing itself from the paper, which had provoked a barrage of criticism on Monday for claiming the survey found that 1 in 5 British Muslims sympathised with jihadis.
Critics accused the paper of misrepresenting the data and fuelling Islamophobia in the wake of the Paris terror attacks. The pollster asked respondents a number of questions regarding their religion and British identity, including their opinions on Britons who had gone to fight in Syria.
It found that 5% of Britons felt "strong sympathies" with those who had travelled to fight, while around 11% said they had "some sympathy". According to Survation's raw data, the respondents did not specify which groups or individuals they sympathised with, or the reasonings behind their sympathies. Nor was the term "jihadi" mentioned in any of the questions.
But on Tuesday, The Sun published an editorial defending its story. "We would all love to see Muslims back peace and condemn IS with one voice," the editorial said. "That is simply not the reality and it does our nation no good pretending it is."
Now Survation has hit back, declaring the company did not "support or endorse" The Sun's interpretation of the data.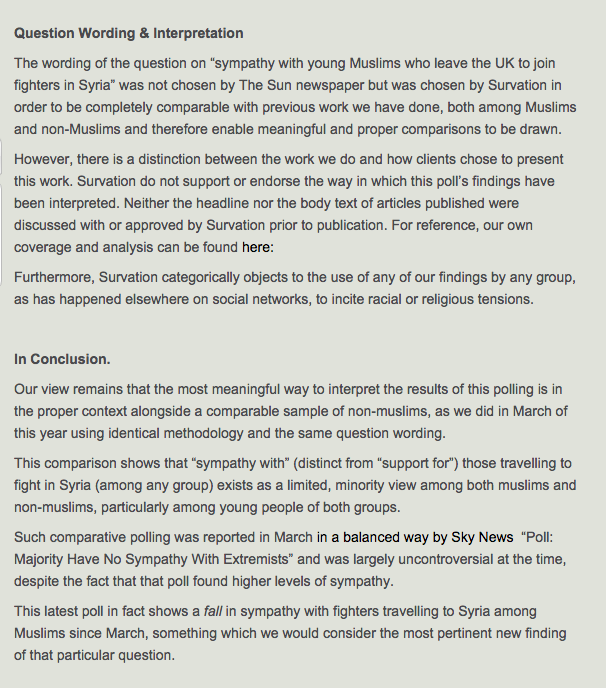 In the statement, issued in the name of chief executive Damien Lyons Lowe, Survation defended the methodology it had used and pointed out that the poll was part of a body of research work on minority populations' attitudes to sensitive issues. It did not express an opinion on what the data showed, but said the information should be viewed "in the proper context alongside a sample of non-Muslims".
The pollster also referred to coverage of a similar poll it conducted for Sky News earlier this year that had been uncontroversial despite finding higher levels of sympathy among both Muslim and non-Muslim respondents for those travelling from the UK to fight in Syria. "This latest poll in fact shows a fall in sympathy with fighters travelling to Syria," the statement said.
Responding to Survation's statement, The Sun said it was "surprised" by the pollster's comments. "The questions were discussed in full and agreed with them in advance, and the question about 'sympathy' was specifically written and suggested by them," said a spokesman.
He continued: "In any event, it is not for a polling company to endorse or otherwise the editorial interpretation of a survey. The Sun published the poll's findings clearly and accurately, including the questions in full.
"The fact remains that a significant minority of Muslims have sympathy for the actions of extremists. That is a subject worthy of discussion and The Sun believes that it must be appropriate for that conversation to take place."