Sister Of ISIS Jihadi Tells MPs Her Brother Was "Influenced" While Vulnerable
Konika Dhar said she did not want to "give up on her brother", who is suspected of appearing in the latest ISIS hostage video.
The sister of a man who fled to Syria to join ISIS while on police bail has told MPs that he was "influenced" while he was in a vulnerable state.
Konika Dhar, the younger sister of Siddhartha Dhar, told the home affairs select committee on Tuesday that her brother had become radicalised by individuals with "a great influence" over him – a path that she said led him to join ISIS in Syria last year.
"The person who influence him must have been more dangerous," she told MPs. "I do think he's a bit naive … but he was more vulnerable than anyone else in our family. I do believe at the time at his conversion he was more vulnerable than the average person."
Dhar said she was determined for him "to return back to the person I remember growing up".
She told the committee: "My opinion will always be biased because he's my brother. I don't want to believe he is who he is today and I stand by that. I still don't want to associate the activities [of ISIS] with him – because he is my brother."
Siddartha Dhar, originally from east London, is a convert to Islam, and currently goes by the Islamic nom de guerre Abu Rumaysah. He was a well-known figure in the London-based extremist group Al Muhajiroun and appeared alongside the radical speaker Anjem Choudhry.
Prior to leaving for Syria, Rumyasah was involved in a number of high-profile media interviews in which he promoted ISIS and other extremist groups.
While on police bail for terror charges in September, he left the UK for Syria, along with his wife and child. In November, he confirmed on Twitter that he had joined ISIS, posting a picture from their stronghold in Raqqa.
His sister told MPs she was unsure whether her brother was the man with a British accent who appeared in an ISIS video released earlier this month.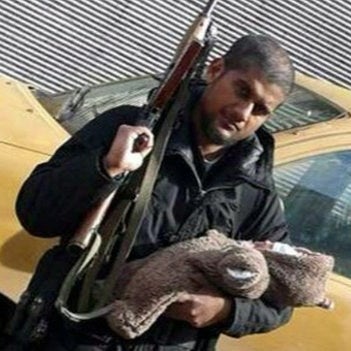 Although Dhar said her brother and the man in the video had "similarities in their voices", she said she was uncomfortable suggesting it was him.
In the video, published by ISIS media at the beginning of January, the masked figure issues a direct threat to the United Kingdom and prime minister David Cameron in retaliation for coalition airstrikes on ISIS strongholds in Syria.
Dhar urged MPs to provide more assistance to families who had lost friends and relatives to extremism abroad, saying her family were "left in the dark" after it was confirmed that he had joined ISIS.
"I think this is one thing that needs to be addressed, because for me personally it was very difficult to know who to turn to," she said. "I didn't know whether to contact the police, whether to go via the media or speak to members of my family. ... It was a bit of a shock."
She added: "I [had] never known anybody to go through this, so I think it's important for other families to know what are the appropriate steps one needs to take in order to get their loved one back, who is the right person to contact.
"I thought I did the right thing ... but I am just wary if I am making things worse. I am not trying to, I just miss my brother very much, and I'm just trying to make him realise that none of this is him."
The hearing came as the Department for Education launched a new website designed to help schools and families identify potential signs of radicalisation.