Company That Designs Classroom-Monitoring Software Is Accused Of Targeting Muslim Activists
Impero, the company that designs software to allow UK schools to monitor students' online activity, said that it would remove the names of individuals flagged as "extremists" and apologised to a Muslim activist.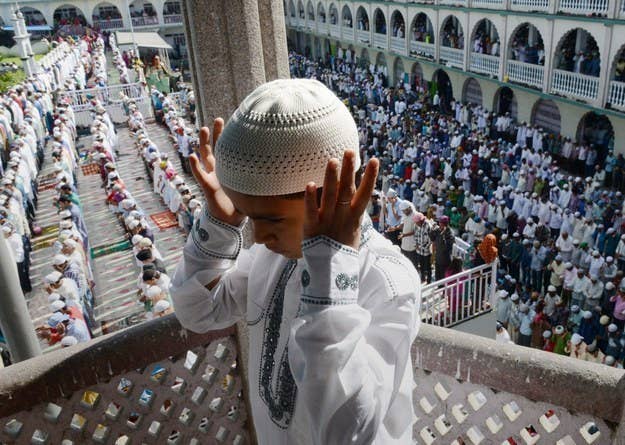 The British company that designs software to allow schools to monitor students' online activity has said it would remove the names of individuals flagged as "extremists" and apologised to a Muslim political activist whose name was reportedly included in its database.
Impero Software, which has a UK base in Nottingham, announced earlier this year that it would offer UK schools use of a "radicalisation library" add-on to its classroom-monitoring software to help teachers and officials spot potential extremists.
The software is intended to alert teachers if pupils are searching keywords or phrases that could be linked to extremist or terrorist activities, such as "Jihadi", "ISIS", or the acronym "YODO, meaning 'you only die once'", on school-owned computers, laptops and other technologies. The database was developed after after consultations with counter-extremism experts, including the London-based counter extremism think-tank Quilliam, Impero said.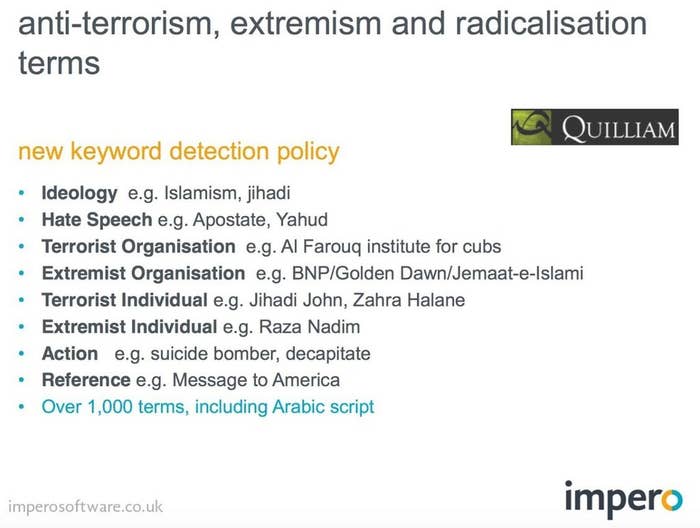 But the software also lists names several Muslim activists, implying that those individuals are considered extremists, sources who wished to remain anonymous told BuzzFeed News.
A slideshow presentation created by Impero to demonstrate how the software works apparently included the name of Raza Nadim, the head of the Muslim Public Affairs Committee (MPAC), according to sources close to Impero.
Nadim told BuzzFeed News that being featured in Impero's "radicalisation library" was unfair, and that MPAC was "one of the few organisations trying to engage with the political system".
"MPACUK is one of the most vocal proponents for Muslims getting involved in the democratic process and engaging with the system and finding an outlet for their legitimate anger about treatment of Muslims here and abroad," he said.
"Even if we are being called extremist, then which other Muslim names are on the list? And who is left? Is it the people who agree with the government line on Prevent and radicalisation? Is no other opinion allowed?"
On its website, MPAC says it is "a grass roots civil liberties pressure group, setup in 2001 to encourage civil engagement within the Muslim community at all levels in the UK".
However, the organisation, under its previous head, Asghar Bukhari, has been accused of racism and anti-Semitism, and in 2004 was subject to a no platform order by the National Union of Students.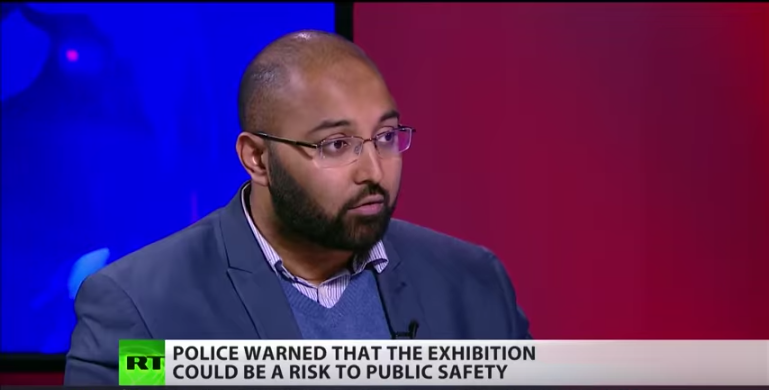 On Tuesday, Impero publicly apologised to Nadim, and confirmed that its library would no longer contain the names of individuals.
In a statement on its website, Impero said the decision was made after receiving "customer feedback" and that it was currently working to update its software. It did not confirm which names or organisations were included in the database.
Impero CEO Sam Pemberton told BuzzFeed News on Monday that "Impero's Education Pro software monitors for terms relating to a number of safeguarding issues including bullying, eating disorders, extremism, homophobia and racism.
"Our radicalisation keyword library, the most recent add-on to Education Pro, monitors for terms relating to known extremist organisations, groups and individuals as well as for more general terms, for example in our anti-radicalisation module, we might look for 'jihobyist' and 'jihadi bride'."
Pemberton said that search terms alone were not enough to suggest pupils would be vulnerable to extremists, and that teachers would be expected to make judgements based on patterns of behaviour online.
Quilliam told BuzzFeed News it did not decide what keywords would be used in the software.
Quilliam's managing director, Haras Rafiq, said the company was one of a number of organisations consulted by Impero while the software was being developed, and that it had suggested that a number of key phrases, including those relating to far-right racism, should be added to the library.
"The software will not target pupils based on single phrase searches, it encourages teachers to look at patterns of how pupils are using the internet in school, and make decisions from there," Rafiq said.