David Cameron's claim that there are 70,000 moderate rebels in Syria who could fight a ground war against ISIS has been questioned by leading experts, who say the situation on the ground is far more complex.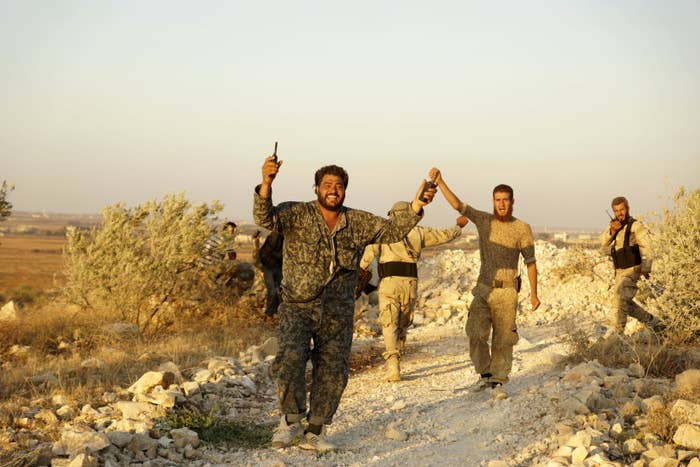 Addressing MPs on Thursday to make the case for UK strikes against ISIS in Syria, Cameron acknowledged the group would not be defeated by bombing alone, but said that tens of thousands of Free Syrian Army rebels could take and hold territory. Cameron said the information was based on assessments by the Joint Intelligence Committee.
But he faced repeated questioning over the claim from MPs who expressed scepticism about both the number of moderates and their fighting capabilities.
Syria analysts contacted by BuzzFeed News also voiced some scepticism, pointing out rebel groups were splintered into many factions, included jihadists and had varying levels of combat experience.
"It depends on what factions of the FSA the prime minister is referring to" said Aymenn Jawad al Tamimi, an analyst at the Middle East Forum,
"The factions that tend to be referred to as the "FSA" get direct backing from operation control rooms in Amman and Turkey, usually with CIA involvement, which gives them access to [high grade] weapons and intelligence... if it is those groups he is referring to, then that's a much smaller number than 70,000".
Al-Tamimi added: "Some of these factions are more developed than others. For example, in the south of the country some of the groups, such as the Southern Front, have military skill and administrative structures.
"In other areas, FSA groups are much less developed – in some cases they can even become auxillaries for more radical factions such as Jhabat al Nusra. So the figure that has been cited should be taken with a pinch of salt, and also that if you take the FSA as an aggregate, not all the groups are equally developed."
Chatham House fellow Hassan Hassan, co-author of ISIS: Inside the Army of Terror, told BuzzFeed News that the FSA is a "catch-all term" referring to various rebel groups within Syria that are opposed to the regime of Bashar al Assad.
"The 70,000 refers to the pool in which you could recruit people to fight ISIS. But there are more than enough forces to fight ISIS if there is a credible international effort, particularly to reach a diplomatic solution that would get rid of the Assad regime" he said.
Speaking about the prime minister's proposals, Hassan said: "The model of providing air assistance to ground troops has proved effective in the past, if you look at Iraq, where Kurdish groups and Shia fighters were effective in combatting ISIS.
"The real question will be how you get these forces to work with you – the answer to that, is to talk about a credible and viable diplomatic process, not just a military response. You need to talk about a political project, what happens when Assad is removed, and how governance will operate."
Other analysts, including Brookings Institute senior fellow Charles Lister, noted that the FSA was a broad group, that also consisted of more religiously conservative factions.
And while some MPs have warned that rebels supported by the UK could be Islamists, other experts say that working with them might be the most pragmatic solution.
Shiraz Maher, a senior fellow at King's College, London's International centre for the Study of Radicalisation (ICSR), told BuzzFeed News: "Not entirely sure whether the 70,000 figure comes from, but the broader point that's important here is that people have associated the Syrian conflict as a choice between ISIS and Assad, or Jihadists and Assad. And there are still plenty of people on the ground who are viable and who we can work with.
"We won't find people who are liberals in the way we commonly recognise. But we need to be pragmatic in what we do. And there are some, who are jihadists, but who don't pose a threat and aren't expansionist. Clearly we need to vet them, but just because they have a beard doesn't make them a radical revolutionary."
He added: "Working with the FSA is just one part of the strategy...but I would say that tackling ISIS first might be the wrong approach. Many of these [fighters] are more concerned with the Assad regime. If we want to free them up to take on ISIS, then the UK, and other states, need to do more to take on the regime."