At Least 50 Arrested At The #MillionMaskMarch Demonstration In London
Police officers at the event told BuzzFeed News that the turnout was "much less than anticipated" as three men were held on suspicion of possessing offensive weapons.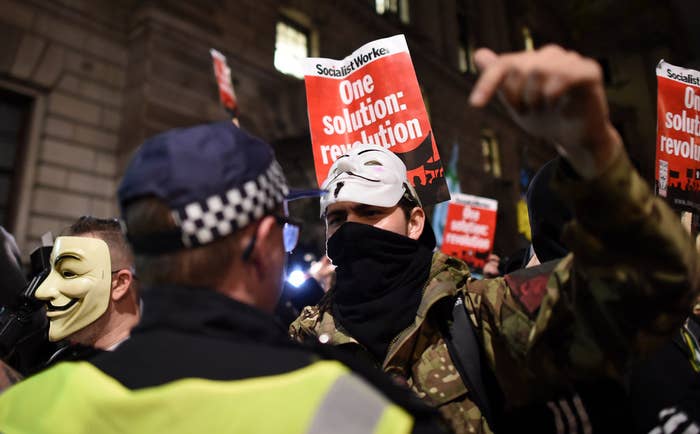 At least 50 people were arrested on Thursday evening at the "Million Mask March" protest in central London.
According to the Metropolitan police, 48 remain in custody. One person has been charged with assault on police, while another has been cautioned for assaulting an officer.
The "Million Mask March" is organised by the online hacker group known as Anonymous, takes place every year on 5 November – also known as Guy Fawkes Night in the UK.
Several hundred protesters attended the event, intending to march from Trafalgar Square through to Whitehall. Although the Metropolitan police deployed hundreds of officers, one told BuzzFeed News that the turnout of protesters was "much less than originally anticipated".
In a statement, the Met said the majority of arrests took place in the Trafalgar Square and Whitehall areas of the capital and were for public order offences.
However, three men, aged 38, 55 and 50, were arrested on suspicion of possession of offensive weapons. They are still being held in custody at a central London police station.
Police also said that three officers were injured during the march, but their injuries were not life-threatening.
Pictures on social media showed a police car being destroyed during the protests. The windows were smashed and the car set alight, but no one was injured.
Additionally, police say that six horses were injured during last night's demonstration, with one horse, known as Quartz, receiving a leg injury due to glass.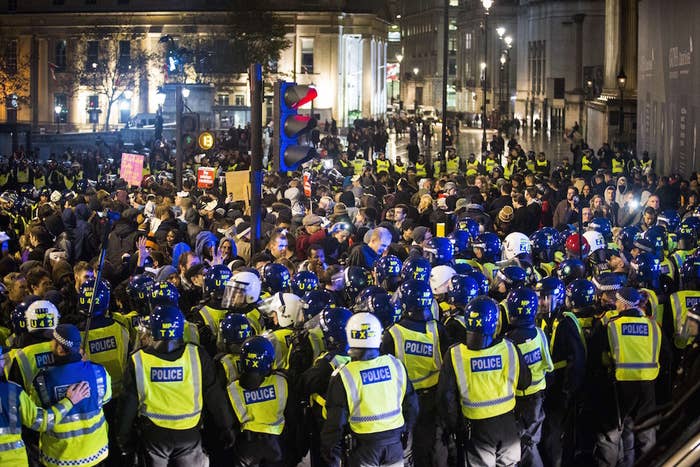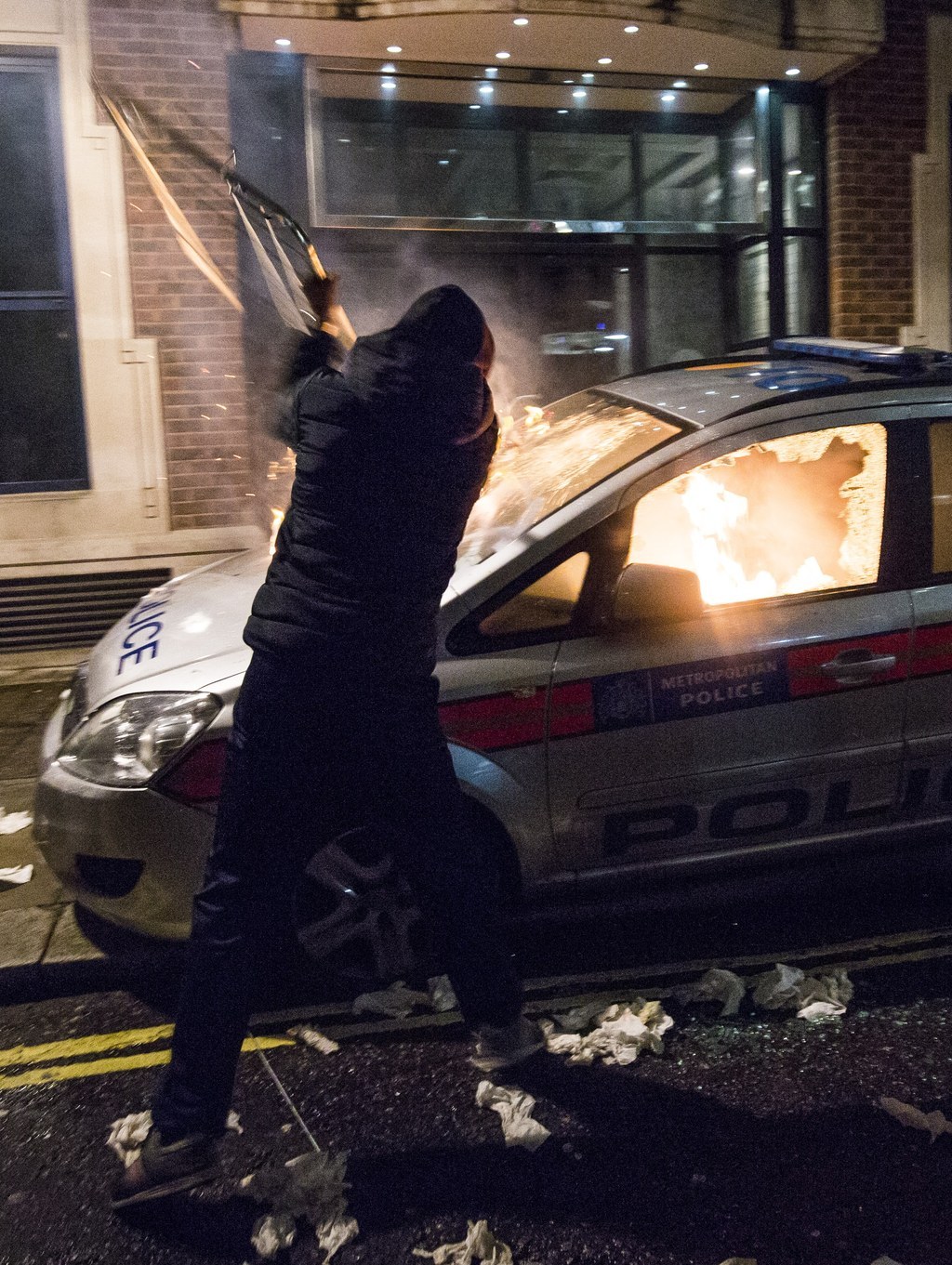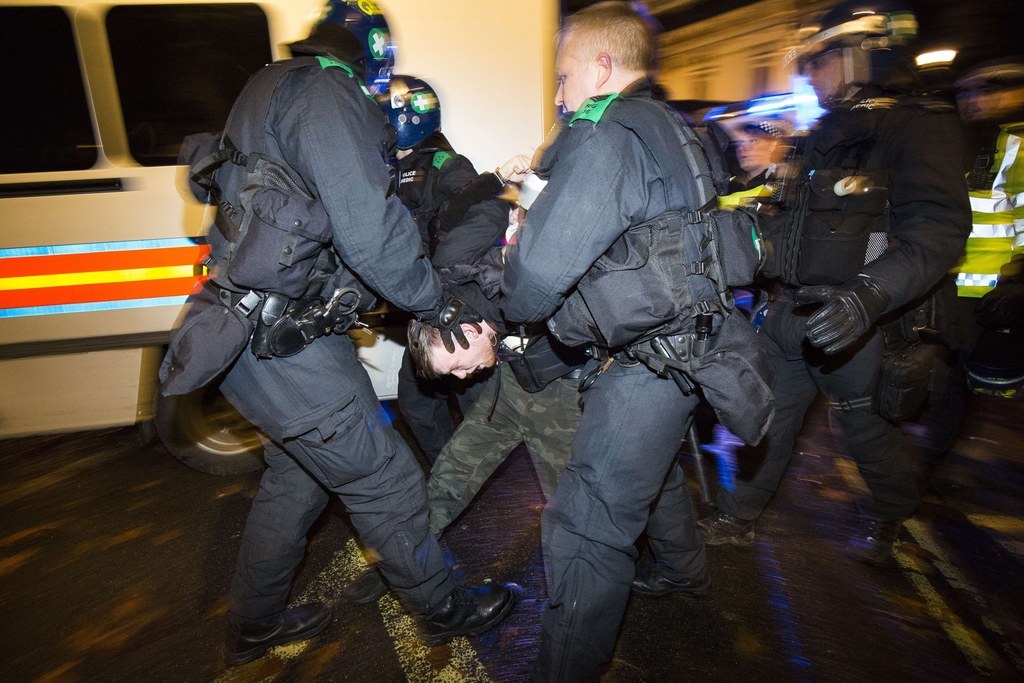 BuzzFeed News asked protesters about the various causes that had brought them out to march – these ranged from anti-Conservative sentiment and opposition to globalisation to some who wanted to raise awareness of deaths in police custody.
One protester who gave only her first name, Amanda, told BuzzFeed News: "I'm here to show my support to all the families that have lost loved ones because of the police...their brutal, heavy-handed tactics against vulnerable people make me sick ... I want to have my voice to be heard for them."
Another protester, who wore a Guy Fawkes mask and did not want to be named, said: "All politicians are the same ... they're all against the people. That's why we're here tonight, to show that we are more powerful than them and they should listen to us, rather than hiding in their ivory towers."
Anti-politician sentiment wasn't aimed only at the Conservative party. One protester, who insisted on being identified as "Fucking Steve", told BuzzFeed News: "No, I don't trust Jeremy Corbyn. The Labour party are all the same, they're warmongers who cave into big business and the media. I don't trust any of them."
Asked about Corbyn's socialist background, he added: "Corbyn's just another version of Blair. Don't be fooled."