One of the UK's oldest Hindu temples has stopped an event after receiving complaints it was giving a platform to anti-Muslim speakers.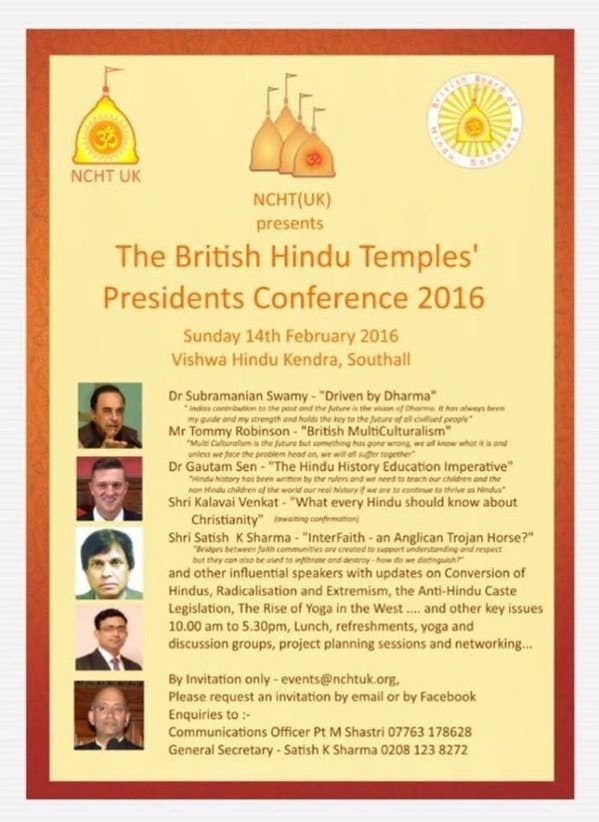 On Monday, the National Council of Hindu Temples (NCHT), an umbrella body of nearly 100 temples in the UK, released a promotional poster for its annual conference.
Among the speakers included Tommy Robinson, the former leader of the far right English Defence League, who is now helping to launch Pegida UK, a branch of the German anti-Islamic group.
The event was due to take place in one of the UK's oldest and most respected temples, the Vishwa Hindu Kendra temple in Southall, London.
According to the poster distributed by the NCHT, Robinson – real name Steven Yaxley Lennon – was due to give a speech about multiculturalism in Britain, which BuzzFeed News understands would have addressed issues including Islamic extremism and the child grooming scandal in Rotherham.
On Thursday evening, however, the Vishwa Hindu Kendra told BuzzFeed News the event would no longer be held, following a number of complaints from members of the community.
In a statement, the temple said that it had hired out the venue to the NCHT free of charge, understanding that only one speaker, Dr Subramanian Swamy, would be presiding over the event.
"Vishwa Hindu Kendra did not have any knowledge of the inclusion of other speakers and this was not brought to our attention at any time during our initial conversation with NCHT UK," the statement noted.
The temple said it had "no intention to offend any religious feelings of any faith whatsoever. It disassociates itself from the flier which we understand has been withdrawn but is still circulating and causing harm to the charity," adding:
"Vishwa Hindu Kendra wish to assure the community and all faith organisations that it has withdrawn its permission to hold the conference even if all the persons named in the flier were prohibited from speaking and hope that it will clear any unfounded rumours of our association with the speakers."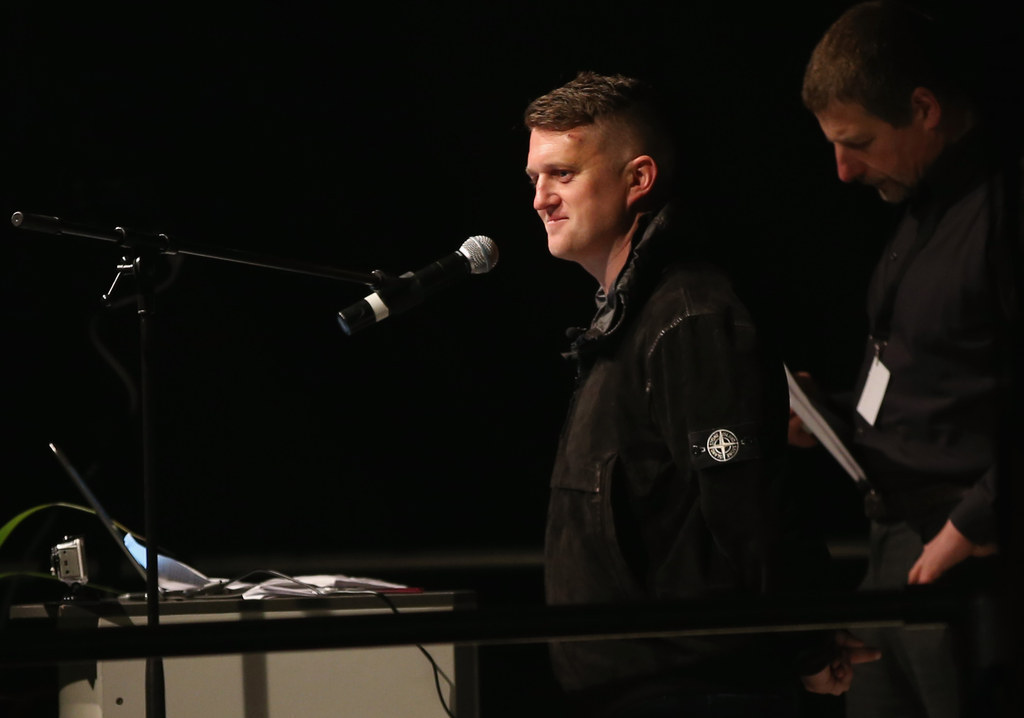 The NCHT was investigated by the charity commission last year, after its general secretary Satish Sharma distributed an open letter urging "all members of the Dharmic faiths", which includes Hindus and Sikhs, to vote for the Conservatives at May's general election.
While the NCHT did not respond to BuzzFeed News' request for comment earlier this week, their website confirmed the event was "postponed amid threats of disruption".
It blamed groups who wanted to "threaten the tranquillity of a place of worship" and said that the theme of the conference was on "racism-driven anti-Hindu and anti-Sikh violence".
On its decision to invite Robinson, general secretary Satish Sharma described him as a "direct, frank, occasionally apologetic and positive, possibly little more than a young man with a very challenging upbringing, with hostile surroundings shaping his world view, but also possibly a young man who has begun to also study Dharmic leaders and holistic eastern philosophies."
He added that Robinson had spoken on issues that affected Hindu communities in recent years.
"He has spoken at Oxford University, is scheduled to speak at Cambridge University and at many other legitimate forums," Sharma continued. "More importantly, our Hindu and Sikh youngsters are already engaging with him, are aware of him and several have expressed a desire to debate with him directly."
In a statement, Robinson called the U-turn "another nail in the coffin of free speech".
He said: "I will continue to reach out to Sikh [and] Hindu minorities [and] make sure working class communities understand just how great these minority groups have integrated into Britain.
"For too long these groups have been attacked [and] tarred because of the hatred coming out of the Islamic community. These are Muslim crimes NOT Asian."
The cancellation comes a week before Pegida UK is due to hold a relaunch march in Birmingham.