Chicken Soup In A Tortilla Bowl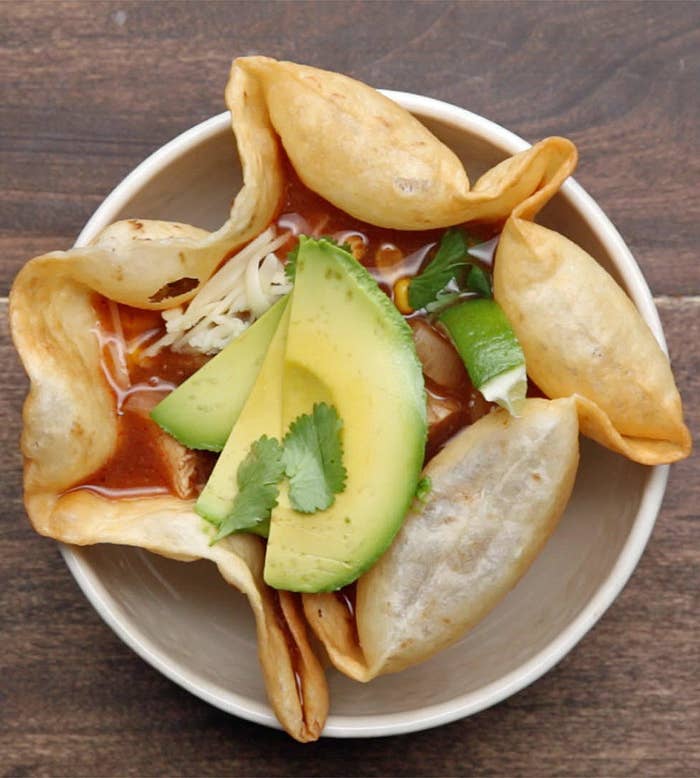 INGREDIENTS
Servings: 8
1 onion, diced
1 jalapeno, diced
3 garlic cloves, chopped
3 chicken breasts
1 can black beans, drained
1 can corn, drained
1 can diced tomatoes
1 can red enchilada sauce
4 cups chicken stock
1/2 teaspoon oregano
1/2 teaspoon ground pepper
1 teaspoon cumin
1 teaspoon salt
1 pack large flour tortilla
Vegetable oil for frying
Toppings (optional):
Cilantro
Monterey jack cheese
Lime wedges
Avocado slices
PREPARATION
1. Place onion, jalapeno, and garlic in the bottom of a slow cooker.
2. Place the chicken breasts on top of the diced veggies.
3. Add all canned ingredients to the chicken in the slow cooker. Top with the chicken stock.
4. Set slow cooker to high and cook for 3 hours.
5. When soup is done, remove chicken and dice it on a cutting board. Return diced chicken to the soup.
6. Fill a large pot 2/3 full with vegetable oil and heat until it reaches 350F.
7. Carefully place the tortilla on top of oil and gently press the tortilla down with a ladle. Fry tortilla until golden brown. Drain on a cooling rack for minutes.
8. Place fried tortilla bowl in a soup bowl and fill it with the soup.
9. Top it off with cheese, avocado, cilantro and garnish with a lime wedge.
10. Enjoy!
Want BuzzFeed Tasty right in your inbox? Sign up for our newsletter!