Loaded Potato And Cheese Stick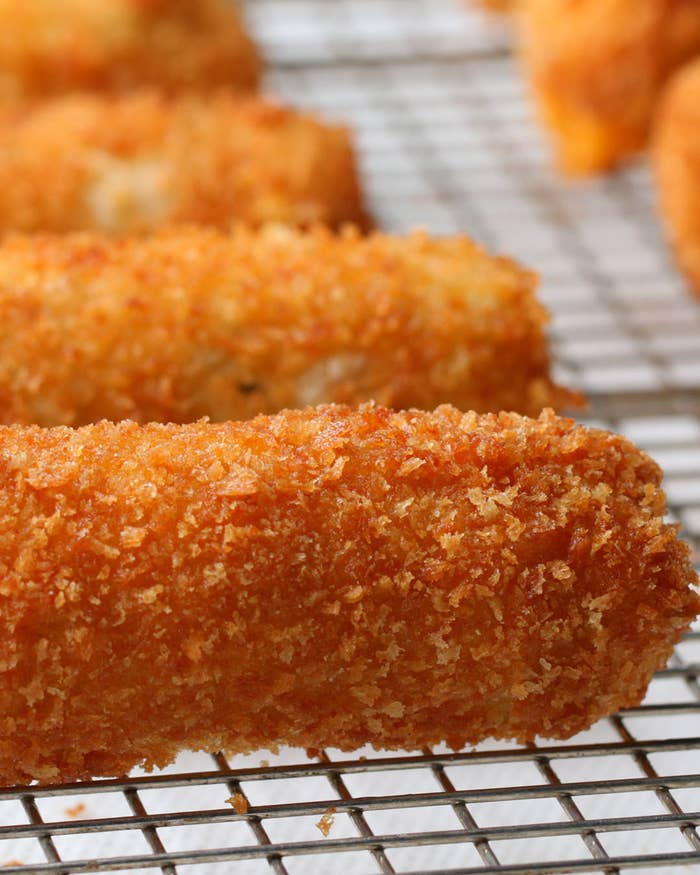 INGREDIENTS
Servings: 24 sticks
3 russet potatoes, cooked and cubed.
½ cup sour cream
¼ cup green onion, diced
¼ cup bacon, diced
1 teaspoon salt
½ teaspoon pepper
1 block cheddar cheese, cut into strips
Dredge
Flour
Egg
Panko
Oil
Salt, to season
PREPARATION (frying)
1. In a large bowl, combine cooked potatoes, sour cream, green onions, bacon, salt, and pepper.
2. Mash the ingredients together until most of the potatoes are mashed. (Some chunks are good!)
3. Cut cheese into ¼-inch strips.
4. Take a spoonful of potatoes and make a ball.
5. Place the cheese strip in the middle and wrap the potato around the cheese until it is evenly covered.
6. Dredge the sticks in flour, egg, and panko.
7. Fry in oil that is heated at 350°F/180°C for 3 minutes or until golden brown.
8. Transfer to drying rack and season with salt. (they'll be very hot so let it sit for a couple minutes before enjoying!)
PREPARATION (to bake)
1. Preheat oven to 400°F/200°C.
2. Transfer dredged sticks onto baking sheet.
3. Drizzle olive oil and salt and then bake for 15 minutes or until cheese is completely melted in the middle and the outside is a light golden brown.
4. Let it cool for a few minutes before enjoying!