Hazelnut S'mores Bars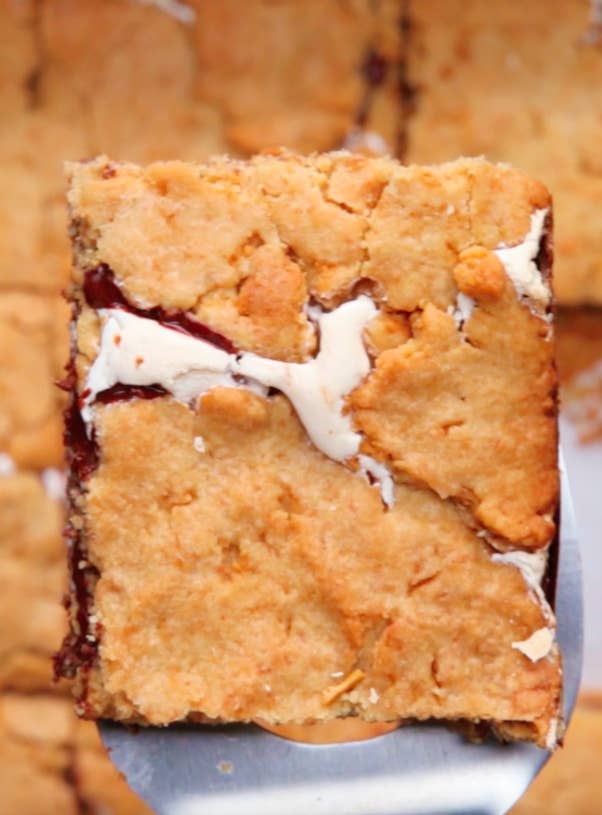 INGREDIENTS
Servings: 9-12
½ cup butter, softened
¼ cup brown sugar
1 egg
1 teaspoon vanilla extract
1 ⅓ cups flour
¾ cup graham cracker crumbs
1 teaspoon baking powder
¼ teaspoon salt
¼ cup hazelnut spread
1 bar dark chocolate
1 cup marshmallow fluff
PREPARATION
1. Preheat oven to 350°F/175°C.
2. In a large bowl, mix butter and brown sugar.
3. Beat in the egg and vanilla and continue blending for 2 minutes.
4. Add the dry ingredients and mix until dough forms.
5. Divide the dough in half.
6. Place half of the dough in the baking tray, making sure the entire bottom is covered.
7. Spread the hazelnut spread evenly, then add the dark chocolate on top.
8. Spread marshmallow fluff on top of the chocolate. (Microwave the fluff for 30 seconds. It will make it more spreadable.)
9. Take the remaining dough and make small shingles to cover the the top.
10. Bake for 35 minutes or until the top is golden brown.
11. Cut into desired pieces and enjoy!
Want BuzzFeed Tasty right in your inbox? Sign up for our newsletter!