Dark Chocolate Apricot Breakfast Bars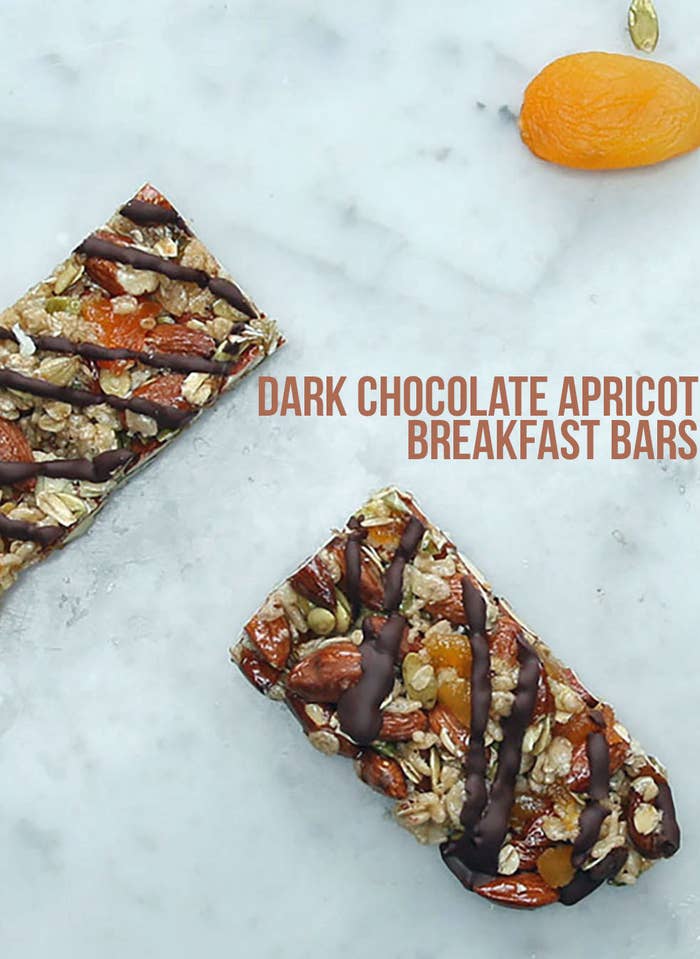 INGREDIENTS
Serving: 12 bars
1 cup puffed rice
½ cup oats
½ cup pumpkin seeds
1 ⅓ cup almonds, roasted
½ cup dried apricot, diced
⅓ cup corn syrup
½ cup honey
1 teaspoon vanilla extract
1 bar dark chocolate
PREPARATION
1. Combine puffed rice, oats, rice, and apricot into a large bowl.
2. In a sauce pan, heat corn syrup and honey until it reaches 260°F/126°C. Then carefully add vanilla extract and remove from heat.
3. Immediately pour the honey mixture into the bowl, stir, and transfer it onto a parchment paper–lined baking sheet.
4. Using a spatula press down the mixture to desired thickness. (Careful - it may still be quite warm!)
5. Refrigerate for 30 minutes.
6. Heat 1 bar of dark chocolate for 1 minute, then drizzle over the top. Refrigerate for 30 minutes.
7. Remove parchment paper and cut into 12 even pieces.
8. Wrap each bar with wax paper and store up to 1 week.
9. Enjoy!
Inspired by:
http://www.theyummylife.com/recipes/324
Want BuzzFeed Tasty right in your inbox? Sign up for our newsletter!