Chicken Fried Steak Bites
Steak never tasted so good.
Chicken Fried Steak Bites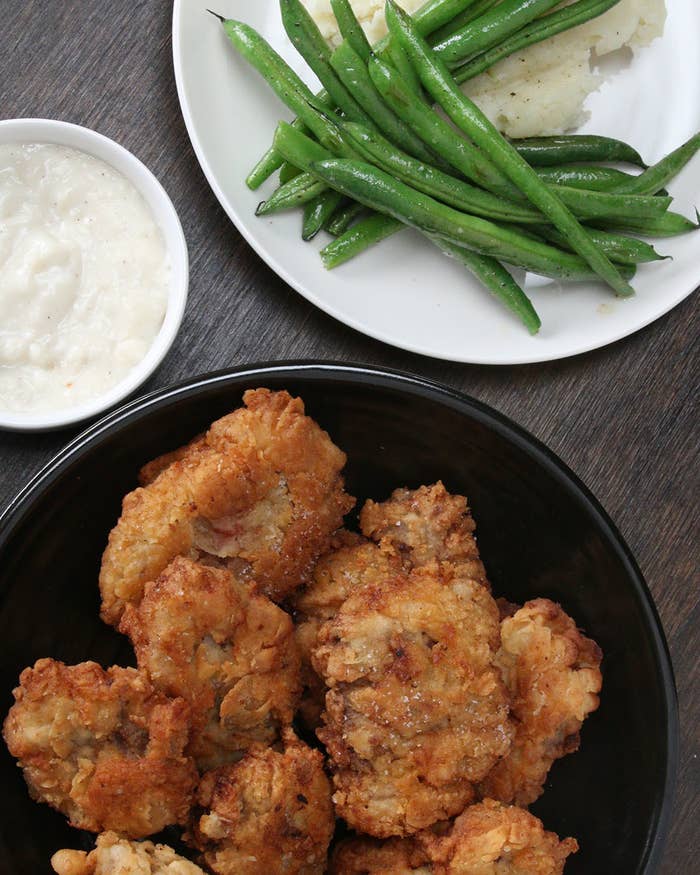 INGREDIENTS
Servings: 24
1 pound cubed steak
Pinch of salt, per steak
Pinch of pepper, per steak
Batter
1 egg
1 tablespoon hot sauce
1 teaspoon salt
1 teaspoon pepper
1 teaspoon baking soda
1 teaspoon baking powder
1½ cups buttermilk
Drege
1 cup flour
1 teaspoon salt
Gravy
1 tablespoon flour
2 teaspoon salt
2 cups milk
PREPARATION
1. Season steak with a pinch of salt and pepper, then cut steak into bite-size pieces.
2. In a large bowl, combine all batter ingredients. Whisk until all ingredients are mixed through.
3. Preheat about an inch of oil to 350˚F/180˚C into a heavy, high-sided skillet or pan.
4. In a medium bowl, add flour and salt. Place steak into the flour, then batter, and then into the flour again.
5. Lower the steak bites into the hot oil, being careful not to overcrowd the pan.
6. Cook each side for 4 minutes or until golden brown.
7. Transfer it onto a drying rack and season with salt.
8. Discard the oil on the pan, but leave some oil for the gravy. In the same bowl, add flour, milk, and salt, and mix until thicken.
9. Dip the steaks into the gravy and enjoy!
Inspired by:
http://allrecipes.com/recipe/150306/the-best-chicken-fried-steak/
http://www.foodnetwork.com/recipes/ree-drummond/chicken-fried-steak-with-gravy-recipe