Bacon Mac 'N' Cheese Pot Pie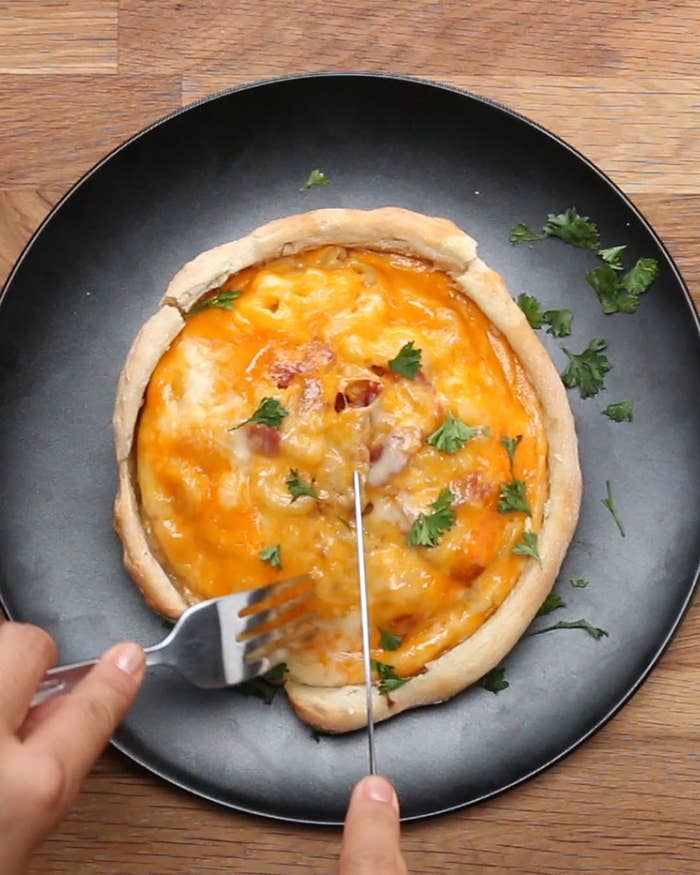 INGREDIENTS
Serving 1-2
3 cups milk
1 cup elbow pasta
1 cup cheddar cheese, shredded
1 cup mozzarella cheese, shredded
1 tablespoon salt
2 teaspoon pepper
8 slices of cheese, your choice
Butter or oil, to coat oven safe bowl
Pizza dough
2 tablespoon butter, melted
½ teaspoon garlic powder
1 teaspoon salt
1 teaspoon Italian seasoning
PREPARATION
Preheat oven to 350°F/180°C.
In a large pot or skillet, add 2 cups of milk, pasta, salt, and pepper. Bring it to boil.
Stir constantly so the milk and pasta do not burn.
When the liquid is evaporated halfway, add another cup of milk.
Stir until pasta is al dente.
Add cheese and mix until melted. Take off the heat to prevent mac 'n' cheese from over cooking.
In a oven-safe ceramic bowl, coat the inside with butter.
Place sliced cheese until the bowl is fully covered.
Add bacon (or any desired fixins'), and add the pasta to the top.
Roll or spread out pizza dough to fit the bowl.
In a small bowl, melt butter. Add in garlic powder, salt, and Italian seasoning, then brush on top of dough.
Bake for 25 minutes.
Carefully place a plate over the dough and flip the bowl.
Using a butter knife or fork take the bowl off.
Sprinkle with parsley and enjoy!
Inspired by the famous pizza pot pie served at Chicago Pizza and Oven Grinder Co.
Want BuzzFeed Tasty right in your inbox? Sign up for our newsletter!