Asian Chicken Chopped Salad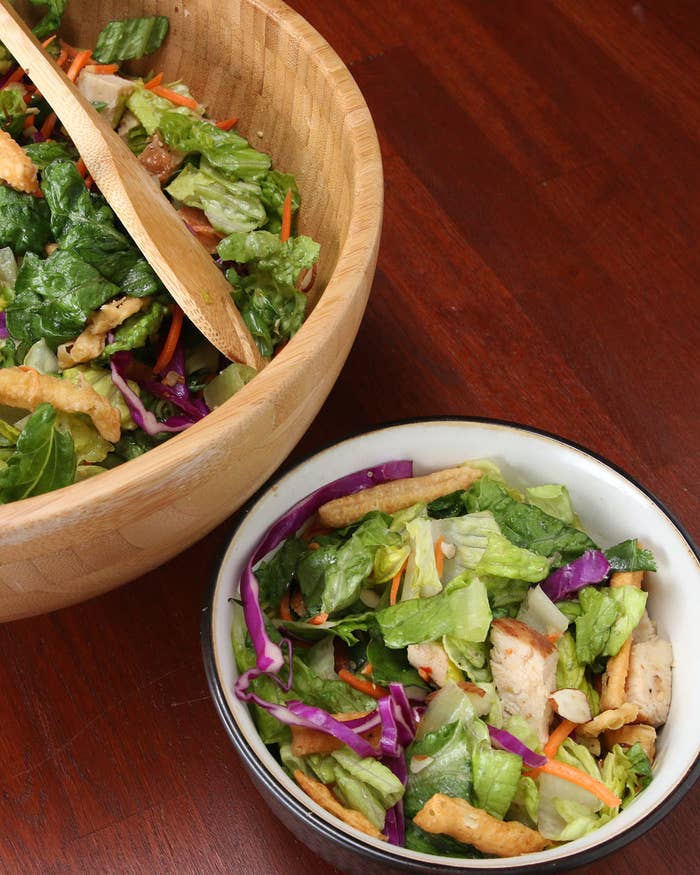 INGREDIENTS
Servings: 6
2 chicken breasts
Marinade
2 tablespoon soy sauce
1 teaspoon sesame oil
½ teaspoon pepper
½ teaspoon red pepper flakes
1 clove garlic, sliced
1 tablespoon ginger, chopped
Dressing
¼ cup rice vinegar
1 tablespoon sesame oil
1 tablespoon soy sauce
1 tablespoon sugar
1 clove garlic, grated
1 teaspoon ginger, grated
Salad
2 romaine lettuce, chopped
1 cup red cabbage
½ cup carrots, grated
¼ cup green onions, chopped
¼ cup cilantro, chopped
¼ cup almond slices
¼ cup fried wonton chips
PREPARATION
# In a large bowl, combine marinade ingredients.
# Add chicken into the bowl, coat the chicken, and marinate for 30 minutes in the fridge.
# Fully cook chicken and cut into cubes.
# In a mason jar ,combine ingredients for the dressing. Shake and set aside.
# Prep the salad. Add all of the salad ingredients into a large bowl and add the cubed chicken and dressing. Toss and enjoy!