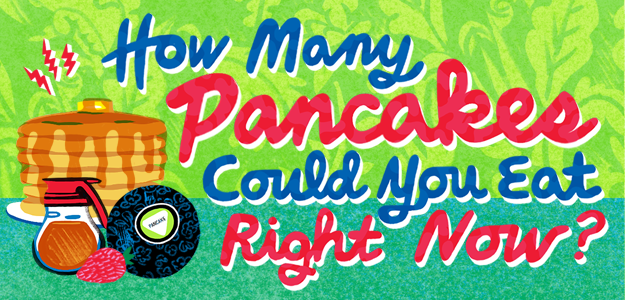 Pancakes? Sure, I like them all right.

No, wait — I love pancakes!

Now that you mention it, it's been a while since I've had pancakes.

Pancakes sound really good right now, actually.

My favorite kind of cake is pancake.

And, if I'm honest, buttermilk is my beverage of choice.

I believe maple trees are just conduits for pancake toppings.

And fruit exists solely to garnish flapjacks.

I don't believe in lunch or dinner. Only breakfast, day and night.

I eat pancakes because I'm smarter than them.

I'm the administrator of a pancake message board.

I'd rather have silver dollar pancakes than actual silver dollars.

The only fat stacks I care about are stacks of pancakes.

I eat pancakes specifically to spite waffles.

I get aggressive when someone asks to pass the syrup.

You know the phrase "Selling like hotcakes"? That was because of me.

I salivate whenever I hear the phrase "Flat as a pancake."

"Breakfast in bed" is me sleeping on a bed of pancakes.

I've never found a pancake large enough to be considered anything but bite size.

I guess you could say pancakes are the main reason I wake up nowadays.

Strangers tell me I look like a person who enjoys pancakes.

In high school, they used to call me "That Kid Who Always Eats Pancakes."

My friends and family think I love pancakes too much.

My therapist has told me to stop bringing up pancakes all the time.

I talk to the anthropomorphic syrup bottle, and sometimes she tells me things.