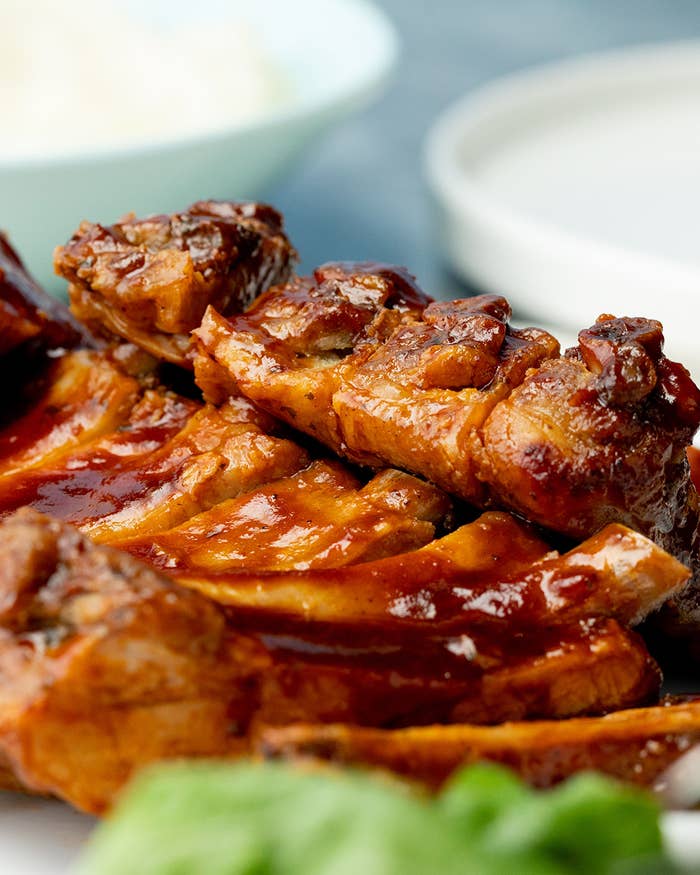 INGREDIENTS
1 rack baby back ribs, membrane removed and rack sliced in half
Kosher salt
1 packet of Hidden Valley® Original Ranch® Seasoning, Salad Dressing & Recipe Mix Packet
2 tablespoons olive oil
3 garlic cloves, smashed
6 tablespoons tomato paste
½ cup maple syrup
¼ cup soy sauce
¼ cup Worcestershire sauce
2 tablespoons apple cider vinegar
4 teaspoons hot sauce
¼ teaspoon smoked paprika
2 tablespoons orange juice
PREPARATION
1. Place both rib-rack halves in a slow cooker. Sprinkle ribs with salt. Using the entire packet of Hidden Valley® Original Ranch® Seasoning, Salad Dressing & Recipe Mix Packet. Season both sides of the ribs evenly.
2. Cook on HIGH for 4 hours or on LOW for 8 hours, until ribs are fall-apart tender.
3. Heat olive oil over medium heat in a small pot. Add smashed garlic cloves and let them sizzle until they are golden brown. Add tomato paste and fry for about 5 minutes, stirring occasionally, until slightly darkened.
4. Add maple syrup, soy sauce, Worcestershire sauce, apple cider vinegar, hot sauce, and smoked paprika. Whisk well to break down tomato paste. Bring to a simmer until slightly reduced, thick enough for the sauce to coat a spoon, about 10 minutes. Whisk in orange juice and simmer for another minute. Remove from heat.
5. When ribs are finished cooking, brush with barbecue sauce. Slice and serve with more barbecue sauce on the side.