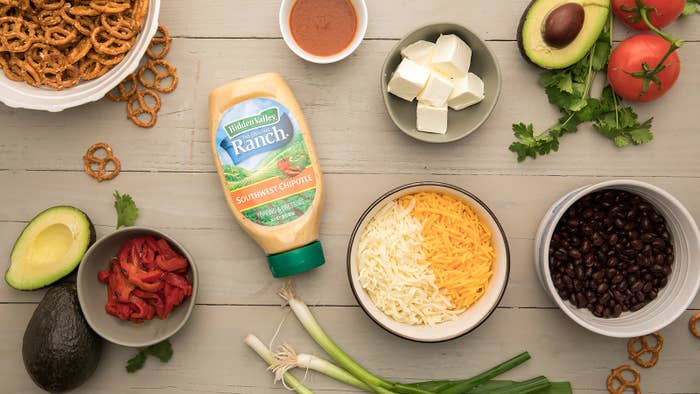 Servings: 4–6

INGREDIENTS
1 cup shredded cheddar cheese

1 cup shredded jack cheese

4 ounces cream cheese

1 cup jarred roasted red peppers, drained and roughly chopped

½ cup Hidden Valley® Southwest Chipotle Ranch

2 green onions, chopped (greens reserved)

½ teaspoon cayenne

Salt, to taste

Pepper, to taste

Assembly
4 cups mini pretzels

1 can black beans, drained and rinsed

1 avocado, diced

1 tomato, chopped

Cilantro, chopped

Reserved green onion tops, chopped

½ cup Hidden Valley® Southwest Chipotle Ranch

Lime wedges

PREPARATION
Heat an oven to 450℉.

In a food processor, add cheddar and jack cheeses, cream cheese, roasted red peppers, Hidden Valley® Southwest Chipotle Ranch, the white part of 2 green onions, cayenne, and a pinch of salt and pepper. Blend until almost smooth but some texture remains.

Place parchment paper on a baking sheet and spread the pretzels in a single layer.

Spoon and spread the pimento cheese mixture on top of the pretzels and place in the oven for 5–10 minutes or until the cheese is soft and melted.

To build the nachos, layer cheese-covered pretzels on a plate, top with black beans, then tomato, and finally the Hidden Valley® Southwest Chipotle Ranch.

Garnish with cilantro, green onion tops, and avocado. Finish with a squeeze of fresh lime. Serve immediately.

Enjoy!