NO-BAKE MINI REESE'S CHEESECAKES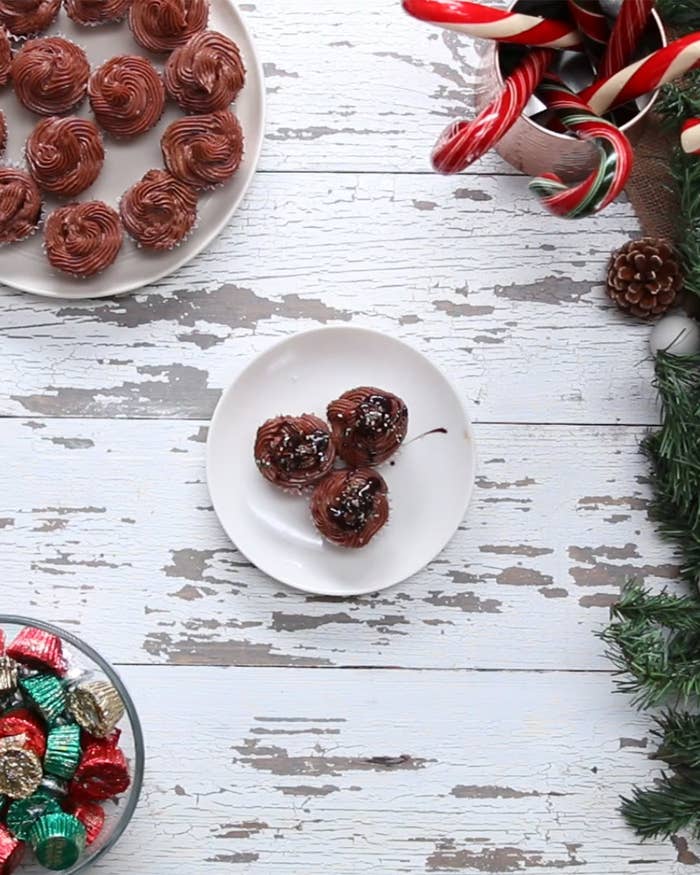 INGREDIENTS
CRUST:
¾ cup of chocolate wafer cookie crumbs
¼ cup melted, unsalted butter
FILLING:
8 ounces cream cheese, room temperature
6 tablespoons of granulated sugar
1 teaspoon vanilla extract
1 tablespoon sour cream
3 ounces bittersweet chocolate, melted and cooled
24 REESE'S Mini Peanut Butter Cups
Hershey's syrup
Holiday sprinkles
PREPARATION
CRUST PREPARATION:
1. Pour cookies in food processor and blend until they are fine crumbs. Combine cookie crumbs and butter until moistened.
2. Divide crust mixture evenly into lined mini muffin tins.
3. Press crust into the bottoms of the pan.
4. Refrigerate while you prepare the filling.
FILLING PREPARATION:
1. On medium speed, beat cream cheese and sugar until blended and smooth.
2. Mix in vanilla and sour cream.
3. Add chocolate and mix until well combined.
4. Fill a plastic freezer bag with the cheesecake filling and snip the corner for piping.
5. Pipe a small amount of filling into each cup.
6. Place a REESE'S Mini Peanut Butter Cup in each cup, pushing down so the filling surrounds the candy.
7. Finish piping the top using a decorative tip.
8. Refrigerate cheesecakes for 6 hours.
9. Decorate set cheesecakes with Hershey's Syrup and Holiday sprinkles!