Chicken Parma Lasagna Rolls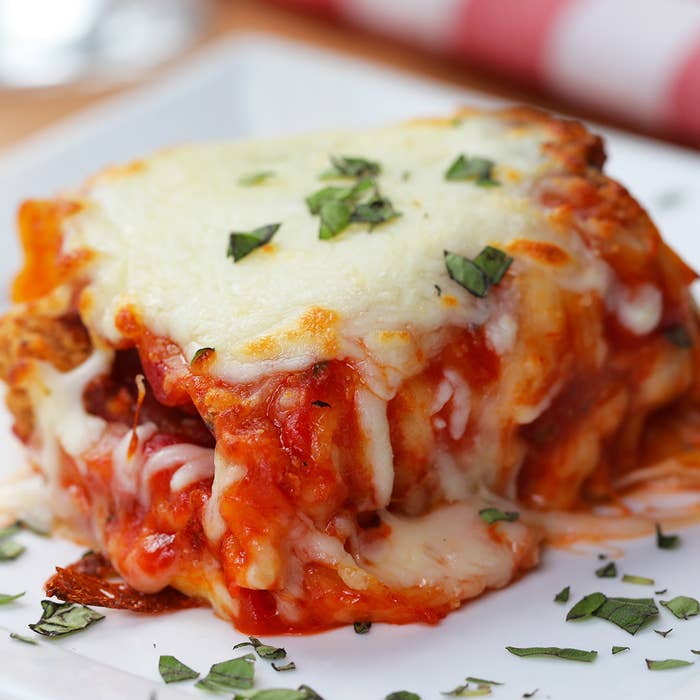 INGREDIENTS
8 breaded chicken tenders (breast)
1 can Heinz Big Red Condensed Tomato Soup
¼ teaspoon oregano
½ teaspoon salt
⅛ teaspoon chili flakes
¼ teaspoon basil
1 clove fresh garlic. minced
1 tablespoon olive oil
3 cups shredded mozzarella cheese
8-10 pieces lasagna noodles
PREPARATION
1. Bake chicken tenders according to package instructions. Set aside.
2. Pre-heat oven to 400°F/205°C.
3. Mix Heinz Big Red Condensed Tomato Soup, oregano, salt, chili, basil, oregano, garlic and olive oil. Set aside.
4. Cook lasagna noodles until al dente, set aside, and sprinkle lightly with olive oil to prevent drying.
5. In an oven-proof baking dish, place 3 tablespoon Heinz Big Red Condensed Tomato Soup to cover the bottom of the dish.
6. Carefully place about 2 tablespoons of the big red sauce down the center of the noodles, then 2 tablespoons of mozzarella.  Place 1 chicken tender on the end of the noodle and carefully roll around the chicken placing it seam side down in a baking dish. Continue rolling remaining tenders. Top with remaining sauce and cheese.
7.  Bake at 400°F/205°C for 20 minutes or until bubbly. Serve immediately.
8. Enjoy!