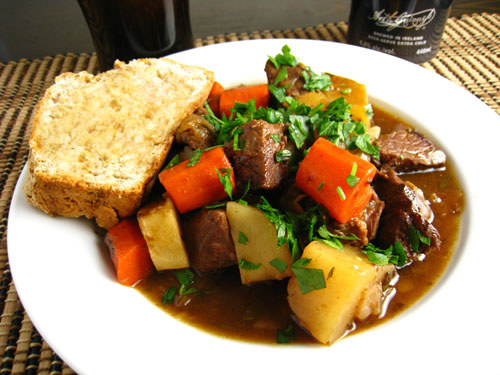 Modo de empleo
1• Retire el exceso de grasa de la carne de las chuletas. Derrota la mantequilla en una cazuela resistente al fuego de 2,5 litros de capacidad y dore las chuletas a fuego fuerte por ambos lados, en tandas. Retírelas y escúrralas.
2• Disponga de la mitad de la patata, la cebolla y la zanahoria en la cazuela y salpimentéela. Disponga encima las chuletas y cúbralas con las hortalizas restantes. Añada el tomillo y el caldo.
3• Tape y lleve a ebullición. Baje el fuego y deje hervir 1 hora aproximadamente o hasta que la carne esté tierna.
Ingredientes
8 chuletas de cordero de la parte del cuello
30 g de mantequilla
1 kg de patatas cortadas en rodajas gruesas
3 cebollas en aros
3 zanahorias cortadas en rodajas
500 ml de caldo de vacuno o de verduras
Ramitas de tomillo fresco al gusto
NOTA Normalmente este plato se prepara con carne de cordero solamente. Las hortalizas hacen de el una receta única.
Esta receta tiene un valor nutricional por ración de: proteínas 40 g; grasas 15 g; hidratos de carbono 40 g; fibras 7g; colesterol 115 mg; 460 Kcal.
This post was created by a member of BuzzFeed Community, where anyone can post awesome lists and creations.
Learn more
or
post your buzz!