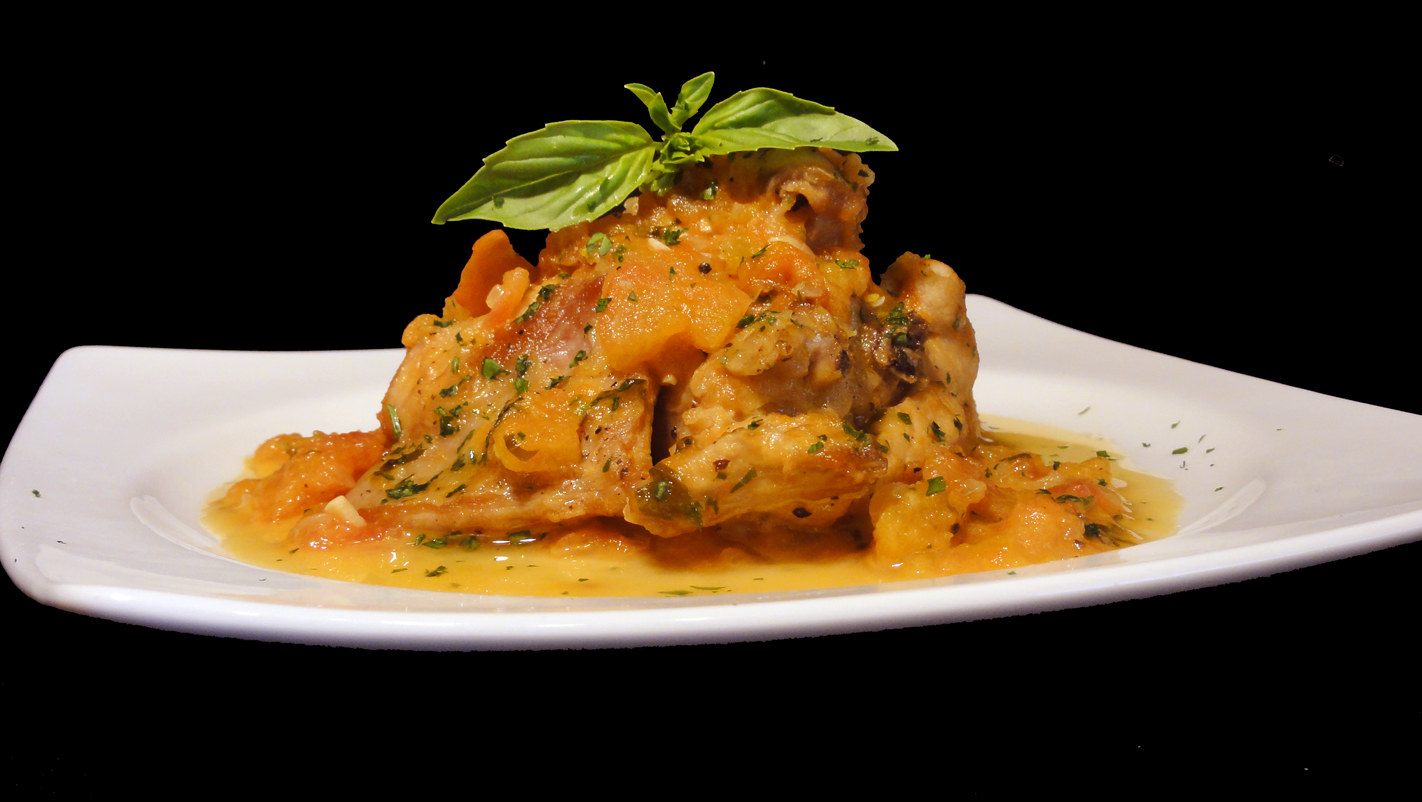 Modo de empleo
1• Precaliente el horno a 180°C. Retire el exceso de grasa de la pieza del conejo y lávelo bien con agua fría. Séquelo bien con papel de cocina. Corte el espinazo a lo largo, por ambos lados, con unas tijeras de cocina y deséchelo; corte los conejos en ocho trozos iguales y séquelos bien de nuevo.
2• Caliente la mitad del aceite en una cazuela resistente al fuego de 2,5 litros de capacidad. Dore la mitad del conejo y retírelo. Vierta el aceite restante, dore el resto del conejo y retírelo.
3• Añada la cebolla y el beicon a la cazuela y fría removiendo, unos 3 minutos, o hasta que se dore bien. Espolvorée la harina y mezcle bien. Remueva con una cuchara de madera para rascar los restos adheridos a la salsa. Vierta el caldo o agua y el vino, y remueva hasta que la salsa hierva y se espese. Devuelva el conejo a la cazuela y añada el tomillo.
4• Tape y hornee de 1 hora y cuarto a 1 hora y media, o hasta que el conejo esté tierno y la salsa espesa. Retire el tomillo y agregue la mezcla de nata junto con la mostaza. Adorne con ramitas de tomillo y sirva con papas guisadas al vapor.
Ingredientes
2 conejos (de 800 g cada uno)
2 cucharadas de aceite vegetal
2 cebollas cortadas en rodajas
4 lonchas de beicon cortadas en trozos de 3 cm
3 cucharadas de harina
375 ml de caldo de pollo o agua
125 ml de vino blanco
1 ramita de tomillo fresco
125 ml de nata líquida
2 cucharadas de mostaza de Dijon y ramitas de tomillo fresco para adornarlo.
NOTA Esta receta tiene un valor nutricional por ración de: proteínas 25 g; grasas 17 g; hidratos de carbono 15 g; fibra 7 g; 450 Kcal.
This post was created by a member of BuzzFeed Community, where anyone can post awesome lists and creations.
Learn more
or
post your buzz!