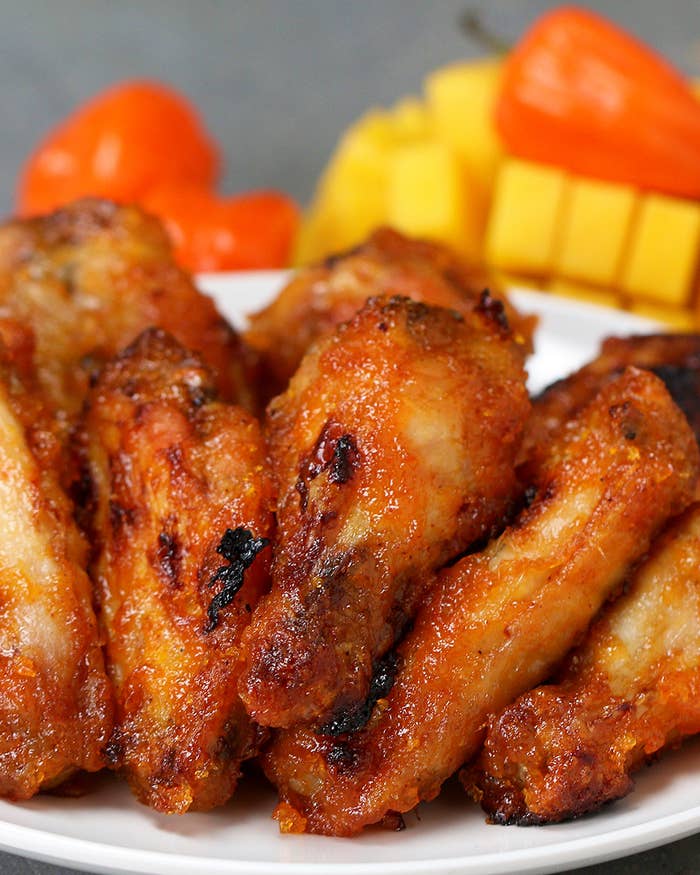 Ingredients:
for 2 servings
½ cup flour (60 g)
½ teaspoon chili powder
½ teaspoon garlic powder
½ teaspoon pepper
½ teaspoon salt
1 lb chicken wing (455 g)
1 mango
3 habanero peppers, optional, seeded or unseeded
2 cloves garlic
½ teaspoon paprika
¼ cup apple cider vinegar (60 mL)
2 tablespoons lime juice
¼ cup honey (85 g)
Preparation:
1. Preheat oven to 425ºF (220ºC).
2. In a small mixing bowl, combine flour, chili powder, garlic powder, pepper, and salt.
3. Pat the chicken wings dry using a paper towel.
4. Batter them in the flour mixture and place chicken wings on a wired baking sheet.
5. Bake at 425ºF (220ºC) for 45 minutes, flipping halfway for even cooking.
6. In a food processor or blender, mix together the mango, habanero peppers, garlic, paprika, apple cider vinegar, and lime juice. Blend until fully combined. The mixture should be a bright orange vibrant color.
7. In a saucepan, combine honey with your mango habanero mixture at medium heat. Stir occasionally to prevent sticking and simmer for 5-10 minutes or until your sauce reaches a prefered consistency.
8. Fully coat your cooked wings in the sauce then place on a parchment-lined baking sheet.
9. Bake at 450ºF (230ºC) for 8-10 minutes or until sauce has slightly caramelized.
10. Enjoy!