Fried Mac 'n' Cheese Sticks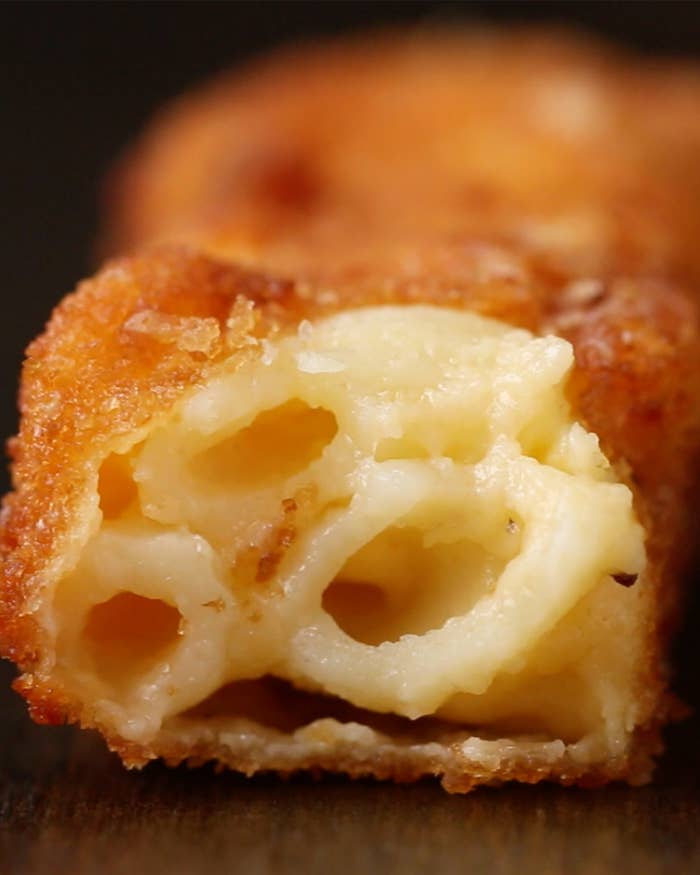 INGREDIENTS
8 ounces elbow pasta
4 tablespoons butter
4 tablespoons flour
2 cups milk
1 teaspoon salt
½ teaspoon pepper
2 cups sharp cheddar cheese, shredded
2 cups flour
4 eggs
2 cups bread crumbs
PREPARATION
1. Bring 3 quarts of water to a boil and cook elbow pasta. Stir occasionally for 7 minutes, or until al dente.
2. In a saucepan over medium-low heat, melt butter completely and whisk in flour for 2 minutes to create a light roux.
3. Add milk to the roux and season it with salt and pepper. Stir continuously until the sauce fully thickens.
4. Gradually add cheese to your sauce and stir until fully combined.
5. Add cooked pasta to your cheese sauce and stir until each noodle is fully coated.
6. Remove mac 'n' cheese off the heat and pour onto a parchment-lined baking sheet. Spread evenly and freeze for 2 hours in the freezer.
7. Cut the frozen mac 'n' cheese into sticks.
8. Batter sticks in flour, egg, and bread crumbs.
9. Preheat a pot of oil to 325°F/170°C.
10. Fry for 2-3 minutes or until golden brown, then drain on a paper towel.
11. Enjoy!