Cheesy Jalapeño Corn Dogs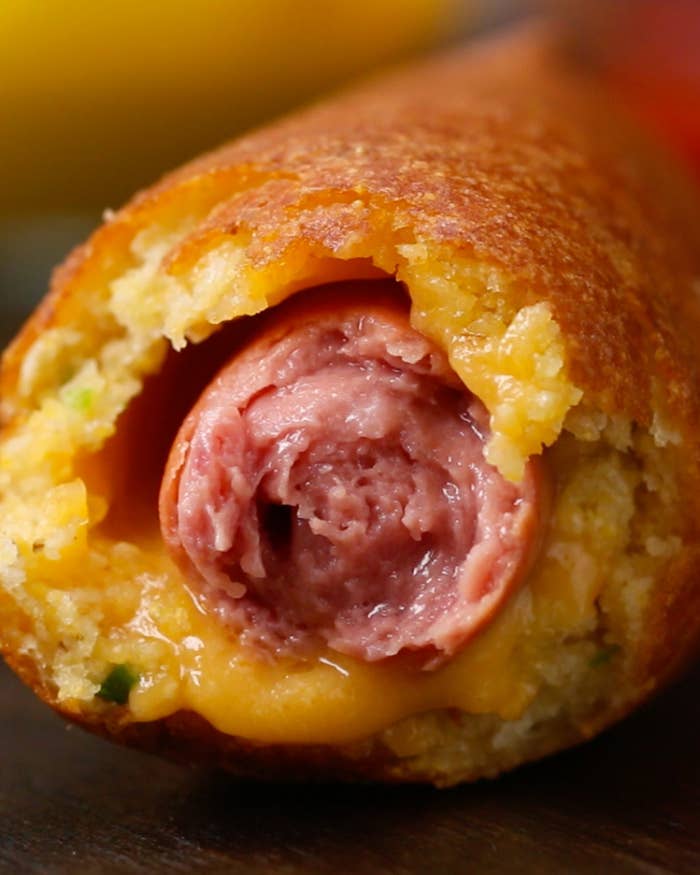 INGREDIENTS
Servings: 4
4 thinly sliced cheddar cheese, room temperature
4 hot dogs
1 cup flour
1 cup yellow cornmeal
¼ cup sugar
4 teaspoons baking powder
¼ teaspoon salt
⅛ teaspoon black pepper
1 cup milk
1 egg
1 Jalapeño, minced
1 quart vegetable oil for frying
PREPARATION
1. Place a hot dog on a slice of cheese, then roll the cheese slice around the hot dog.
2. Push a wooden skewer inside, then place the cheese-wrapped hot dogs seam side down on a baking sheet.
3. Freeze for 20 minutes.
4. In a large mixing bowl, add the dry ingredients. Once fully combined, mix in the wet ingredients, milk, egg, and jalapeño. Stir until batter is smooth with no lumps.
5. Pour the batter into a tall glass for easier dipping.
6. Preheat oil to 350°F/180°C.
7. Take a frozen hot dog and dip it fully into the batter, lifting it out then rotating it to let excess batter drip off.
8. Using tongs, carefully place the battered dog into the hot oil, rotating it so that it fries evenly. Cook for 3-5 minutes or until golden brown.
9. Enjoy!